At a Glance
Expert's Rating
Pros
Fast, free full-featured video editing with real-time effects
Robust support for wide range of video formats
Cross-platform compatible with Windows, Linux versions
Cons
Free version exports limited to 720p web resolution
No support for Mac menu options, contextual menu shortcuts
Doesn't properly display iPhone landscape videos
Pro version required for timeline rendering, I/O hardware support
In-app help limited to tooltip hints
Our Verdict
Best Prices Today: Lightworks 14
Lightworks may not be a household name, but has established a proven reputation with Hollywood filmmakers over nearly three decades as the software of choice for editing award-winning feature films like Pulp Fiction, L.A. Confidential, and Moulin Rouge.
Originally tied to expensive, proprietary console hardware, Lightworks has adapted to the economic realities of modern editors, so much so that the core application can now be downloaded for free. While the gratis edition natively imports the same wide range of formats as the paid edition—ProRes, RED, and AVCHD to name just a few—exports are limited to web-compatible MPEG or H.264 files up to 720p resolution, with the option to upload directly to YouTube accounts.
For all other export formats, Lightworks Pro requires a $25 per month subscription, with annual and perpetual license options also available. The Pro version allows exporting in up to 4K resolution using any compatible file format, stereoscopic 3D output, and timeline rendering. There's also support for AJA, Blackmagic, and Matrox I/O hardware, as well as the legendary Lightworks Console (now offered at the affordable price of "only" $2,800) for those who prefer more tactile control.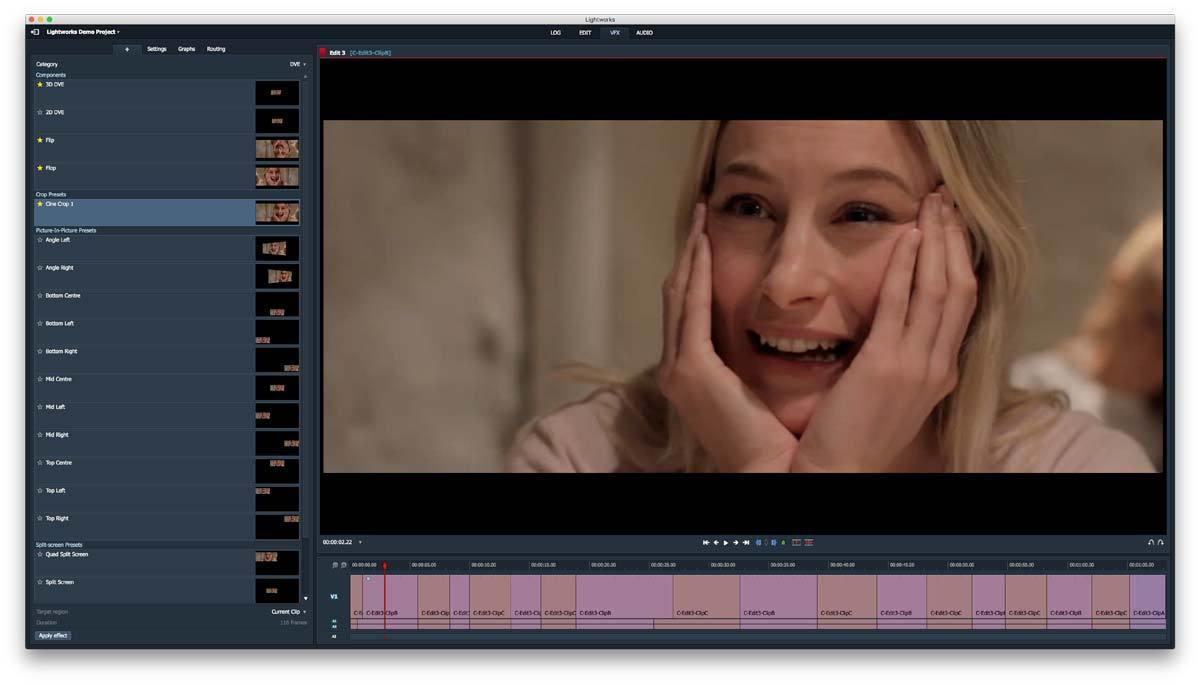 With version 14, developer EditShare has taken great strides to make the Lightworks more consumer-friendly, consolidating the previously modular user interface into a fixed, full-screen workspace. (The flexible "classic" mode is still available from the Project Layout settings.) With the organized, single-window UI comes an easier to use application, but Mac users won't feel quite at home.
For starters, there are no menu options at all, and Lightworks shuns Apple's traditional contextual menu shortcuts in favor of the Windows right-click approach. Likewise, the file browser has a distinctly Unix look and feel that makes macOS seem like a second-class citizen. Coming from years of experience with native Mac editing software, the transition was a bit jarring to say the least.
Strange new world
The rest of the Lightworks 14 user interface hews closer to what Mac editors have come to expect. Tabs at the top allow quick navigation between four different modes: Log for importing and organizing media; Edit, which offers a familiar dual-monitor, timeline-based approach to editing; VFX for applying real-time filters, transitions, and color grades; and Audio, designed for working with sound.
At launch, editors are greeted with a tiled grid of thumbnails where projects appear as they're created. Click "Create a new project" to start fresh, or double-click any thumbnail to open an existing project. Tucked away behind a comically tiny gear icon are the Lightworks system settings. EditShare offers a downloadable demo project to get acquainted, along with a metric ton of tutorial videos, which novice users will definitely want to watch.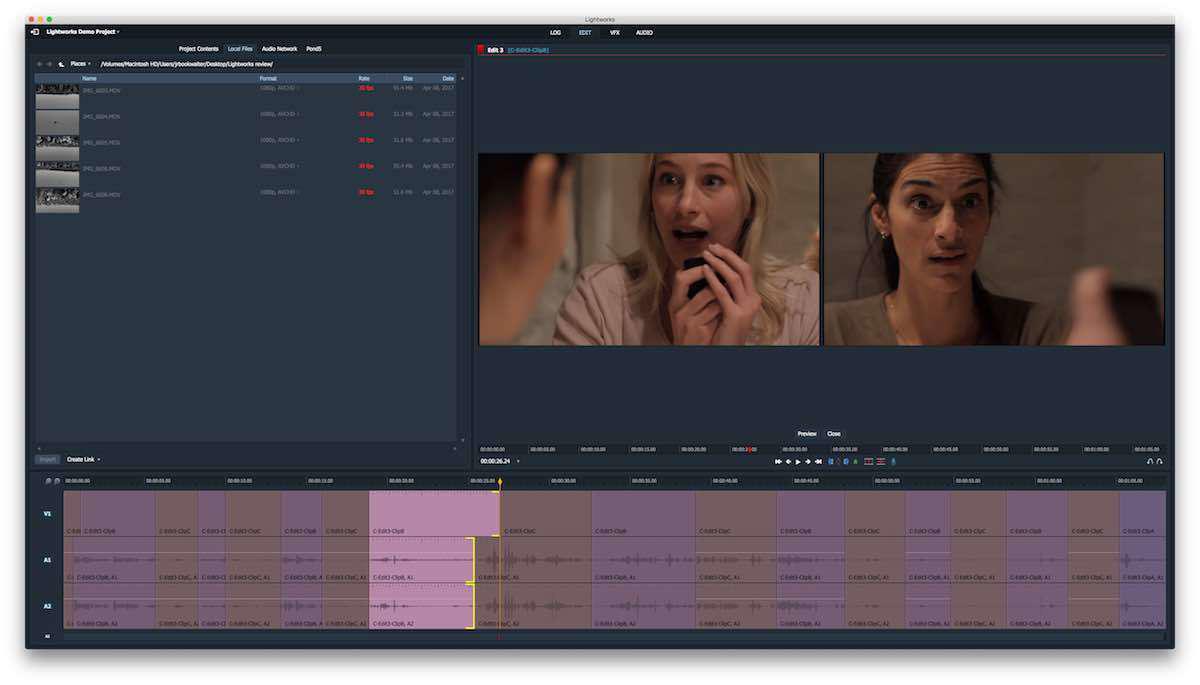 I found the Lightworks method of timeline editing to be less intuitive than Final Cut Pro, Adobe Premiere, or even Media 100, the venerable NLE software which is also now offered free of charge. Editing relies heavily on angled brackets that appear at the head and tail of clips and change color based on the type of cut being made: White as you hover over clips, yellow while clicking and dragging, for example.
This approach can be powerful once you get the hang of it, especially when fine-tuning by disabling individual picture or audio clips to prevent them from being changed. But it has limitations: You can't simply drag the cursor to select a block of clips and move them all at once, a process that requires marking in and out points with Lightworks. There are a decent number of tooltip hints that pop up as you use the software, but you're on your own when it comes to digging up comprehensive help from the website, since none is available in the application.
I had problems editing videos shot with my iPhone—Lightworks doesn't know how to handle content shot in landscape mode, which appears upside-down and requires manually adding the Flip effect from the VFX tab, which can be inserted onto an entire timeline, or applied to individual clips. On the plus side, the software is quite fast and includes built-in access to royalty-free music and stock video (from Audio Network and Pond5, respectively) for a wider range of creative possibilities.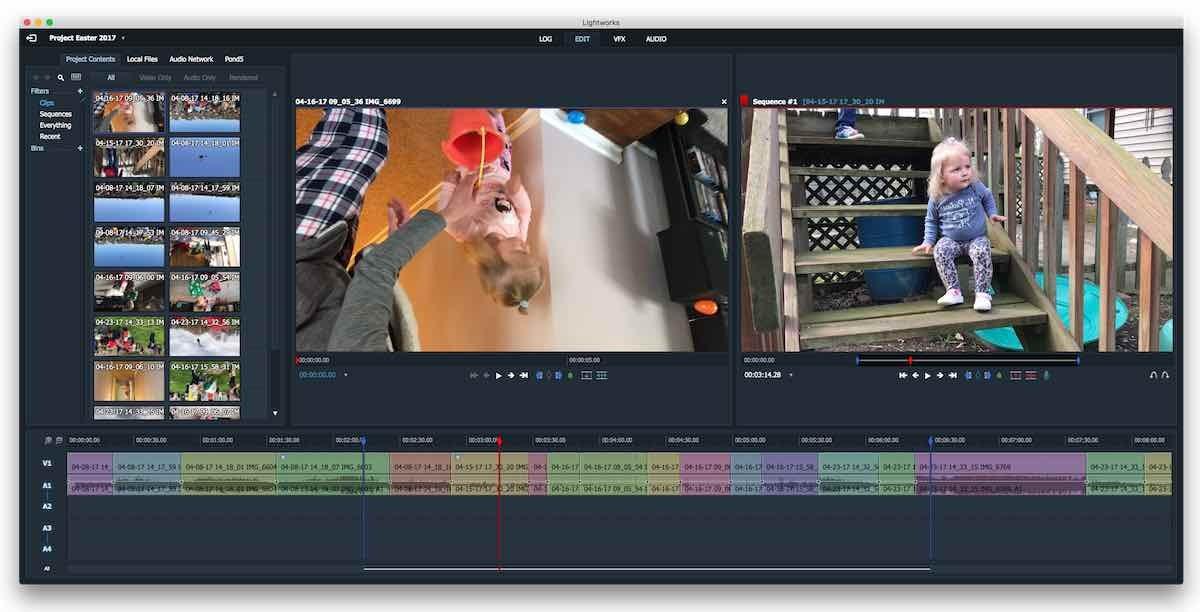 Bottom line
There's a lot to like about Lightworks 14—and a lot of bang for no bucks—but the user interface isn't particularly Mac-centric and timeline editing requires a steep learning curve for those coming from native software.
Best Prices Today: Lightworks 14