At a Glance
Expert's Rating
Pros
Bigger display without sacrificing portability
512GB storage capacity make it a real MacBook alternative
ProMotion helps both display responsiveness and battery life
Smart Keyboard and Apple Pencil redefine the iPad experience
4GB of RAM make for top-class performance
Our Verdict
Bigger, faster, and better, the 10.5-inch iPad Pro gets more than enough upgrades to make it to the finish line and garner a perfect score.
Best Prices Today: iPad Pro (10.5)
For the past year, I've had a really big dilemma: Having to choose between the 12-inch MacBook or the 9.7-inch iPad Pro. Now, the new 10.5-inch iPad Pro has solved all of those issues for me, making it the best iPad to have ever come out of Cupertino and the one most likely to replace the MacBook.
The iPad Pro has a lot of benefits because of its portability and versatility, but before the new model came out, I'd still err on the side of choosing my MacBook. When it comes to productivity and multitasking, the MacBook was a safer bet, whereas the iPad Pro still had to prove itself in this department. The 10.5-inch iPad Pro is a step closer in that direction.
If any iPad will ever replace your trusted MacBook, it's going to be this one. Here's what I loved most about the new iPad Pro, and why it's one of the best products Apple has ever made.
Price and storage
The starting model is $50 more than its predecessor, but with the higher price tag you get double the storage capacity. The new iPad Pro now starts at $649 for 64GB. Make that $779 if you want the cellular model.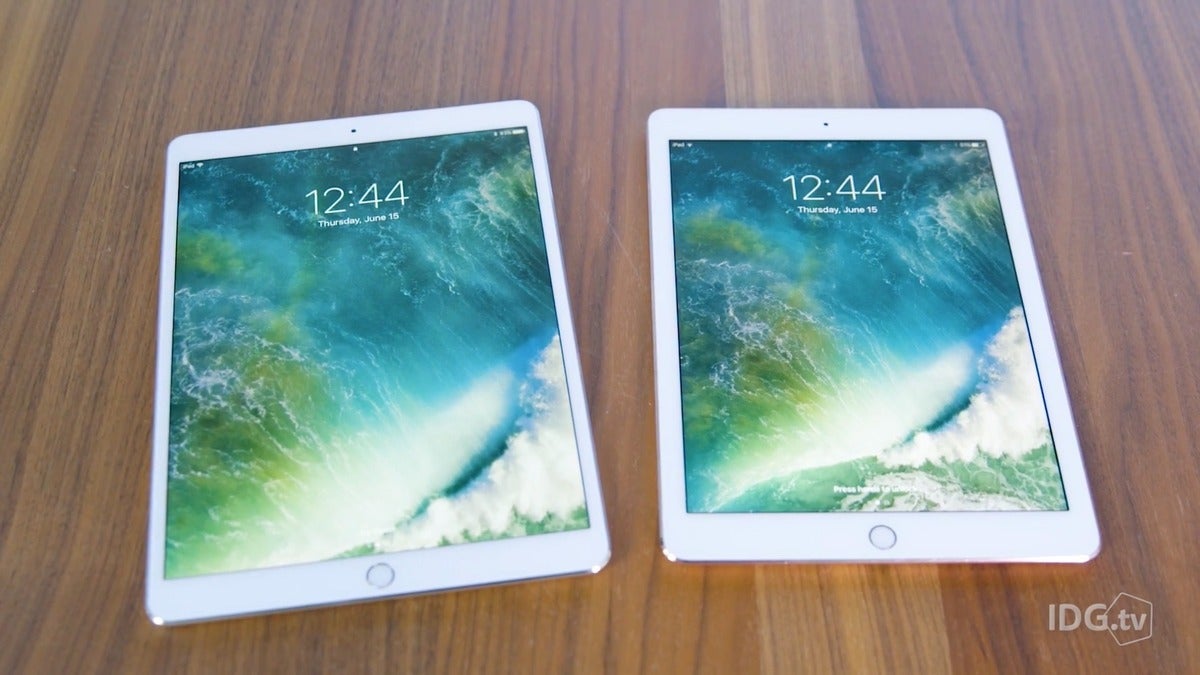 The 256GB models go for $749 or $879 with cellular, while the 512GB models are $949 or $1,079 with cellular. Add to your cost the smart accessories, which I definitely recommend as they really add to the iPad Pro experience. More on that later.
Size and portability
The 10.5-inch display may sound like major jump from 9.7 inches, but in terms of overall form factor, it's minor. Instead of making the device bigger to accomodate a 10.5-inch display, Apple made the bezels on the new model significantly thinner. So you get the best of both worlds: a larger display on an iPad that still weighs just less than a pound. I was able to hold it comfortably with one hand, so it quickly became the device I used to watch TV in bed or browse through Amazon.com.
In terms of versatility, I can see this iPad Pro as being the ideal travel companion. During a road-trip or on an airplane, I can use it to read an ebook or digital magazine, and then bust out the Smart Keyboard if I need to churn out a quick article. Plus, there's another perk to using an iPad Pro as your main computer while traveling. You will only need to pack one Lightning charger that can be shared between iOS devices.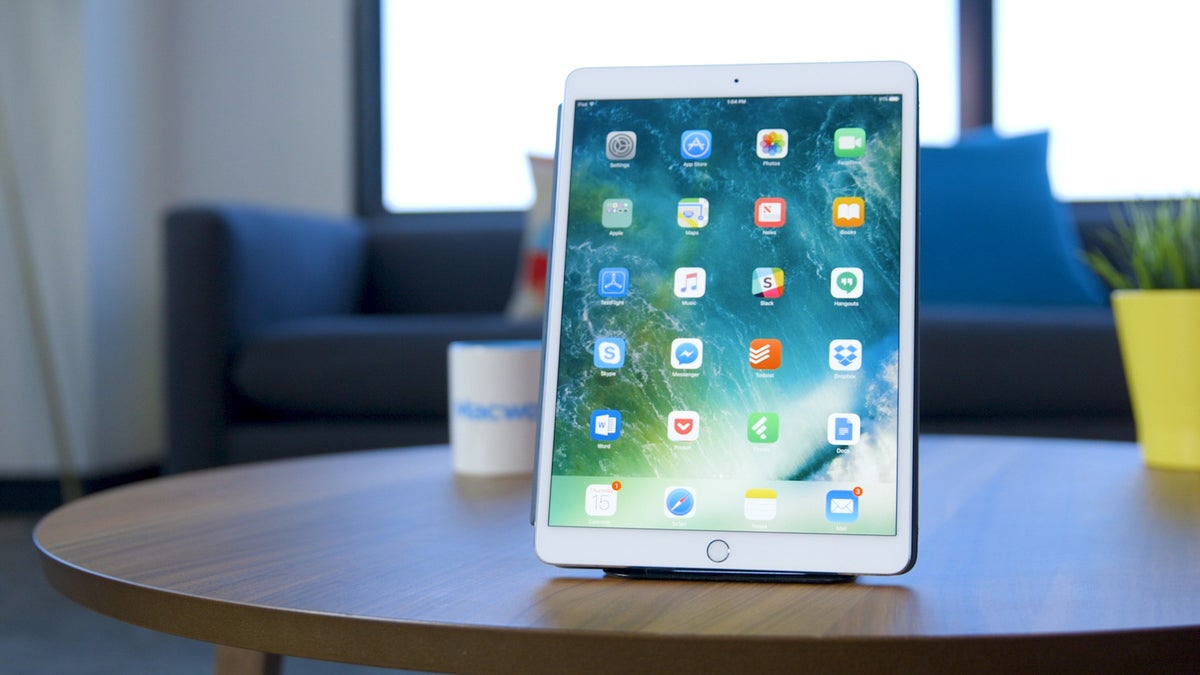 If you use Microsoft Office, however, there's one thing thing you should note about the new iPad Pro's bigger size. Because the screen is larger than 10.1-inches, you won't get to edit Office documents for free in Microsoft's iOS apps, as you will need to have an active subscription.
Performance, display, and battery
Apple upgraded the 10.5-inch iPad Pro with an A10X Fusion chip and doubled the RAM to 4GB. Apple claims that the CPU speed is 30 percent faster than in the previous iPad Pro generation, with 40 percent faster graphics. In testing with GeekBench 4, the 10.5-inch iPad Pro scored 3875 in the single-core CPU benchmark, or 28 percent better that the 9.7-inch model. However, I don't think this speed boost will be perceptible in most of your everyday iPad Pro usage, especially because I would never describe the previous Pro generation as slow.
One thing you will notice is the brighter display, now at 600 nits. And with True Tone, the feature that matches the display to ambient light, I never had to worry about the brightness ever being too harsh.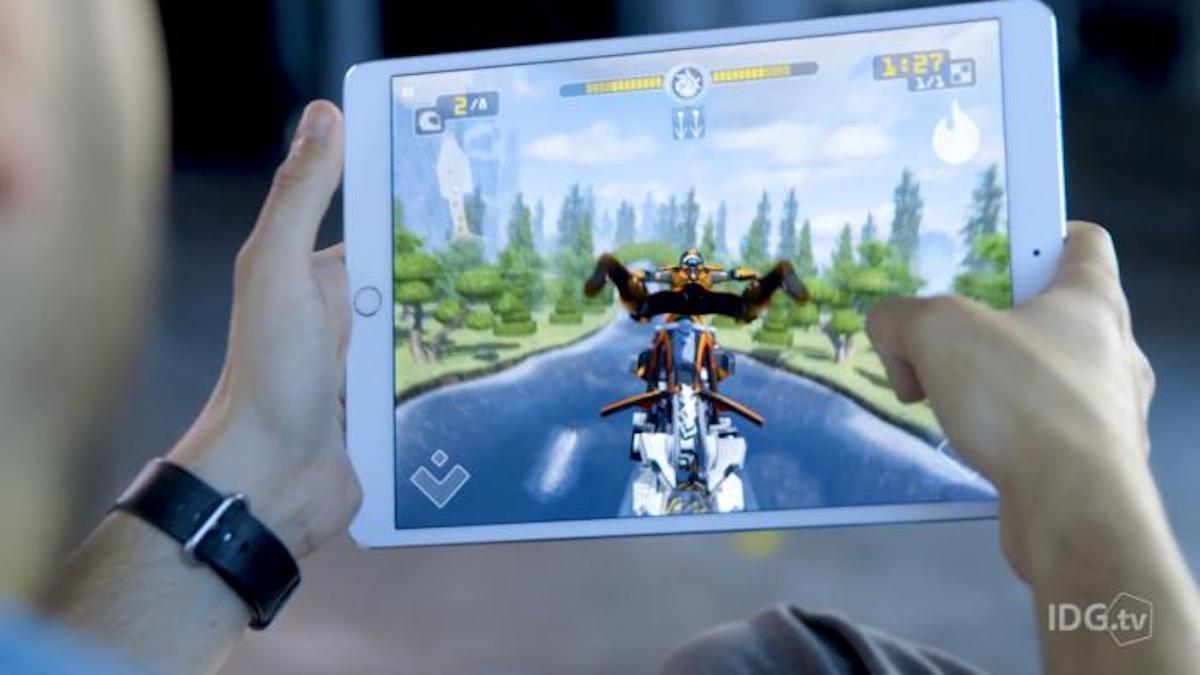 Perhaps the defining feature of this iPad Pro generation is what Apple calls ProMotion. This feature will automatically adjust the display's refresh rate, up to 120Hz (double the LCD standard of 60Hz). This means that the display can be refreshed twice as quickly to pick up new pixels that show up on the screen, making for a more responsive interface. I can't help but think this would be great with 3D Touch controls.
To conserve battery life, ProMotion can also slow down the refresh rate if you're reading an ebook or watching a movie. Apple promises 10 hours on a full charge, and that's about exactly what my 10.5-inch iPad Pro delivered. That's certainly longer than the battery life on my 12-inch MacBook, but it's comparable to the previous 9.7-inch iPad Pro.
Initially, I wasn't as impressed with the faster CPU and ProMotion. Having been satisfied with the performance, refresh rate, and battery life on the 9.7-inch iPad Pro, these upgrades just seemed indulgent. However, as I use the new iPad Pro more, I can definitely tell a difference in performance and responsiveness. With the new 10.5-inch model, Apple gave me something I didn't know I needed, and I've grown very used to it.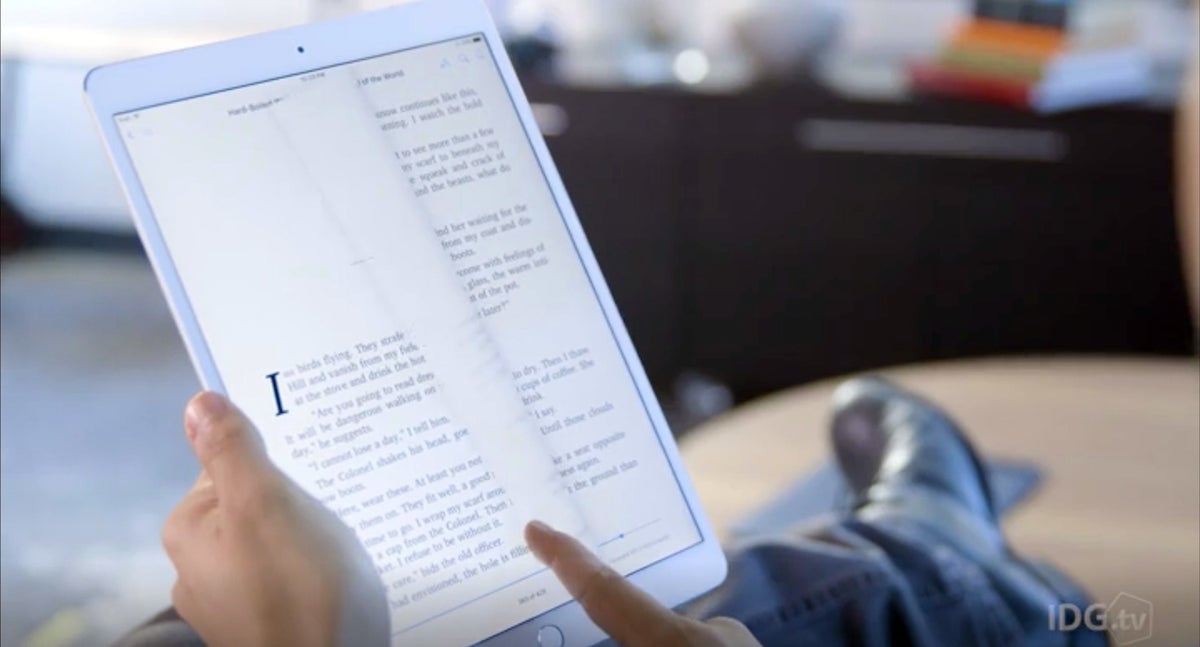 Accessories
Because the iPad Pro models are the only iOS devices that work with Apple's smart accessories, it seems like a disservice not to use them. They're vital to getting the full iPad Pro experience. But they have to be purchased separately, so these additional costs are something to consider.
I have never been able to fully adopt the iPad's display keyboard, so an external keyboard is a must-have. Apple's own $159 Smart Keyboard feels nice, but it bothers me that there's no place to store the Apple Pencil. Since Apple had to redesign the keyboard to accomodate the 10.5-inch model anyway, couldn't they have added a strap for the $99 Pencil in there somewhere?
Speaking of the Apple Pencil, I'm not enough of a creative pro to necessarily need it with the iPad Pro, but it's still nice-to-have for using Markup and getting more precise taps. And unlike the Smart Keyboard, you can still use a previous Apple Pencil that you purchased for a 9.7-inch or 12.9-inch iPad Pro.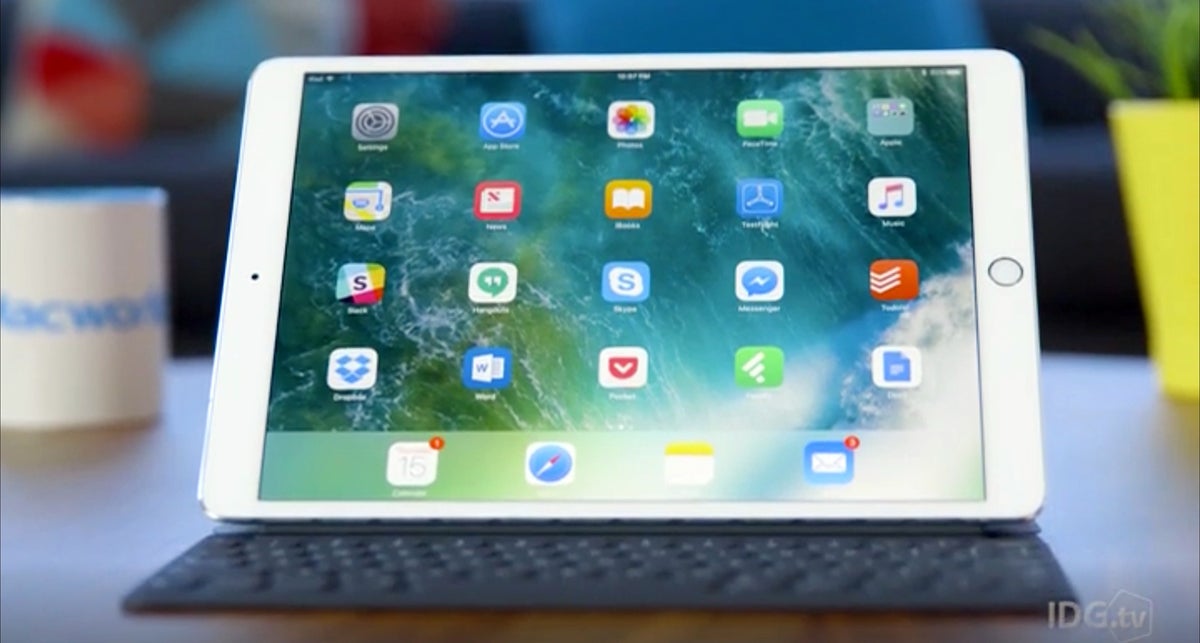 Even though the Apple Pencil itself hasn't changed, the ProMotion technology makes it even more responsive on the 10.5-inch iPad Pro. Apple claims that it brought down its latency to 20 milliseconds. But part of me think they just did that so they can reclaim the throne for fastest stylus after Microsoft debuted a Surface Pen with a 21-millisecond latency. In that rivalry, I guess every millisecond counts.
Awaiting iOS 11
Even though the new iPad Pro started shipping last week, it feels like it has yet to arrive at its final destination. That will come later this year with the launch of iOS 11, which will bring new features exclusively for the iPad.
Having gotten a preview of what's to come during WWDC, I found myself subconsciously trying to drag-and-drop in Split View. Or pull up the all-new Dock only to find that I was still on iOS 10.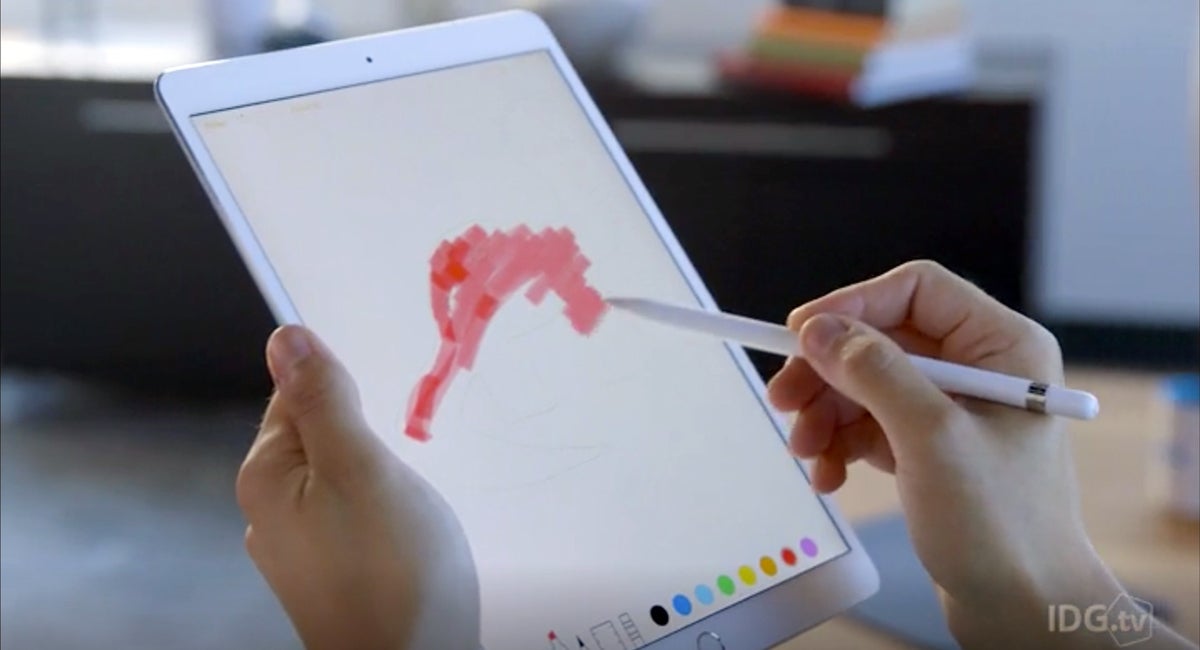 Although all iPads will be able to tap into the new productivity features on iOS 11, Apple has reserved a special trick for the iPad Pro: the ability to have four apps open at the same time. Yep, you will be able to have two apps open in Split View, then bring up a third app as a Slide Over, meanwhile playing a fourth app as a Picture-in-Picture video.
Apple products have always been about the marriage between hardware and software, so I can only imagine that the iPad Pro will get better with each iOS update.
Bottom line
After the 9.7-inch iPad Pro scored a 4.5, the new 10.5-inch iPad Pro deservedly brings that score to a perfect 5 out of 5. The 12.9-inch model sacrifices way too much in the way of portability and versatility and the 2017 iPad is just a little too pedestrian. The 10.5-inch Pro model emerges as the best iPad ever.
This iPad Pro may be the closest I've gotten to a MacBook replacement, and for some people it could be their main computer in the future with "future" being the operative word here. Apple is betting on computers becoming more like mobile devices and completely wireless. But we're not quiet at that future just yet. Heck, the iPad Pro still has a headphone jack for a reason.
If you prefer your main computer to easily hook up to a printer, or get files from a thumb drive, or access any other third-party peripherals that did not originate in Cupertino, a MacBook Pro may be a better fit. But Apple is even making its laptops more like a tablets. The 12-inch MacBook notoriously has only one USB-C port, and that has definitely hindered my experience. However, for some reason, the same limitations have not been as frustrating on the iPad Pro. Maybe because I know from the get-go that I won't be able to do a lot of traditional computing.
Overall, if last year's iPad Pro was the Venus Williams of tablets, you can think of this new model as the Serena. If you already own a 9.7-inch iPad Pro, you probably won't have a big reason to upgrade. But if you're trying to replace your MacBook with a powerful iPad as your main computer, then this model is as good as it gets right now. And will probably only get better with iOS 11.
Best Prices Today: iPad Pro (10.5)