At a Glance
Expert's Rating
Pros
Fast, easy noise reduction plugin for video editors
Plugin works inside Final Cut Pro X, Motion 5, Adobe Premiere Pro
Fastest Render provides quality results in less time
Cons
Default settings go overboard with excessively noisy video
Slow render times with Highest Quality setting
No real-time playback
Our Verdict
Best Prices Today: VideoDenoise
High-definition video allows creators to capture image details that weren't possible in the past. However, the increased resolution also magnifies imperfections such as digital noise and grain, particularly with footage shot under low-light conditions. Anomalies like these can largely be eradicated with the right tools in post-production, but modern software-based solutions tend to be time-consuming and overly complicated.
Cleanup, aisle one
CrumplePop VideoDenoise ($99) tackles unwanted visual noise, and it's one of the fastest and easiest to use so far. Available exclusively from the excellent FxFactory marketplace, this plugin works inside of host apps Final Cut Pro X, Motion 5, and Adobe Premiere Pro 7 or higher, where editors drag and drop the filter onto an individual clip in your timeline.
For shots with less heinous noise problems, this single step may be all that's required. VideoDenoise intelligently identifies and eliminates grain and digital noise, leaving shots with a fresh, squeaky-clean look. Other products like Neat Video and Magic Bullet Denoiser work in a similar way, but require a lot more fiddling to achieve decent results.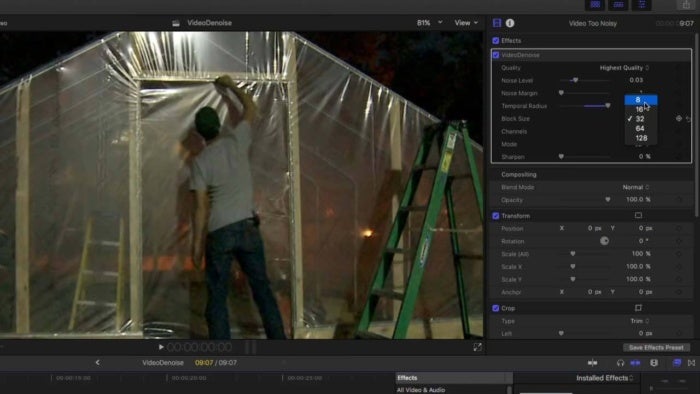 That's particularly true with Neat Video, where editors must first select a grainy area to create a sample "noise print," then tweak a variety of settings in order to perform its magic. By comparison, VideoDenoise is a model of simplicity. The plugin automatically detects noise and grain with no user interaction, and the results are quite impressive indeed.
Speed is relative
In addition to being easier to use, CrumplePop VideoDenoise is also relatively fast, assuming that description can be applied to such a processor-intensive task. With powerful denoising algorithms at work under the hood, it's not realistic to expect real-time playback, even on systems with a lot of horsepower. However, the plugin is optimized for both OpenCL and CUDA, so rendering times will be accelerated accordingly on compatible systems.
By default, VideoDenoise uses the Fastest Render quality setting, which speeds things up enough to get a sense of how the results will look in motion. (Real-time playback remains pretty choppy.) There's also a Highest Quality setting best reserved for final output; exporting a one-minute, 47-second 1080p clip from Final Cut Pro X with VideoDenoise applied took nearly 23 minutes at Highest Quality on my Core i7 iMac Retina 5K, versus eight minutes at Fastest Render. (The quality difference when viewed side-by-side was negligible.)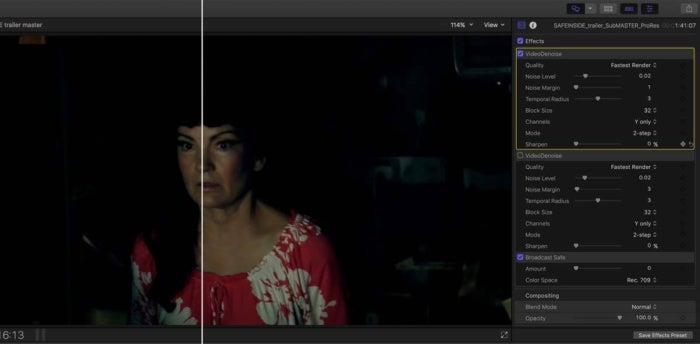 In my tests, VideoDenoise had a tendency to go a little overboard cleaning up excessively noisy shots, creating an unnaturally smooth look with little detail. For clips that require fine-tuning, the plugin offers slider adjustments for Noise Level, Noise Margin, Temporal Radius, Block Size, Channels, or Mode. You don't have to understand the technical jargon to obtain good results—the first two settings make the most impact, and feedback is immediate as you make adjustments. There's also a Sharpen control to help restore lost detail after scrubbing out noise.
Bottom line
CrumplePop VideoDenoise isn't exactly a speed demon, but this video editing plugin is affordable and easy to use, and in some cases, you won't have to tweak a single setting.
Best Prices Today: VideoDenoise