I love iCloud Photo Library. It's brain-dead simple to use (unlike iCloud Music Library), and it ensures that all my photos are in sync on all my devices. Lately, having bought a new camera, I've been taking a lot of pictures, and I've been wanting to view them and edit them on my iPad, with Enlight or Affinity Photo, a powerful photo editing app that was highlighted in Apple's recent WWDC keynote. But syncing from my iMac, where I import photos, to my other devices can take a long time.
There are a few reasons for this. One is that my upload speed is slow. Since I shoot both RAW and JPEG, Photos has both files in its library for each picture, and together they take up about 25MB. So if I import a bunch of photos, there's a lot of data to upload.
And Photos doesn't let you control its upload, at least not easily. Even after I import photos and delete the ones I don't want to keep, Photos wants to upload them, because they're in the Recently Deleted album. This album is a good thing, because it means that if you delete a photo, then later decide that you really did want to keep it, you have a month to change your mind. But if I import, say, 100 photos, and keep a half dozen, Photos still wants to upload all these pictures to the cloud, then down to each of my devices. I'd rather that Photos not upload the Recently Deleted photos, at least not right away, perhaps deferring them until some time when I'm not doing anything on my Mac. Unfortunately, when I import photos from a memory card, Photos immediately starts uploading them, whether I keep or delete them.
I've found a workaround, but one that's clunky. In Photo's preferences, on the iCloud tab, you can pause or resume photo upload. This is especially useful when you first turn on iCloud Photo Library, since there can be a lot of data to upload.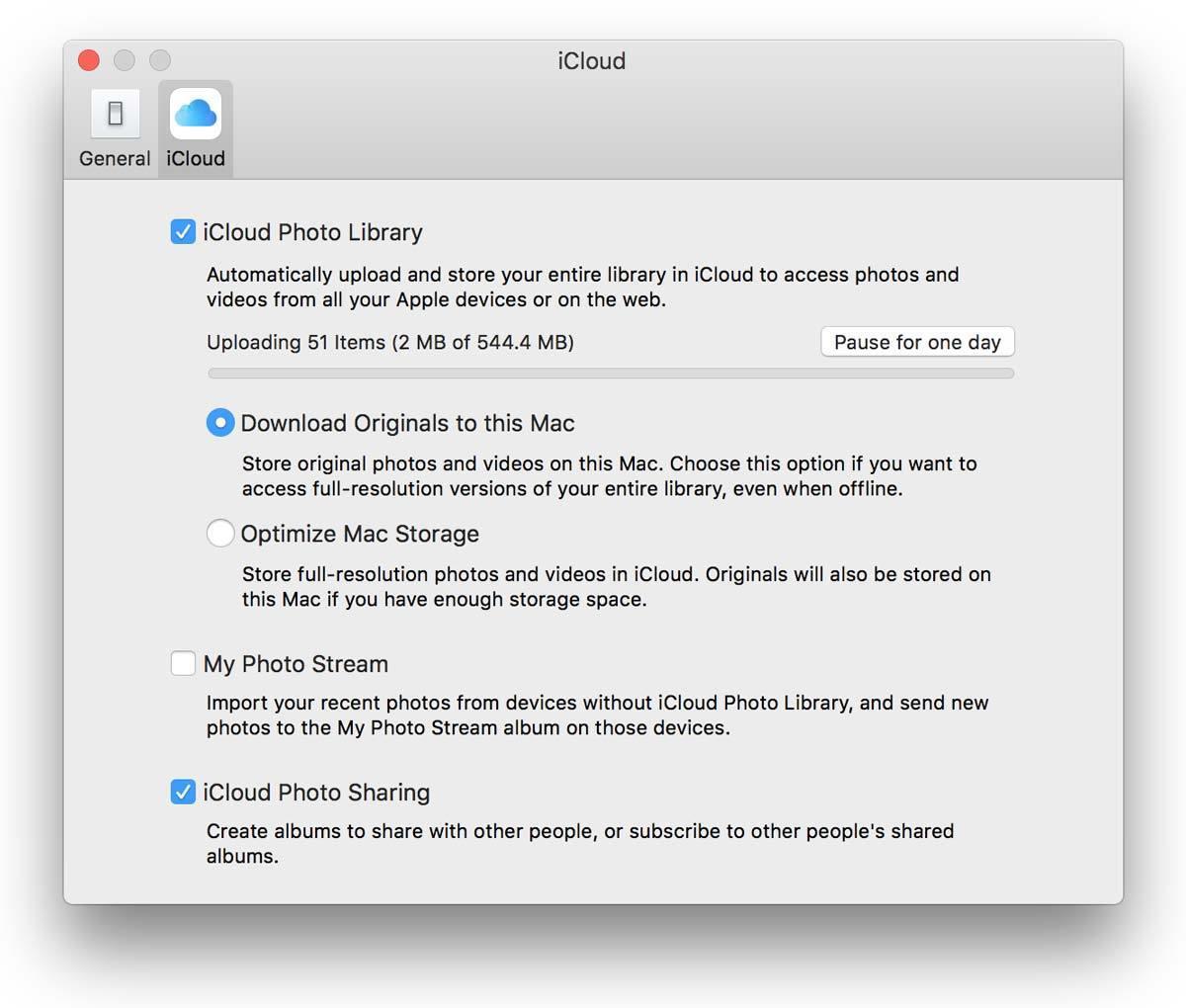 To keep my bandwidth free, and to not waste time uploading lots of photos I won't keep, I go to the preferences and pause the upload. But if I do it after I've imported the photos, then delete some or most of the photos, Photos still tries to upload all the pictures, because they're in the Recently Deleted album.
The only way I can get photos to upload smoothly is to pause the upload in the preferences first, import the photos, delete the ones I don't want, empty the Recently Deleted album, and then turn uploading back on.
Even when I've done that, it's a crap-shoot as to how long it will take for the photos to show up on my other devices. Sometimes it's fairly quickly, sometimes it can take more than an hour after Photos on my iMac has finished uploading. And this is just syncing thumbnails; I still need to download files if I want to do anything more than view them in the Photos app.
Now if I really want to work on a photo, there are other options. I can use AirDrop, for example, to send it from my iMac to my iPad. But then I'll have a duplicate. I may have, say, cropped a photo on my iMac, or started tweaking the RAW file in Photos, and if I export it to the Finder, I'll have the original, unmodified file, not one with my changes.
While features like Handoff and Continuity work more or less reliably these days, it's a lot harder to have that continuity with Photos. It's not just my limited upstream bandwidth that slows things down, it's whatever happens in iCloud that makes syncing lag.
With photos being such an important feature for iOS and Mac users, it would be helpful if this photo syncing was a bit faster. I can sync files to my Dropbox folder and see them immediately on other devices. Why can't Apple do the same?