If you're buying the new 10.5-inch iPad Pro, you're probably going to want a keyboard to go with it. But right now, you've only got two options that use the iPad's Smart Connector.
In one corner is Apple's own $159 Smart Keyboard, a lightweight typing accessory that doubles as a screen cover. In the other is Logitech's $130 Slim Combo keyboard, whose kickstand-equipped case and detachable keyboard practically turn the iPad into a Microsoft Surface.
These two iPad keyboards take vastly different approaches toward design and features, with Apple favoring elegance and Logitech aiming for utilitarianism. And together they make for a case study in how adding more features brings more trade-offs.
The Smart Keyboard grows up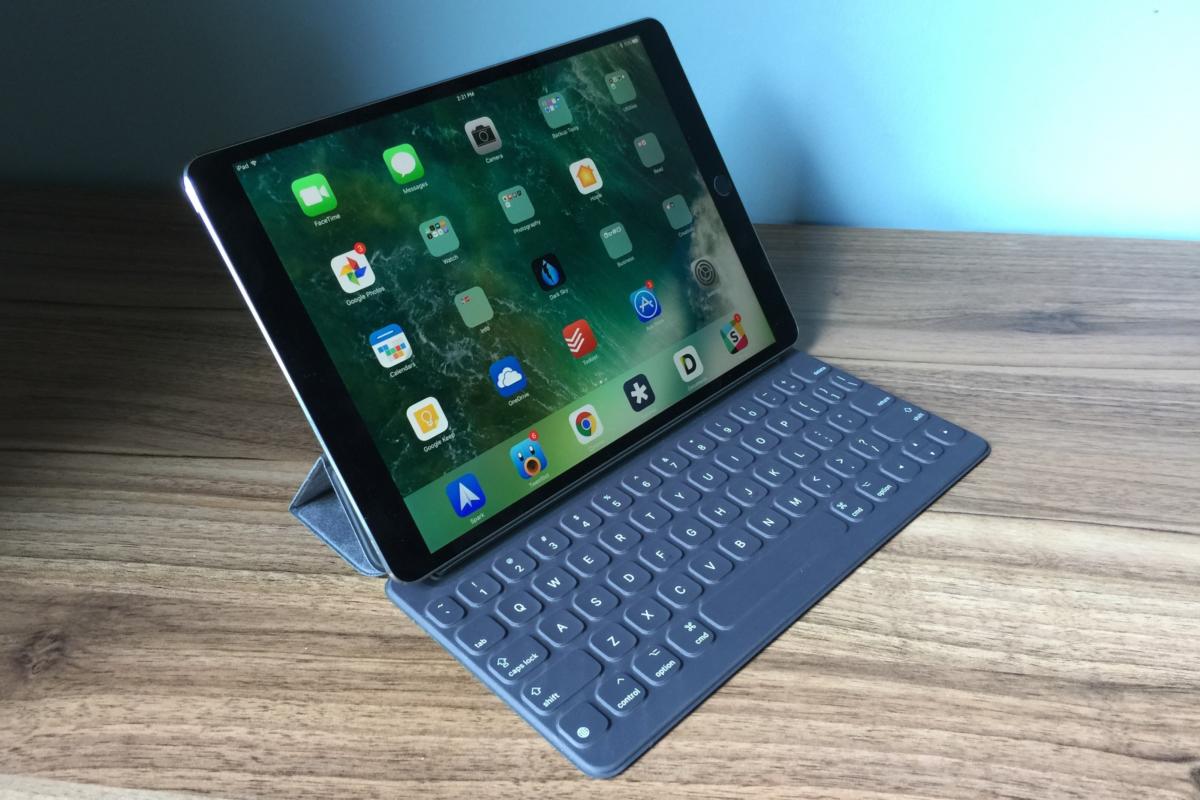 Because the 10.5-inch iPad Pro is wider than the previous 9.7-inch version, its Smart Keyboard is also roomier. I measured a little over 17.5mm horizontally between keys, and just about 18mm vertically, falling just a hair short of OSHA guidelines. (The 12.9-inch iPad Pro's keyboard, for what it's worth, runs about 1mm wider between each key.)
Sizing aside, the new Smart Keyboard has the same design as the old one, with a nylon-like layer of woven fabric over the keys, along with plastic and felt-like fabric on opposite sides of the screen cover. The top of the cover snaps magnetically into the iPad's Smart Connector, then folds into a little triangle, allowing the iPad to drop into a narrow groove just above the keyboard. Setting this up ceases to be confusing after about a day.
When you're done typing, the keyboard folds up into the bottom two-thirds of the cover, then flips over to protect the screen. Alternatively, you can fold the cover back behind the iPad for handheld use, or tuck the keyboard into a triangle behind the tablet for use as a stand; iOS will switch to its software keyboard when it recognizes that the physical one is stowed away.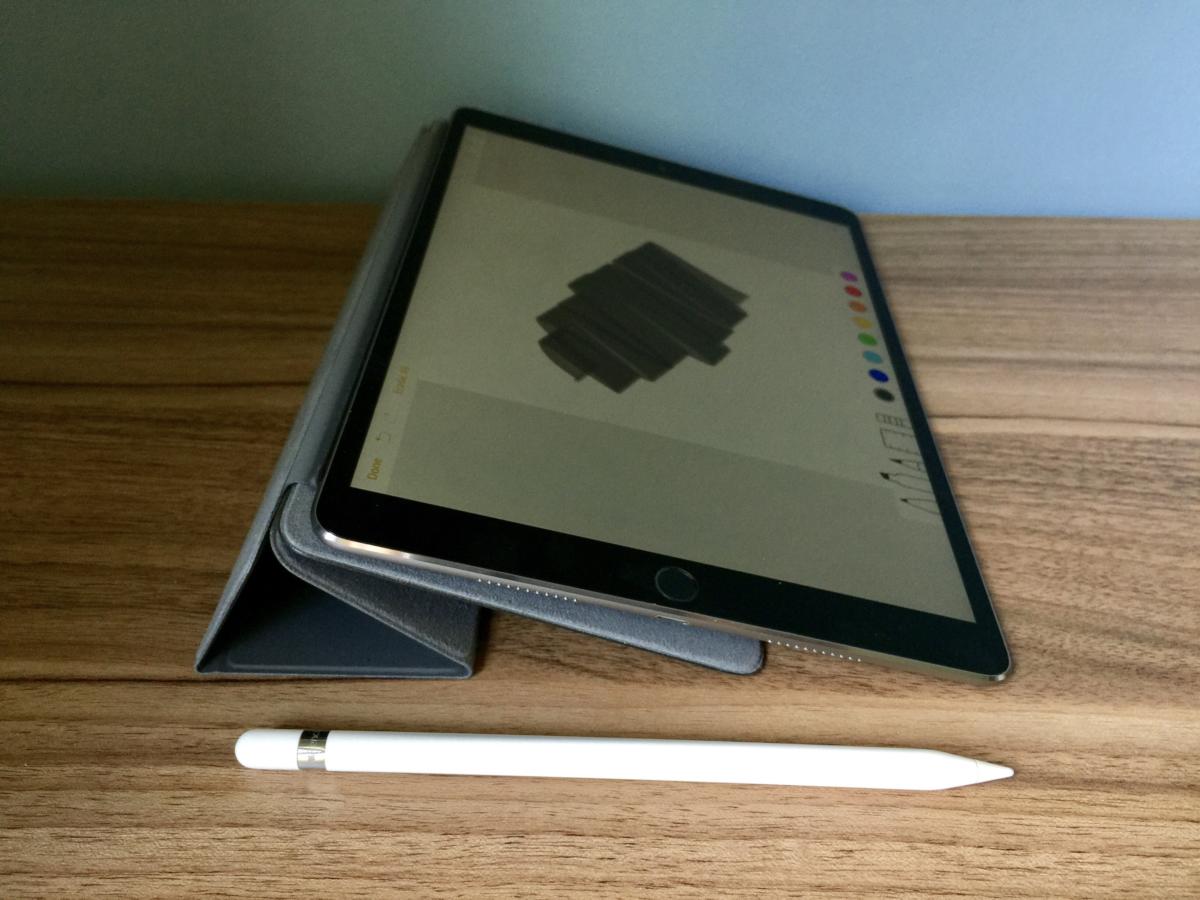 The Smart Keyboard's design has some inherent disadvantages. It only allows for a single angle of incline—mitigated, somewhat, by the iPad's excellent viewing angles—and it leaves no room for function keys. The numbers row is also close enough to the screen to invite some inadvertent tapping, and there's still no place to stash an Apple Pencil.
But that same design also enables the Smart Keyboard's strengths. Because the keyboard area is so shallow, your fingers needn't reach as far to touch the screen, and the entire cover is light enough that it doesn't severly compromise the iPad as a handheld computer. It's also easy enough to detach and reattach. Although the Smart Keyboard doesn't have all the creature comforts of a standard keyboard, it's successful in feeling like an actual part of the iPad hardware, rather than just a bolted-on accessory.
Logitech beefs up with the Slim Combo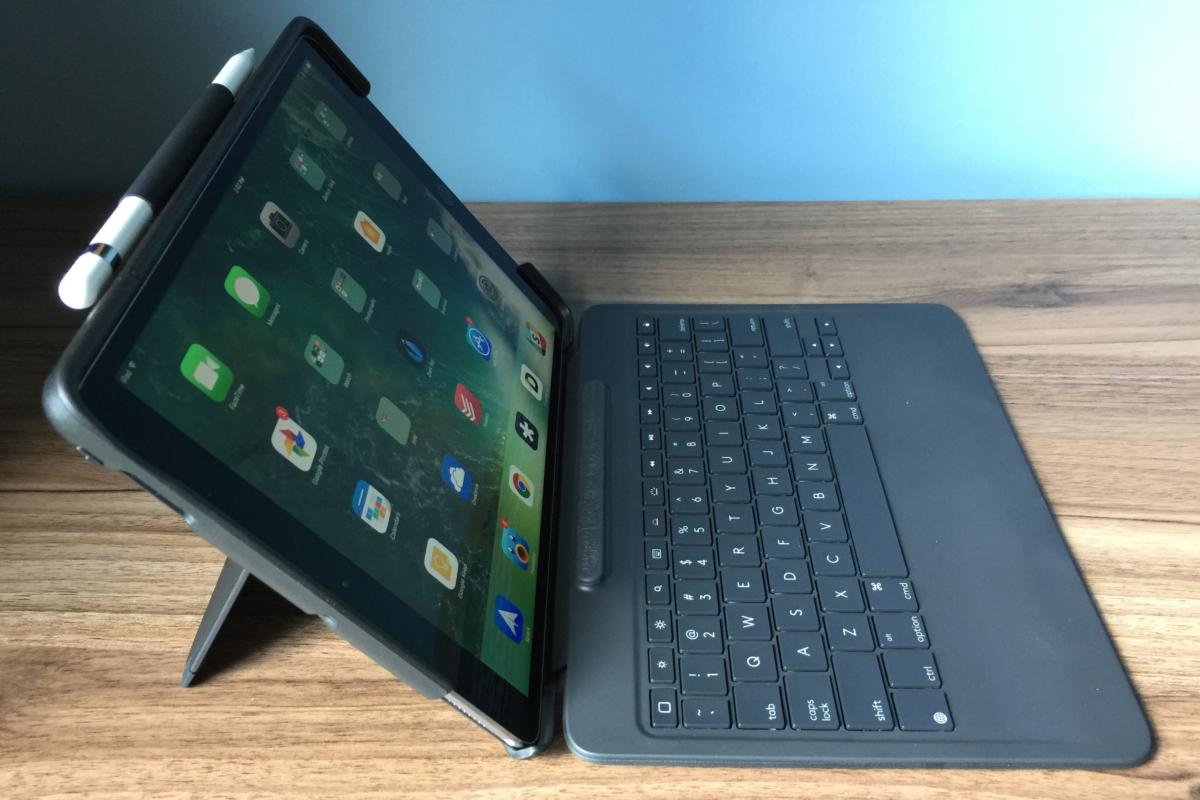 Meanwhile, Logitech's iPad keyboard takes nearly all the Smart Keyboard's strengths and weaknesses and flips them around.
The Slim Combo is loaded with features. It has backlit keys, a kickstand with adjustable viewing angles, and a function key row with buttons for Home, screen brightness, an on-screen keyboard, media playback, volume, mute, and lock. The clamshell design acts like a protective barrier for both sides of the iPad, and it even includes a fabric loop for storing an Apple Pencil.
Yet the design that facilitates those features also lends a certain clumsiness to Logitech's hardware. The kickstand is part of a bulky snap-in case that's heavy in the hands and inconvenient to remove, and once the kickstand is unfurled, it demands a lot more space than the Smart Keyboard's triangular stand. That makes the Slim Combo trickier to balance on a lap, and harder to use on an airplane. And with extra keys crammed into the keyboard base—which runs about as deep as the iPad itself—the screen is further away from your fingers compared to Apple's keyboard.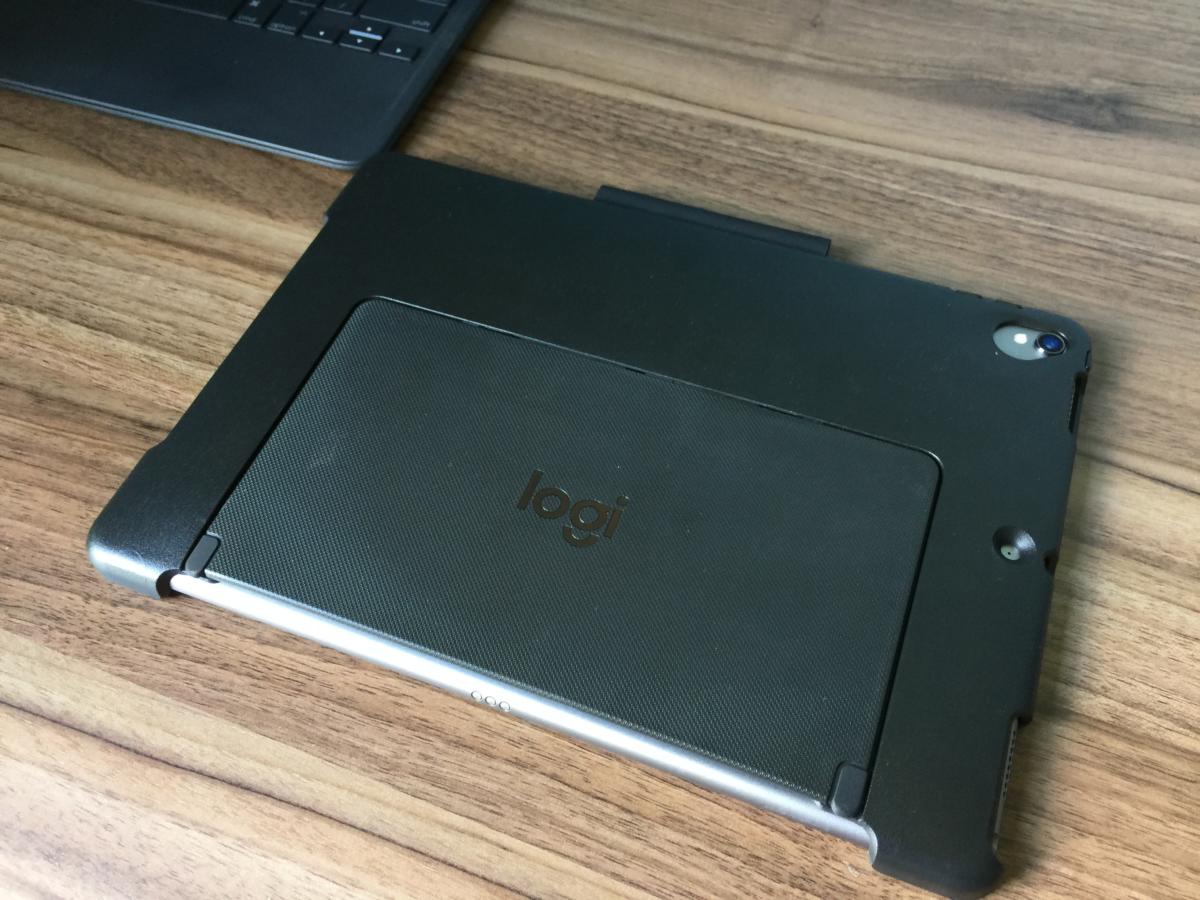 Logitech's Slim Combo also suffers from some questionable decisions and cheap build quality. The kickstand could be more rigid to prevent the screen from wobbling, and the floppy, rubberized band that connects the case and base sections allows the keyboard to shift around in your lap. And while the keys themselves have more travel compared to Apple's Smart Keyboard, they're also more cramped together. (Somewhere, someone from OSHA is tsk-tsking.)
Overall, using the Logitech Slim Combo feels like a deeper commitment to the iPad-as-laptop concept, with more features that appeal to serious typists. But it also makes the iPad harder to use in its natural state, and in some ways still manages to fall short as a typing machine.
The typing test
To see which keyboard was faster, I ran a series of typing tests in the free TapTyping app for iOS. Each test required copying three brief passages of literature, and I ran each test three times per keyboard on two separate days.
In these tests, Apple's Smart Keyboard was consistently faster, but not drastically so. I averaged 98 words per minute on Apple's keyboard, versus 94.5 words per minute on Logitech's keyboard. My highest score on the Smart Keyboard was 100 words per minute, versus 97 words per minute with the Slim Combo. Error rate was nearly the same on both keyboards, at 97.83 for Apple's keyboard and 97.67 for Logitech's keyboard. My sense is that Logitech's extra key travel makes typing a bit slower.
Speed isn't everything, though, and the soft springiness of Logitech's keys felt less stressful on my fingertips and joints during prolonged use. Using the Smart Keyboard requires a softer touch to avoid discomfort.
Bottom line
Still, I found myself favoring Apple's Smart Keyboard over Logitech's Slim Combo in the end. While neither keyboard is perfect, the Smart Keyboard's light weight and detachability are must-haves unless you plan to use the iPad as a laptop nearly all the time. Even then, the Slim Combo's bulkiness, cramped keys, and unwieldy kickstand are harsh compromises just to gain a few extra features. Until the rest of the accessory industry gets caught up with Apple's new 10.5-inch iPad design, the Smart Keyboard is the best you can get.
Smart Keyboard for 10.5-inch iPad Pro
Slim Combo Keyboard for 10.5-inch iPad Pro