Not that long ago, it was easy to rack up bills of hundreds or thousands of dollars in data roaming charges when traveling with your mobile phone. Now, it's possible to contain your costs, thanks to new offers from carriers, SIMs you can buy int he country you are visiting, or even mobile hotspots.
For Americans, Mexico and Canada are the easiest countries to travel to and call home from without a fuss. Any further abroad, and you'll have to work harder for deals. It all comes down to planning ahead, and we'll show you how in this article.
Here are the best options for keeping your mobile data costs down while traveling.
Work with your carrier
Many U.S. carriers have plan levels that extend a domestic plan to Canada and Mexico. T-Mobile is the only one with a plan that works worldwide for data and text with an upgrade option. The other carriers offer day passes (and some have week or month ones, too) for roaming.
But note that with a plan instead of a pass, carriers will cancel or limit non-U.S. access if more than 50 percent of your usage is outside the U.S. for a two-month period. If you're traveling for an extended period, it's better to put your U.S. plan on hiatus (many carriers will suspend your plan, which prevents cancellation fees and other penalties) while you use a carrier in other countries.
There's one more option, too:
Project Fi from Google is a great option for frequent global travelers based in the U.S. You have to purchase an Android phone, which can be a non-starter for iPhone users, but plans start at $30 a month for 1GB of 4G LTE data that can be used in the U.S. and in over 135 other countries, unlimited texting in those same countries, and unlimited calling within the U.S. (Data speeds may not always be LTE; they'll be at the fastest rate available with partners in those countries.) It costs $10 for each additional gigabyte, and signing up ahead of time for a higher level of usage doesn't come with an opportunity cost, as Google credits unused data forward. Cell calls within or among those countries are $.20 a minute.
Buy a SIM
If you're using an iPhone that can be internationally unlocked or that comes unlocked, you can drop in a GSM-based SIM wherever you land or arrive.
I asked frequent travelers to Asia—including to China, Hong Kong, Japan, and Taiwan—and the universal recommendation was to wait until you arrived at the airport, and purchase a SIM from a shop there. Because so many people recommended this option, I'm passing it along, even though we all know from experience that many other kinds of airport shops fleece unwary tourists! In this case, apparently not.
Check for tourism office deals, too. One friend pointed out that Discover Hong Kong has a SIM targeted specifically to short-term tourists sold at the airport. For about $11 to $15 (HK$88 to HK$118), you can get a SIM with 1.5GB or 5GB of LTE data for a five-day or eight-day period, including Wi-Fi hotspot usage, local calls within Hong Kong, and preloaded international call credit. They also offer data roaming to mainland China, Macau, and Taiwan at $5 a day.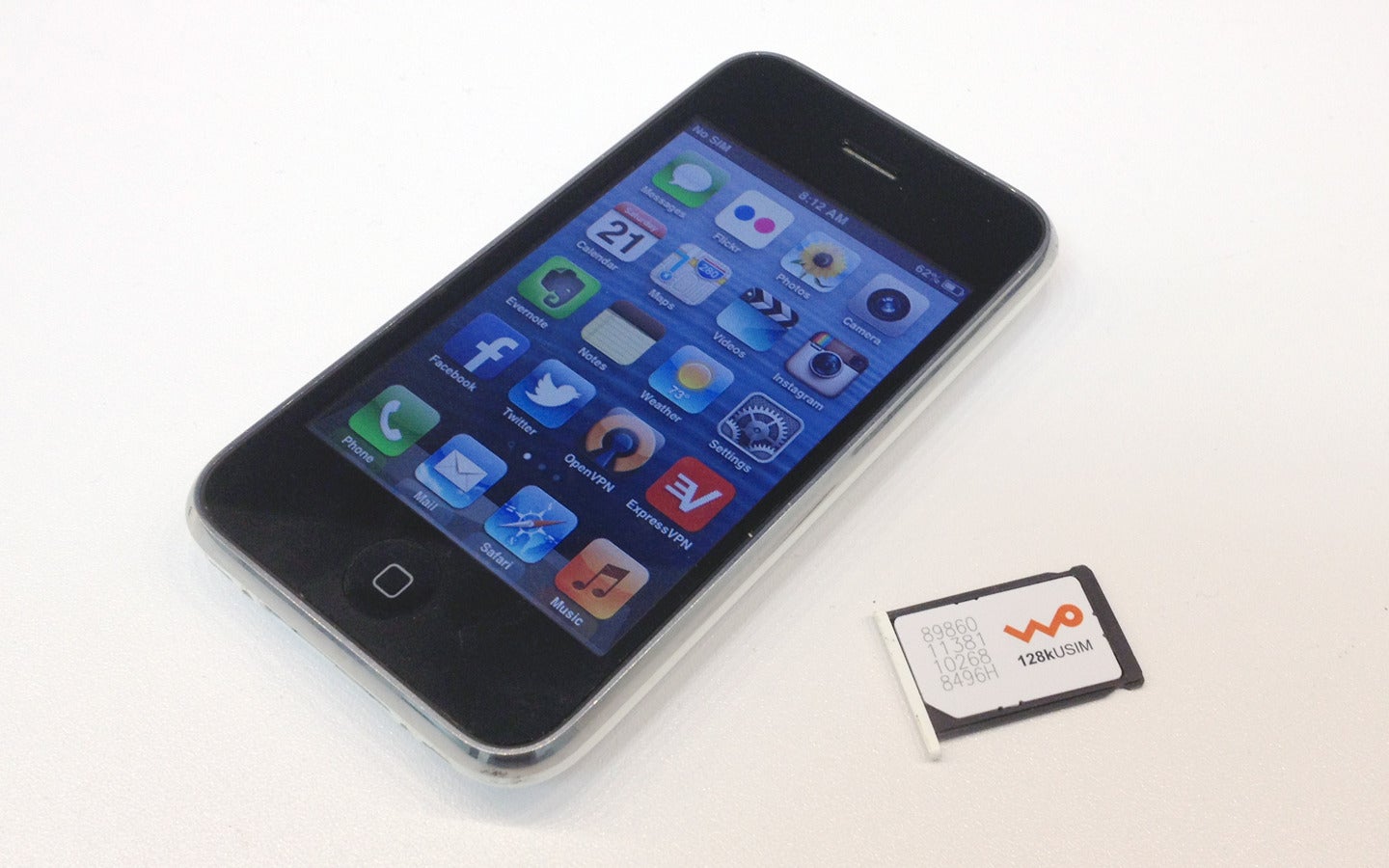 (China also has the challenge of its Great Firewall. You'll need a VPN to work around it. You can read about a Macworld editor's experience using his iPhone in China to get an idea of what you're in for.)
While I didn't rack up any specific recommendations in Europe and other destinations, one colleague pointed me to a detailed, constantly updated wiki that provides eye-watering detail about prepaid SIMs. Check the country or countries you're visiting and it may help prepare you for what plan to buy. Some carriers will sell a SIM online and ship it to you internationally ahead of your trip, too, but make sure the timing works.
In the 28 countries of the European Union, roaming fees among those nations for texts, call, and data evaporated on June 15 after over a decade of pressure and rule making by the EU. As a result, buying a SIM in any EU country lets you use it in all the others. This helps immensely for a trans-European trip, but make sure you know which countries aren't in the EU—like Switzerland.
Once you've purchased a SIM, you should be able to recharge it if you visit the same country or region that it covers again, avoiding future one-time costs.
While you can purchase SIMs that work worldwide or in large regions via a number of websites in advance of travel, these are no longer the deals they were even two years ago, when you could spend hundreds of dollars a gigabyte. Now, it's almost always possible to spend vastly less for multi-gigabyte data plans.
If your phone can't be unlocked, you may be able to rent a mobile Wi-Fi hotspot for about $3 to $15 a day with large data allotments, depending on the airport at which you arrive.
Find Wi-Fi for data, texts, and calls
You might not need international data, text, or calls at all. Wi-Fi may be abundant where you're traveling, and you could use it for free or with modest purchases in cafés. You can also purchase a subscription from Boingo Wireless for unlimited access to paid Wi-Fi hotspots in certain regions, like Asia-Pacific or England and Ireland, or 2,000 minutes (over 33 hours) per month anywhere in the world.
With Wi-Fi, you should be able to manage nearly everything you could with voice and text messaging service:
iMessage and FaceTime work over Wi-Fi for your iOS and macOS interactions.
WhatsApp has hundreds of millions of users, and offers text, audio, and video; check with those you want to reach and install and signup for the free service before you travel.
Skype can make calls to other people with Skype, but also has cheap per-minute and unlimited calling plans to other countries. You can also pay for incoming phone numbers in different countries and send and receive texts.
Google Hangouts can fill in gaps for those who don't use any of the above.
Most of these services are designed to work at low data rates, but you may find Wi-Fi speeds in many places are too slow or erratic for video, but work fine for audio or text.
How to unlock your phone
A SIM (Subscriber Identification Module) identifies your phone to a cellular network, and confirms the billing relationship.
If your iPhone (or other phone) is more than a few years old, make sure it has a SIM slot. Phones sold in America for Verizon or Sprint networks at one time only included support for their format of network (CDMA), which doesn't use a SIM. Look up your phone model if you have any confusion.
Swapping the module is straightforward (you need a special tool or an unbent paperclip). Because the SIM card has shrunk (from regular to micro to nano), an older phone might need an adapter to hold a newer, smaller card. However, wherever you buy a SIM, they should have these adapters since they'll be used to people with phones of all vintages.
Many phones are locked to a carrier at purchase, and a new SIM can't be activated immediately. It's critical you check on this and unlock the phone before traveling as you may be unable to unlock it outside your home country.
If you have a phone with active carrier service, you can search for the carrier's FAQ or unlock page, and see if your phone is unlocked, or give them a call to check. Verizon doesn't lock its iPhones and Sprint generally unlocks on request (with some provisos). T-Mobile has a pile of requirements: it doesn't separately unlock internationally, and requires you pay off your phone first. AT&T also requires payoff, but has fewer other restrictions.
If your phone isn't on a plan, you will need to figure out the previous carrier and use an online unlock request (via links above) or call directly. If you can't figure out, call the most likely carrier, and they should be able to tell you which network the phone was sold on even if it's not theirs.
Some carriers will require extra documentation to unlock a phone that was formally on the network. And phones reported lost, stolen, or used for fraud can't be unlocked—you could accidentally buy a used phone that met one of those criteria. (Apple removed a tool to check whether an iPhone is unlocked, reportedly because of criminal abuse.)
We have more details on how to unlock your phone.