What's the future of the Mac? On Thursday at Macworld 2011 I discussed the question with a panel of smart people: Daring Fireball's John Gruber, TidBits publisher Adam Engst, and Macworld's own Dan Moren. Join us for an interesting, intelligent discussion about where Apple may take the Mac in the future.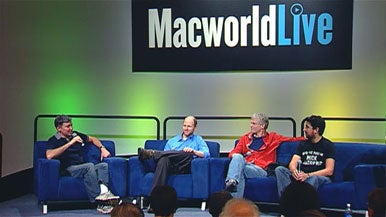 The Macworld Podcast feed is providing the audio version of a video broadcast from the show floor:
Listen to episode 228
If you'd like to see the panel with your own eyes, view the embedded YouTube video below.
[Editor's Note: Yes, in the video John Gruber is wearing a t-shirt containing a naughty word, famously worn by Keith Richards in 1975. If you or anyone you know who might be watching the video would be offended by a t-shirt containing that word, or is particularly a fan of Mick Jagger, please stick with the audio version—which is full of intelligent discussion and light on incendiary outerwear.]
To subscribe to the Macworld Podcast via iTunes 4.9 or later, simply click here. Or you can point your favorite podcast-savvy RSS reader at: http://rss.macworld.com/macworld/weblogs/mwpodcast/
You can find previous episodes of our audio podcasts at Macworld's podcasting page.
Have any feedback on this podcast? Send me an e-mail; audio comments in the form of an AAC or MP3 file are particularly welcome. You can also leave us a message at 415/520-9761 if you'd like to have your comments included in a future podcast.