At a Glance
Expert's Rating
Pros
Cross-post videos to Facebook, YouTube, Twitter from a single upload
Full-resolution HD videos optimized for each destination
Fast processing, often better results than native applications
Cons
Free accounts limited to 10 minutes per month
Requires first uploading to intermediary servers
No support for Photos albums or folders
Captions aren't automatically duplicated to other accounts
No support for Instagram, Vimeo, et al
Our Verdict
Best Prices Today: UptiiQ
The folks at EuclidIQ have come up with a clever way to publish short videos in a single upload to your social media accounts. But those with frequent sharing habits will have to pay for the privilege.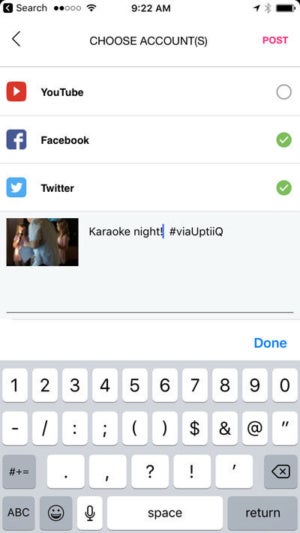 UptiiQ (free in the App Store, with in-app purchases) is marketed as a "video converter tool for social media," but it's really just an iPhone app designed to save time by posting videos to Facebook, YouTube, and/or Twitter all at once (sorry, Instagram and Vimeo fans). Rather than upload the same file to three different services, UptiiQ conserves bandwidth by first sending videos to their own servers, then processes and posts to each of the connected services.
The app features a straightforward user interface with only three buttons. New videos can be recorded directly inside the app from the Upload Video tab, or selected from the iOS Photos library. There's no way to navigate folders—thumbnails are sorted in descending order with most recent at the top, making it a bit of a challenge to find older videos. On the plus side, UptiiQ uploads videos at full resolution. (The app also works on iPad, but without native display support.)
The My Activity tab shows which videos have been posted where, along with upload date and time. This screen is more for reference, since there's no way to preview or play back videos. The last tab is for Settings, where you can set up default social networks for each session, or limit uploads to Wi-Fi only.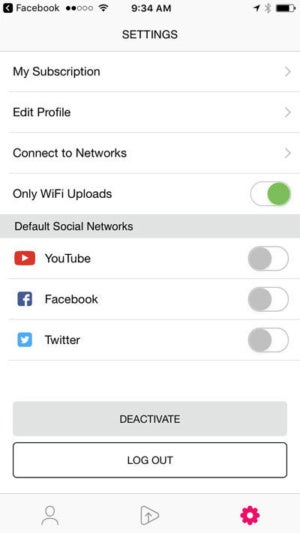 If you post a lot of original content to social networks, UptiiQ is a definite time-saver. Once you sign in via Facebook or email, all that's required is to link the desired social media accounts. UptiiQ accesses no private data, only tokens that grant access to publish on your behalf. You don't have to publish to all three services, just select the accounts you want before a post is made.
Forever Minutes
UptiiQ is a free app, but limited to uploading 10 minutes of content per month. Once the limit is reached, you'll have to wait until the following month or purchase additional "Forever Minutes" via in-app purchase. The cost is reasonable enough: $1 for 10 minutes or $2 for 30 minutes, enough for all but lengthier YouTube videos; the developer plans to introduce an unlimited minutes plan in the future.
Unused free minutes are lost whenever the clock resets, but paid minutes remain in your account until used. UptiiQ prioritizes free minutes first, and always calculates based on length of the uploaded video, not by how many services you're posting it to.
When posting a new video, the app adds a short "published by UptiiQ" signature (#viaUptiiQ hashtag in the case of Twitter), but this can be manually deleted if desired. Sadly, the app doesn't duplicate captions you've entered to other accounts, but that's a trivial matter of copy and paste.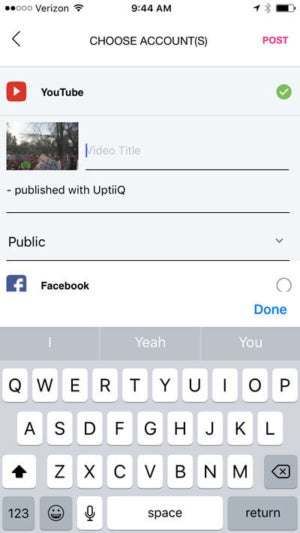 Aside from the obvious benefit of single uploads, UptiiQ also optimizes videos to make them look their best on each service. In my tests, they often looked better than direct Facebook, YouTube, or Twitter uploads. Posts also appear remarkably quick, usually within a minute or so of the upload being completed.
Bottom line
Save time and bandwidth by using UptiiQ to upload iPhone videos once and cross-post to all three major social networks, but be prepared to pay up if you share more than 10 minutes' worth of content monthly.
Best Prices Today: UptiiQ