Samsung has its fingers in nearly every segment of the tech industry you can think of, so it's hardly shocking that the company has its own line of smartwatches. But this might surprise you: some of them are compatible with your iPhone.
It's true! Just like Android Wear before it, Samsung's Gear S3 and S2 smartwatches eventually gained iPhone compatibility, giving Apple phone users another wearable option that isn't the Apple Watch. And Samsung's watches are pretty impressive, too, with bright, rounded touchscreen faces wrapped by a rotating bezel that you can use to navigate the UI.
But how well do these Tizen OS-powered watches work with iOS, and what kind of functionality do you gain—and lose—by using Samsung's hardware instead of an Apple Watch? We've been using the Gear S3 Frontier with an iPhone 7 Plus recently, so here's a look at how to use the two together, and what to expect.
What is the Gear S3?
The Gear S3 is Samsung's latest and arguably greatest attempt at building a premium smartwatch, following an up-and-down progression of devices over the last few years. For example, the original Gear S was a huge, awkward, standalone smartwatch/phone device that our sister site Greenbot roundly panned.
But the Gear S2 was a total reinvention: smaller, sleeker, and much more useful and comfortable—and the Gear S3 is ultimately a revision on that core design. Both the Gear S3 and Gear S2 are compatible with iPhone, pairing with your device to put notifications on your wrist and pull from the phone's internet connectivity, and both watches have their advantages.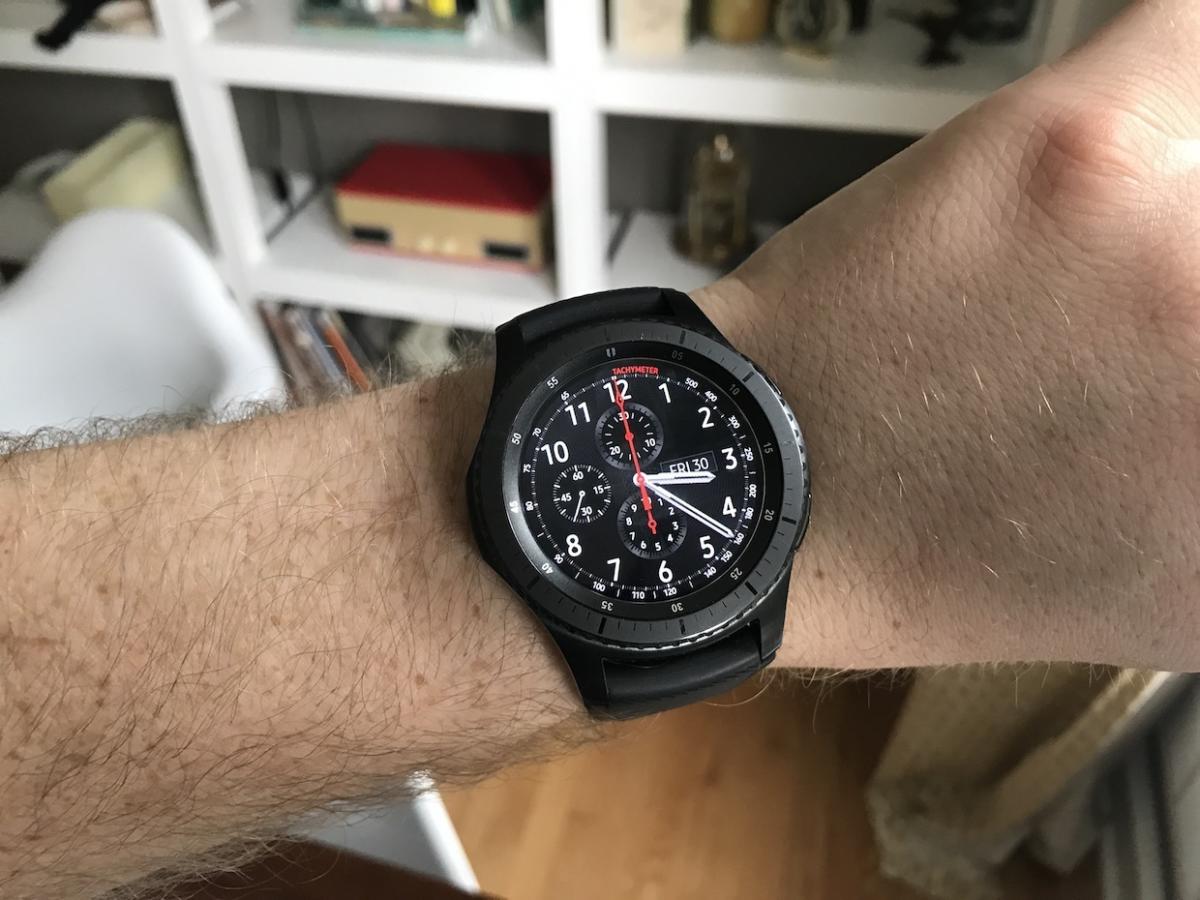 All of the Gear S3 and Gear S2 models are defined by the rotating bezel around the large, circular touchscreen. You can navigate the interface however you please, either by swiping the screen or gradually moving the bezel in either direction. It all works surprisingly well, and Samsung has done a nice job building a UI that doesn't conflict between the input types.
As Michael Simon wrote in his review of the Gear S3 Frontier for Greenbot, "Even though it was my first time using a Samsung smartwatch, my first instinct was often the correct one." To borrow a phrase from Apple, it just works. On the right side are two physical buttons: the top one goes back in navigation, while the bottom one brings you back home to the watch face.
Like the Apple Watch Series 2, the Gear S3 has a built-in GPS for tracking runs and activity on the go. The Gear S2 models lack the GPS, much like the original Apple Watch, but both Gear options are IP68-rated water and dust resistant and feature wireless charging with the included dock.
What is Tizen?
Don't know about Tizen? Don't worry: you're surely in the majority amongst gadget users, especially in North America. Tizen is an open-source, Linux-based operating system that was initially conceived by numerous tech giants, but Samsung ultimately ran with the tech and has developed it as an alternative to Android.
That's right: Tizen isn't based on Android, and the Gear S3 and S2 are not Android Wear devices. Although Samsung's best-known and best-selling phones all use Android, the company has shipped a few budget phones that run on Tizen in developing countries, and has based a few of its wearable devices on the operating system.
What does this mean to you as a prospective Gear S3 or S2 buyer who uses an iPhone? Not too much, really. Tizen and Android are both alien operating systems to iOS, but Samsung's watches and Android Wear devices alike offer iPhone compatibility via their iOS apps. There's some difference in the kinds of apps you'll find on Samsung's store as opposed to Google's Play Store for Android Wear 2.0 watches, and they offer different interfaces, but ultimately you'll find a lot of the same functionality on both platforms when used with iOS.
What are my options?
I've been using the same Gear S3 Frontier model that Greenbot reviewed, and it's a big, heavy, sporty-looking device with black rubber bands. Alternatively, you can get the Gear S3 Classic, which is functionally identical to the Frontier and has the same 1.3-inch Super AMOLED display, but offers a more refined look with a smoother face and leather bands. It'll still track your fitness data if you go for a run, but the rubberized bands of the Frontier are better suited for sweat. You can always swap out the standard 22mm bands, however.
Both models are available with optional standalone LTE connectivity, meaning that you can take calls and messages right from your watch, and piggyback onto your phone's data plan. In either case, the non-LTE watches sell for $350 apiece (both styles), while the LTE versions go for $350 to $400 depending on carrier.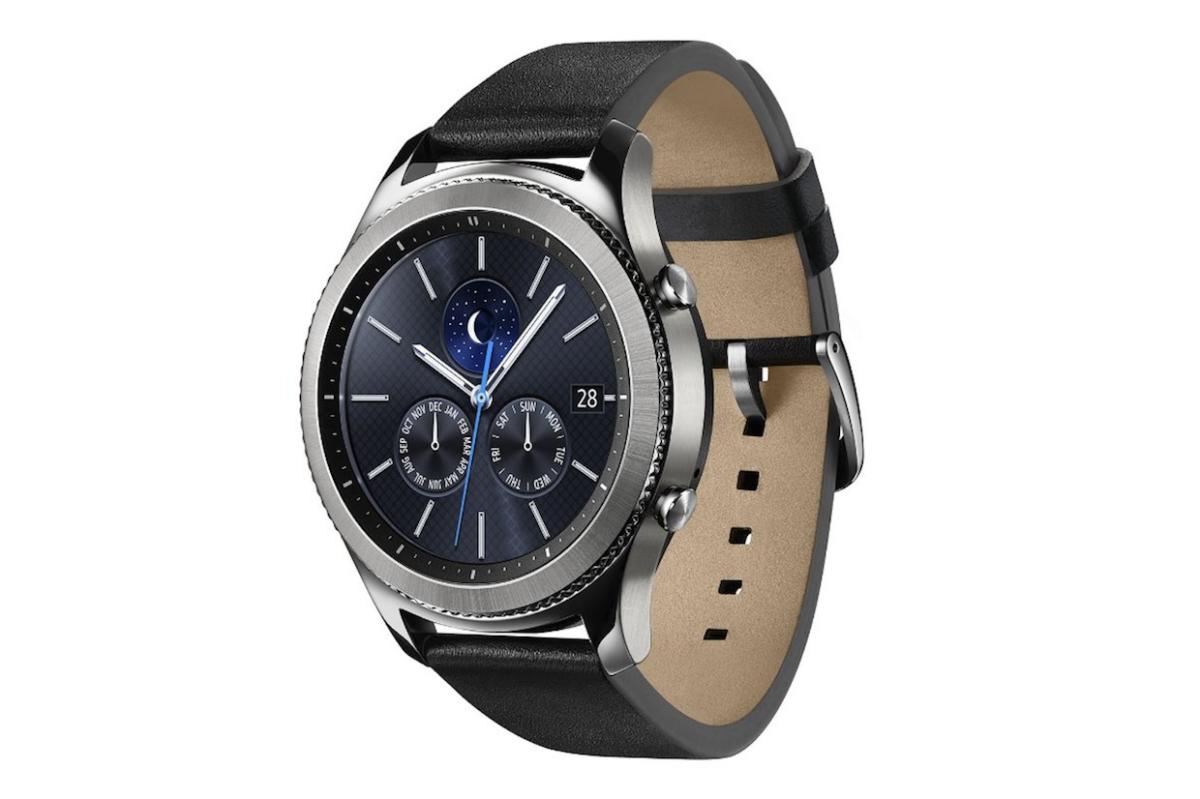 Much like Apple did with the original Apple Watch and Series 2, Samsung is still selling the Gear S2, which is functionally very similar to the Gear S3 and might save you a fair bit of money. The Gear S2 is similar in approach, with the same kind of rotating bezel, but has a slightly smaller 1.2in display—and it's a bit less bulky, as well, albeit with a smaller battery inside. It also lacks a built-in GPS.
The Gear S2 comes in a standard model with a stainless steel case and elastomer band, and has a very streamlined look ideal for active use, or there's the more elegant Gear S2 Classic with its leather bands and premium finish. There's also an LTE version available for the base Gear S2 model, letting you get the same kind of untethered experience as the Gear S3 with LTE.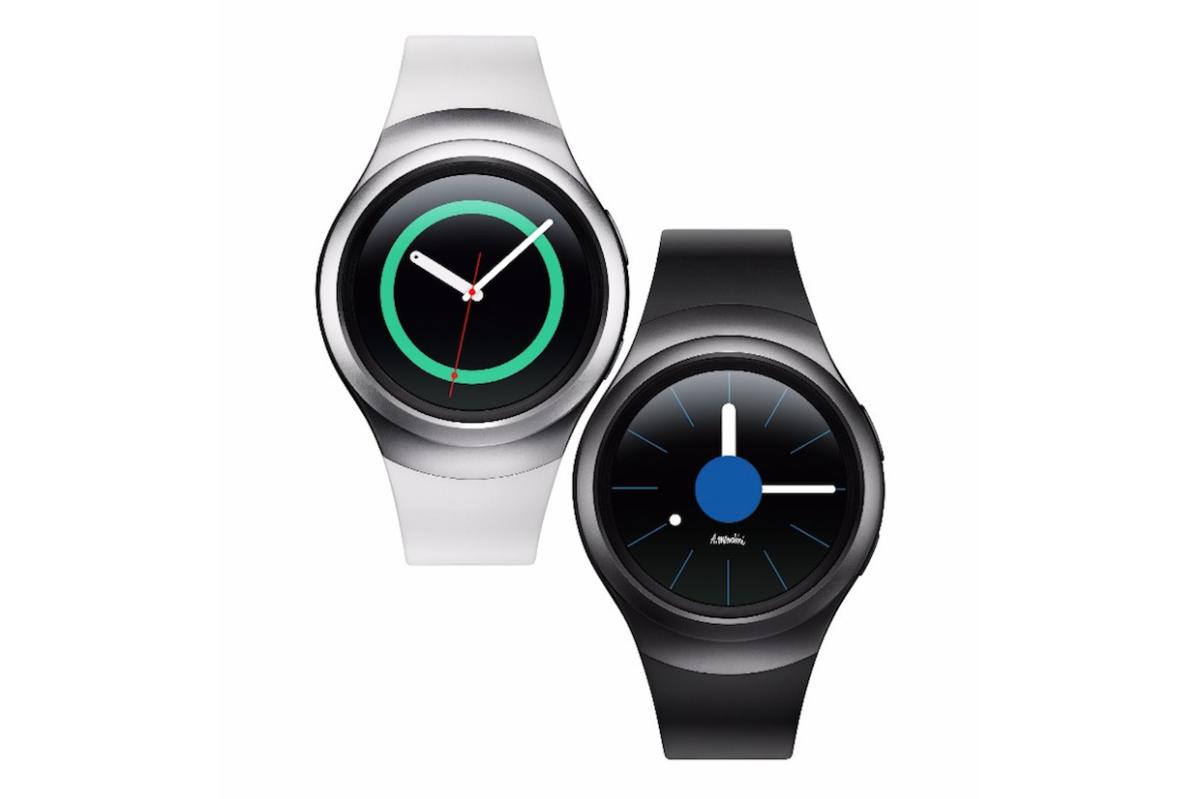 How do I pair it?
You'll need to download the Samsung Gear S app on your iPhone, which requires iOS 9.0 or newer to run. The Gear S app serves as the main hub not only for connecting and disconnecting your watch, but also for adding apps and watch faces and managing health and fitness content.
The app will walk you through the process of pairing the watch your phone via Bluetooth. In the case of the Gear S3 Frontier (with LTE) I'm using, it actually required me to pair two different Bluetooth connections—the first for primary functionality, and the other for sending calls from your phone over to the watch. It's unclear whether you have to pair the second Bluetooth connection for the non-LTE watches, but the app will let you know based on the model you choose.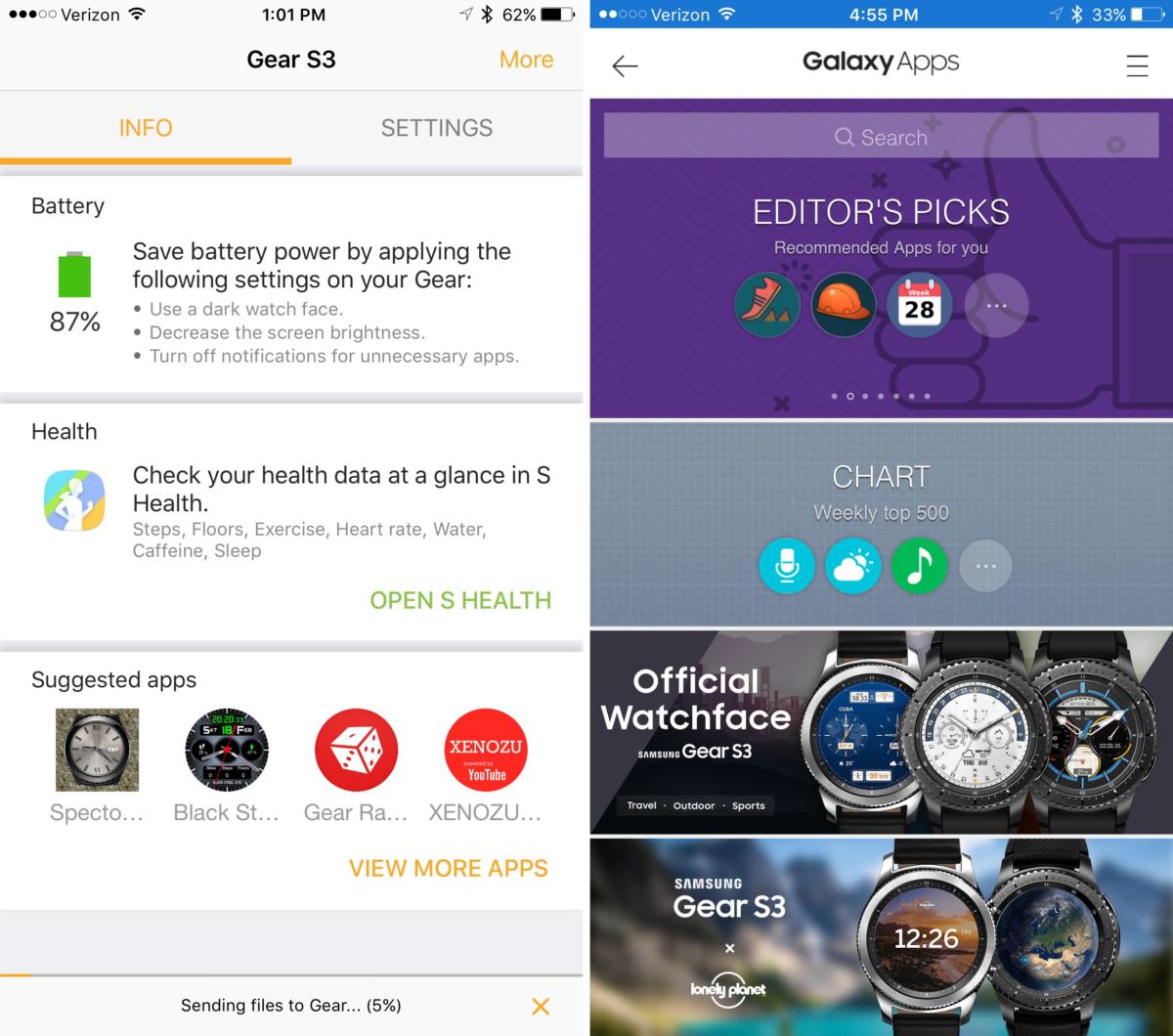 Here's the one snag that you'll face with the iOS app: it has to be running at all times for a Gear watch to stay connected to the phone. It can be in the background as you browse email, listen to music, play games, or do anything else with your phone—or the phone can be nestled in your pocket or bag with the screen off.
But if you close the app, the watch will lose its connection and stop pulling notifications, messages, and calls from your device. It's the same kind of problem that Android Wear faces with its iPhone compatibility, so you won't dodge this issue by opting for a Google-approved watch instead.
What can it do?
Like any functional watch, the Gear S3 and S2 can tell time—so that part is handled. Phew! This Gear S3 Frontier has 12 default faces available, ranging from minimal analog-like designs to a chronograph style, a digital clock dashboard, and a number of other faces with various bits of info (like weather and battery life) nestled in. You can lightly customize the look of the faces by tweaking the complications or in some cases the coloring, too.
The Gear watches are also pretty prompt with sending notifications over from your phone, whether they're text messages or from other messaging apps, emails, reminders from other apps and games, or really anything else. Your calls can also be patched through from your phone, as mentioned, and everything sounded crisp and clear in my testing—the person on the other end of the line didn't suspect I was talking into a watch instead of my iPhone.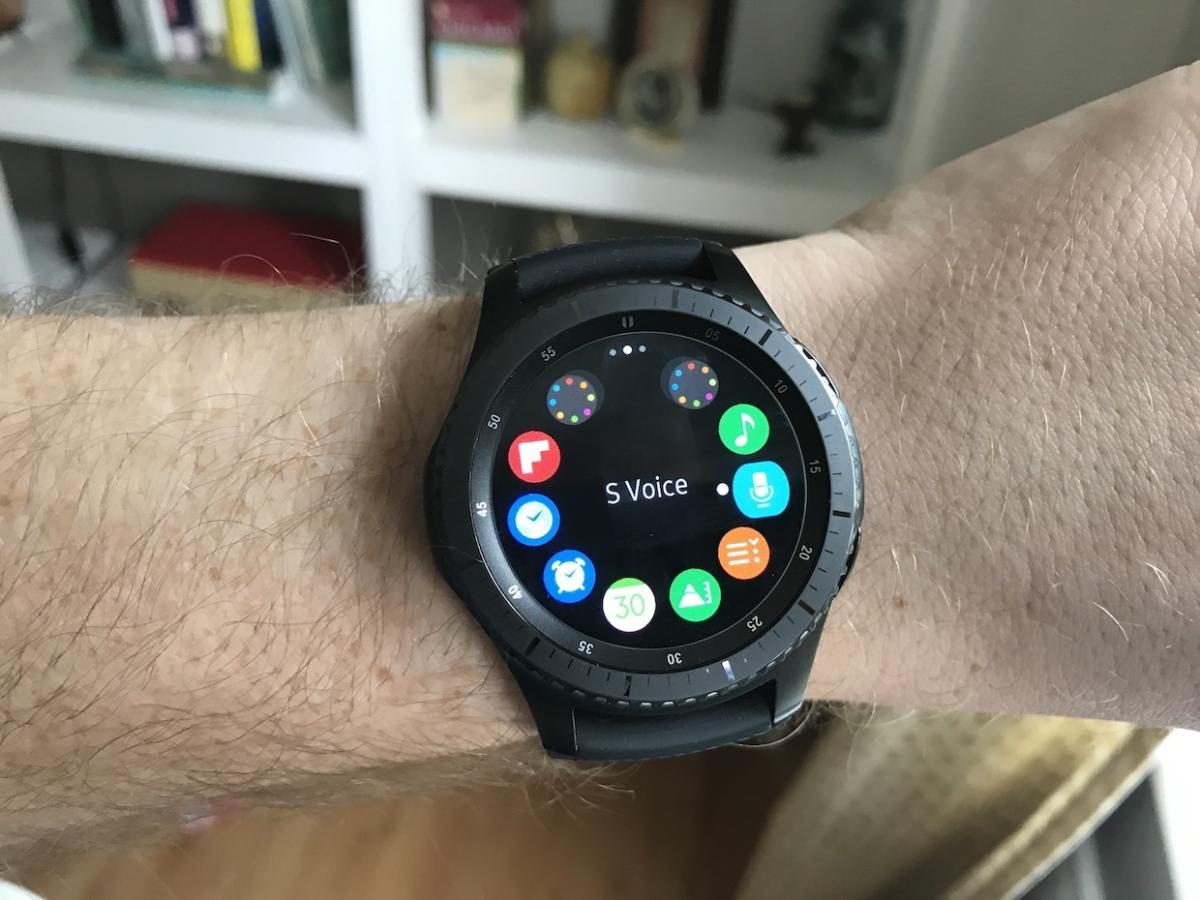 You'll find a handful of basic apps on the watch by default. This Gear S3 Frontier has a weather app, an alarm clock app, a calendar/schedule, Flipboard news briefings, a music player, photo gallery, and a couple of AT&T/DirecTV apps from the carrier. You can rearrange the ordering in the circular menu from within the iOS app, as well as uninstall a few of the default apps.
More apps (along with watch faces) can be downloaded from the iOS app, with a few big names in the bunch—you'll find official apps for Spotify, Yelp, and NPR One. )Suffice it to say, there's not a lot happening in that space.)
And Samsung's S Health platform is modestly equipped on the Gear S3/S2 with your iPhone, automatically tracking steps, floors climbed, sleep data, your heart rate, cycling, and hiking. But none of that data can be plugged into Apple's Health platform, so that's a bummer.
What do I miss?
That's really the tip of the iceberg for what the Gear S3 and S2 can't do with your iPhone, and there are omissions and limitations large and small. Samsung's watches feel like they're a stranger in Apple's ecosystem, and even if the devices are linked via Bluetooth, there's such a disconnect in continuity that you'll feel it in almost every part of the experience.
For example, you can't respond to text messages in any way—there aren't canned responses available when messages come from an iPhone, nor can you speak out a reply. Likewise, you can't interact with emails beyond reading them. Notifications are only meant to be read on the Gear S3 when paired with an iPhone, not acted upon. That's a big disappointment.
And Samsung's built-in apps require a fair amount of manual work to tap into your content, since they don't play nice with your existing iOS apps and services. Want to have some photos on your phone? You'll have to manually send them to Samsung's Gallery via the Gear iOS app. Want to listen to music that's not on Spotify? Disconnect the Bluetooth connection, connect via Wi-Fi to the same network as your computer, and then you can manually move songs to the watch via web browser.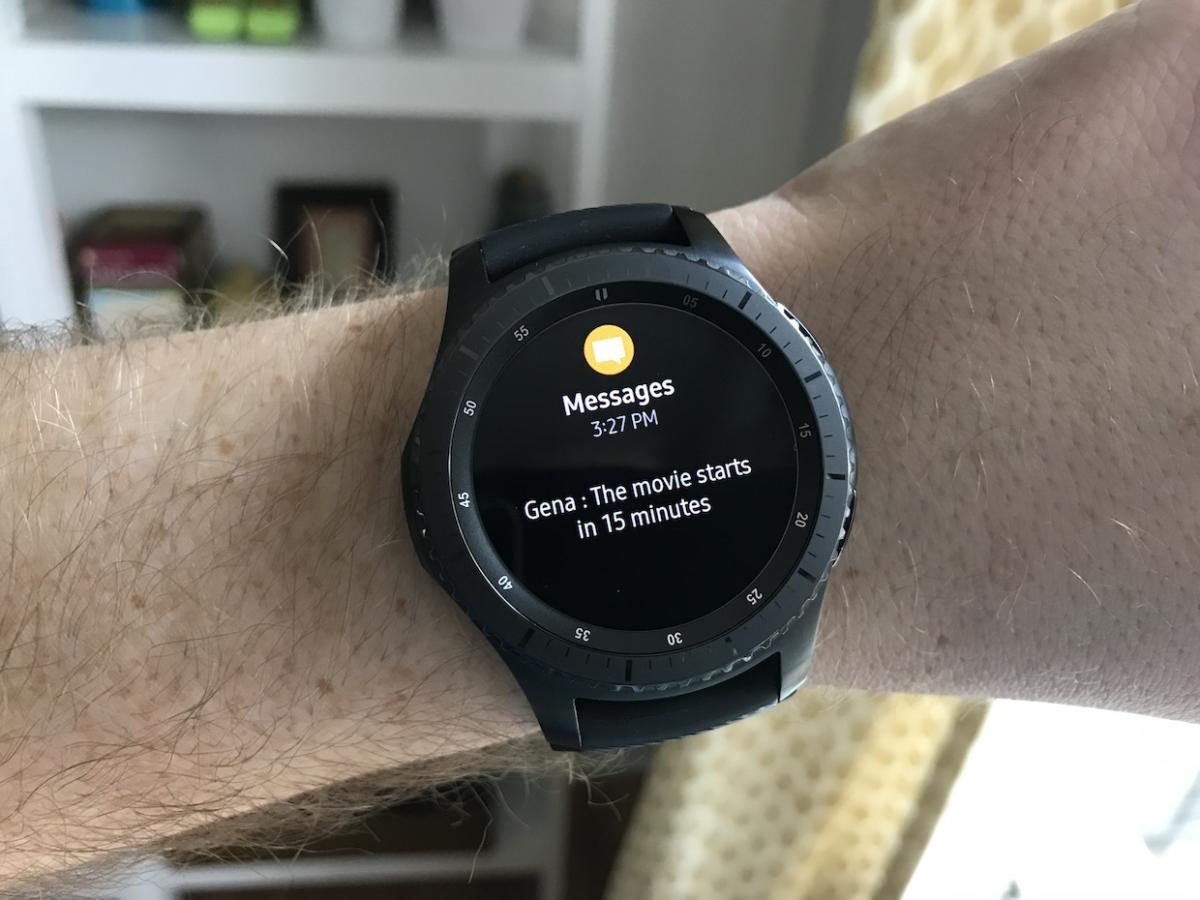 Mobile payments are also disabled when using an iPhone. The Gear S3 doesn't work with Apple Pay, obviously—but Samsung Pay is also disabled when linked to an Apple phone. The app just doesn't show up at all on the watch, and the shortcut that works when paired with an Android device does nothing here. You don't have any other options available.
Meanwhile, S Voice—which is like Samsung's more limited version of Siri—didn't work at all in my testing. I tried asking the A.I. helper to place calls, send text messages, point me towards nearby restaurants, or search the internet, and it failed every time. From what I've read, this is an inconsistent problem with the Gear watches and iPhone: it works OK for some users, but less so or not at all for others.
I mentioned those few top-tier apps above, but there's almost nothing else I'd actually want to download from the Galaxy Apps page in the iOS app. Many of the apps are knock-offs, like the fake YouTube and BBC apps on the charts, along with fake versions of games like Fruit Ninja and Tetris. Galaxy Apps is mostly dominated by watch faces of all sorts, which crowd the charts and listings, but there aren't many apps worth finding anyway. There's very little developer support.
Lastly, getting that content on your watch can take ages. It took 10 minutes to download a watch face from Galaxy Apps at one point, and when I tried to send a photo from my iPhone to the watch's Gallery app, it stopped making progress after several minutes. I just canceled it and moved on.
Is it worth it?
There's a lot to like about the Gear S3 itself, particularly when you compare it to the Apple Watch. The Gear S3 models are larger and weightier, if you're into that sort of thing, while the circular face and lugs make it look a lot closer to a traditional watch. That's especially true if you enable the always-on face, which drains the battery faster but completes the illusion of it being a standard timepiece.
Unfortunately, there's a lot less to like about the way the Gear S3 and S2 play with your iPhone. You'll get some standard functionality via the Gear S app, which lets you take calls from your phone, read—but not reply to—notifications, track fitness data, listen to music, and get quick details on weather and news stories.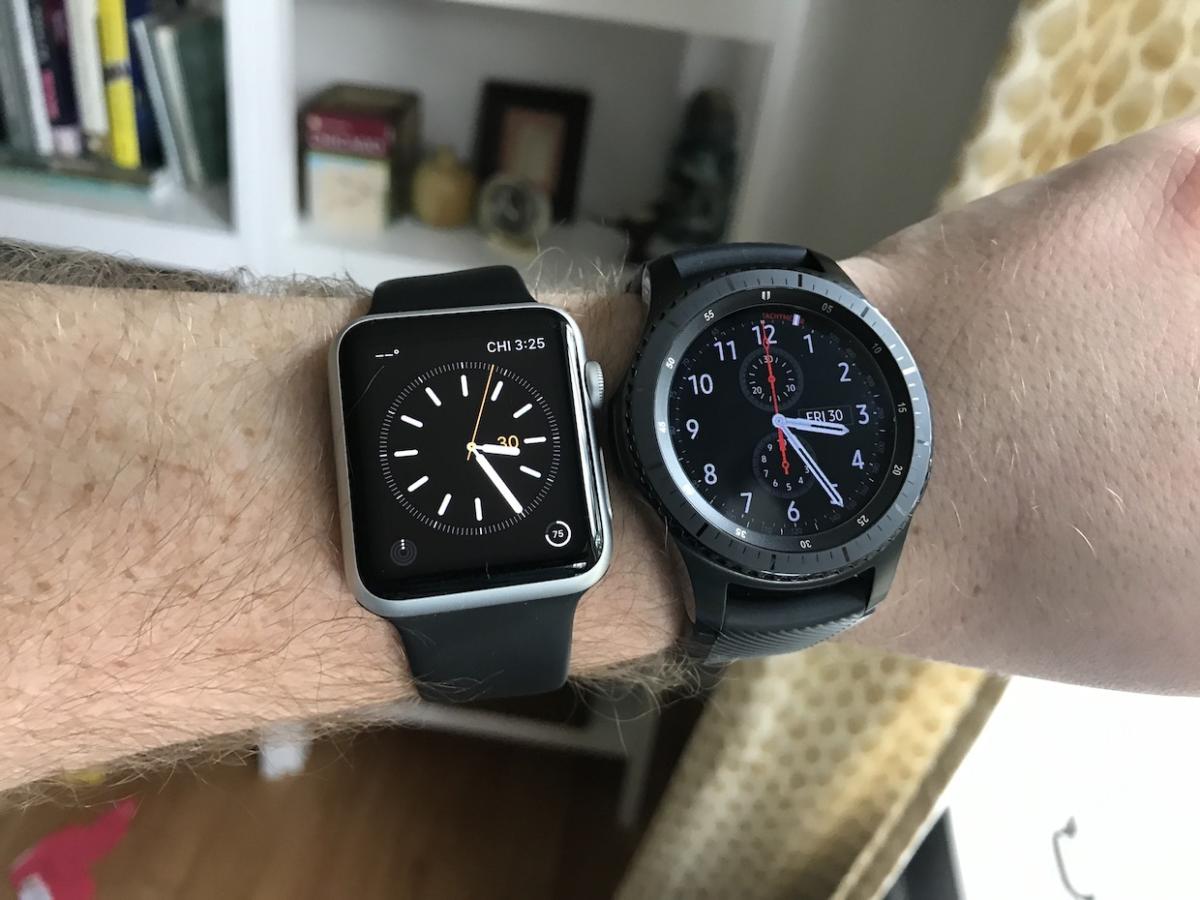 But while the relationship between the iPhone and Apple Watch feels pretty harmonious and even seamless in some regards, the relationship with the Gear is mostly one-sided. Your phone can send some info to the watch, but it doesn't get much back in return. It's almost as if the watch exists to say, "Hey, pick up your phone." But I don't need a watch to tell me that.
If you don't mind the simplified level of connectivity between the devices, and mainly just want a slick smartwatch that can fling you notifications, then there's upside to these watches. The look might be the most appealing part, but so too is the price: you can find a Gear S2 for under $180 new, while the original Apple Watch starts at $269 for the 38mm model—although you might find refurbished versions for much less than that on both sides.
When it comes to buying a new Gear S3 or an Apple Watch Series 2, however, it's much harder to justify going with Samsung here. The Gear S3 starts at $349 with the Apple Watch Series 2 at $369/$399 depending on size, and the functionality advantage of the Apple Watch is pretty huge when paired with an iPhone.
It's not a fair fight, admittedly, and it's probably not Samsung's fault—some compatibility is much better than none at all, and Apple sets the rules here. But it makes the Gear S3 and Gear S2 much less functional than they could be, and already are with an Android phone. If you're going to spend a few hundred bucks on a watch, then it's tough to have to settle for something that simply can't do what we expect pricey smartwatches to do today.