Adele Higgins asks:
I somehow removed the Documents category from the Finder's menu list on the far left of the screen on my MacBook Air. How do I get that category to display again?
You have two methods for certain special folders and items. I'll explain the specific first, and then the generic way to add any folder.
In the Finder, select Finder > Preferences.
Click the Sidebar tab.
Check any folder or special item you want in the sidebar, like Documents or All My Files.
Drag in the Sidebar to rearrange the order in which items appear.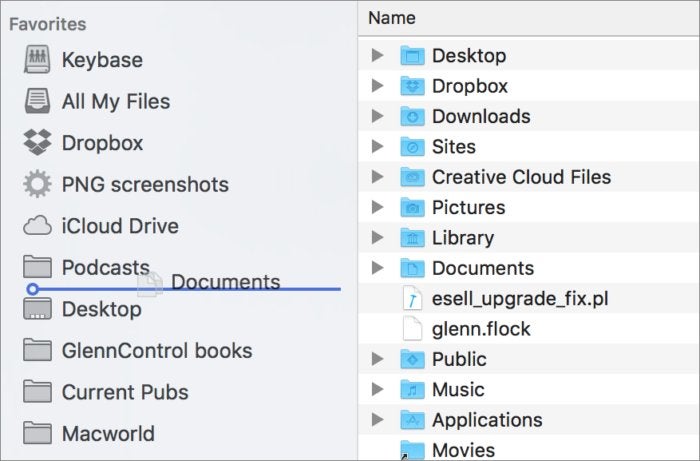 If the folder you want in the sidebar isn't in that list, you can use this generic method:
Navigate to the directory in which the folder appears.
Drag the folder into the sidebar.
While still dragging make sure you're seeing a blue insert line, rather than another item's highlight, which would move the folder you're dragging into that other item.
Release.
Ask Mac 911
We've compiled a list of the questions we get asked most frequently along with answers and links to columns: read our super FAQ to see if your question is covered. If not, we're always looking for new problems to solve! Email yours to mac911@macworld.com including screen captures as appropriate. Mac 911 can't reply to—nor publish an answer to—every question, and we don't provide direct troubleshooting advice.