Owing to its embrace of the format back in 2005, Apple owns the most prominent position in the podcast market. Between iTunes on macOS and Windows and the Podcasts app on iOS, Apple owns the most popular podcast players in existence. And Apple Podcasts is by far the largest and most comprehensive—some would say definitive—directory for podcasts in the world.
That position gives Apple power and influence in the podcast world, even if you don't use Apple's apps to listen to your favorite podcasts. And with iOS 11, Apple's making changes to the way podcasts organize and describe themselves that should make it easier to choose which podcast episodes to listen to, while giving podcasters more insight into just how people listen to podcasts.
First, a short primer on how podcasting works: Podcasts are comprised of a bunch of audio files placed on a server somewhere on the internet. What makes a podcast more than a random collection of MP3s is the podcast feed, a structured file that indicates what episodes a particular podcast has, information about each episode, and a link to the audio file for that episode. When you subscribe to a podcast, your podcast player of choice regularly checks the feed to see if a new episode has been added, and then downloads it.
The podcast feed format predates Apple and is an open specification, so Apple can't control it. However, over the years Apple has extended the feed format with numerous custom tags that allow podcasters to provide richer information to users of Apple's software. Apple's dominance in the podcast software area means that most podcasts use those Apple-created tags, which in turn has led to those tags being supported by most of the other podcast player apps in existence. In this way, Apple has been able to use its clout in podcasting to expand and enrich the podcast feed format for everyone.
With the new version of the Podcasts app in iOS 11, Apple's adding support for a bunch of new tags. Since, as always, these tags aren't something Apple's is able to reserve for its own use, it's likely that all the changes coming to the iOS Podcasts app this fall (and possibly iTunes for Mac and Windows, though that's less clear) will be adopted by iOS apps such as Overcast, Pocket Casts, and Castro.
Here are the improvements Apple's making:
Start the story at the beginning. There are really two different types of podcasts—topical ones (which discuss current events and are generally best consumed starting with the most recent episode) and timeless ones (where you should start listening from the very beginning). In the past, podcast apps have assumed that you want to start with the most recent episode, rather than at the beginning. With iOS 11, podcasters will be able to specify which of these types their podcast is—and the Podcasts app will honor that choice. So if you subscribe to Serial or Hello from the Magic Tavern, you'll start with the first episode, not the most recent. As it should be.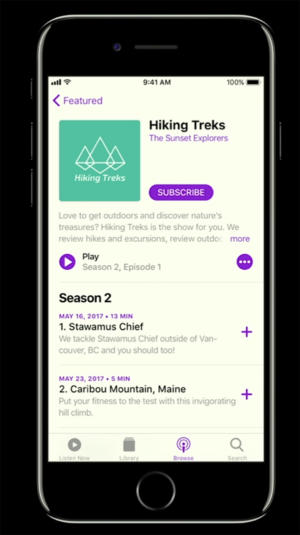 Pick your season. Speaking of Serial, these days a lot of podcasts are released in "season" formats, where a collection of episodes make up a complete story. With iOS 11, the Podcasts app will be able to understand which season a set of episodes is a part of, and display that within the app. If you subscribe to Serial and want to listen to season 2, you'll be able to do so—it will be displayed separately from Season 1 episodes within the Serial list.
A few of the podcasts I produce are serial and seasonal, and I'm excited by this change because it means my podcast will presented in a way that makes a lot more sense to Podcasts app users. Instead of seeing episode 111 of one of several ongoing Dungeons & Dragons storylines, listeners will be presented with the first episode of season 6 of Total Party Kill, which starts the story at the very beginning, with options to jump back to the five previous seasons if they'd prefer a different starting point.
Trailers, teasers, and bonuses. In podcasts today, there's only one feed—so if a podcaster has a special trailer for an upcoming season, or some bonus audio that's a supplement to the most recent episode, there's really only one place to put it. The result is a cluttered feed with real episodes, trailers, and other junk—or a separate bonus feed that almost nobody listens to. Apple's additions to the feed format allow podcasters to mark trailers and bonus material accordingly, and the Podcasts app should be able to show that material appropriately. An episode's bonus material can ride along with the "real" episode, providing listeners with the option of following up if they really do want more.
And a brief teaser can be given a more appropriate design than what would be given for a full-blown episode—not displaying it as an episode (which it isn't) but perhaps making it a prominent playable preview when you're browsing podcasts or even individual seasons of a podcast.
In-app podcast analytics. You may be surprised to discover that podcasters don't actually know a lot about the behavior of podcast listeners. From the podcaster's perspective, all we really know is how many times our podcast's feed is checked and how many times an audio file is downloaded. The makers of podcast player apps can know a lot more—like how many of those downloaded files are truly played, and for how long. As a part of its presentation in June at WWDC, Apple has indicated that it's going to begin sharing data (based on aggregated statistics, not of individual podcast listeners) about what happens inside the Podcasts app with publishers.
What this means for you is that your behavior—the ads you skip, the podcasts you never get around to listening to—will be transmitted back to Apple for aggregation with the behavior of other podcast listeners. (Apple won't make this aggregation mandatory—most likely, you'll be able to opt out, though it's possible Apple will ask you if you want to opt in.) That's not a direct benefit to you—but podcasters will be able to learn what turns you on and what turns you off in ways that are much more concrete than the methods we attempt to approximate that behavior today.
The end result should be better podcasts—because the behavior of listeners will help train podcasts about what's good and bad. I'd imagine that you'll discover that some of those podcasts you never get through because they just run too long may, over time, get a bit shorter. The advertising reads might get a bit more engaging or snappier. And new podcasts will arise that take advantage of that data—as well as new features like seasons and serial storytelling—to create brand-new audio stories that you'll come to love.
Apple didn't really have to do anything to develop podcasting, but with these changes, it's showing recognition that it's the most powerful force in the industry and can be a force for good. This fall, everyone's podcast-listening experience should get a lot cleaner and less complicated.