At a Glance
Expert's Rating
Pros
Massive 54,000 mAh capacity portable charger with 250W output
Two AC wall outlets with support for international prongs
Pair of illuminated fast-charge USB ports, plus one USB-C
Cons
Recharging takes over seven hours
Not suitable for airline travel
Our Verdict
Pocketable battery packs and solar chargers like Secur SP-6000 are handy for short trips, but keeping an entire family's worth of gadgets charged for a long weekend requires something more powerful.
The ChargeTech Plug Pro ($349; available on Amazon) is a portable battery pack made from Tesla cells that hold a whopping 54,000 mAh of power. For comparison, that's nearly five and a half times the size of a 12.9-inch iPad Pro battery that lasts up to 10 hours. Naturally, Plug Pro is considerably larger as a result, housed in a charcoal black case measuring 6.25 inches wide, 8.625 inches long, and about two inches tall.
It's also much heavier, tipping the scales at 3.2 pounds. That's not what many people would consider "portable," but Plug Pro is smaller than most hardcover books, and compact enough for a backpack or laptop bag. One downside is the batteries take a good chunk of the day to recharg —about 7.5 hours when fully depleted. However, its pass-through charging means you can top off connected devices at the same time.
Plug Pro sports a pair of AC wall outlets, which can be used with U.S., U.K., European, and other international power supplies without adapters. Although the pack outputs 110 volts and 250 watts, you don't want to plug in power tools or anything else with a motor—ChargeTech designed the unit with electronic devices in mind. (Should ignore this advice, Plug Pro safely shuts down before overheating, short circuiting, or otherwise causing electrical overload.)
That leaves plenty of other possibilities, including notebook computers, musical instruments, cameras, game consoles, and even small televisions should you want to lug one to the forest or beach. In addition to AC, Plug Pro includes a pair of fast-charge 5V/3.4A USB ports surrounded by blue LEDs that light up when a cable is plugged in, as well as a single USB-C port located on the side next to the DC input.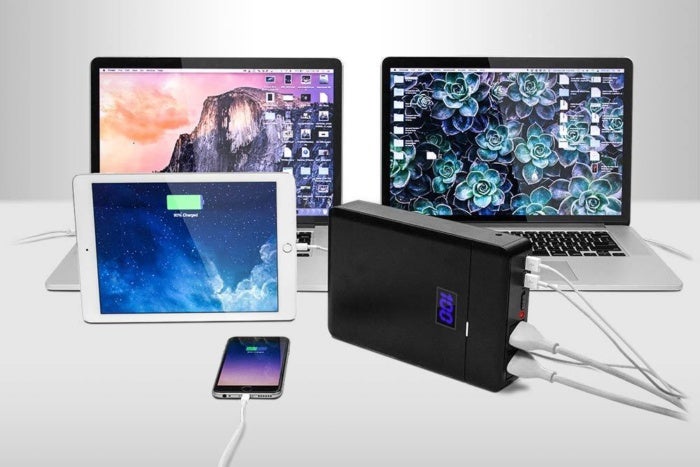 All charged up
In addition to testing Plug Pro with the iPhone, iPad, and Apple Watch devices in my household, I devised a "stress test" from a lengthy YouTube playlist of cat videos played back on a vintage 15-inch MacBook Pro with the display set to never sleep. Viewed full-screen to really tax the creaky Core 2 Duo processor, the battery pack kept the fun going for over four straight hours before finally throwing in the towel.
Because of frequent electrical blackouts in my neighborhood, I was curious to see how Plug Pro might function as a backup power source. Using a small 40W lamp, the charger racked up an impressive 17 hours of continuous illumination. None of my tests caused the Plug Pro case to feel hot to the touch, although ChargeTech cautions the case temperature could reach as high as 140 degrees under heavier use. A small fan on the side kicks in to cool things down when that happens.
In addition to USB lights, there's a small blue LED next to the power button on top of the unit that displays remaining battery capacity. There are only two digits, so when Plug Pro is fully charged, "FF" shows instead of 100 percent. A rear switch turns off power to the AC outlets when not in use.
Although it's cheaper to grab several smaller, lower-capacity chargers, Plug Pro is ultimately more convenient and versatile—unless you travel by air. 54,000 mAh exceeds the safety limits set by the FAA, so ChargeTech also sells Plug Travel ($349; available on Amazon) with the same functionality and a lower 42,000 mAh capacity approved for use on planes.
Bottom line
When it comes to portable power, ChargeTech Plug Pro offers more than enough ports and battery capacity to keep devices going for an entire weekend.