iTunes is great at storing all your music and other media, but only if you let it. If, like one correspondent, you have a number of hard drives with old iTunes Media folders, you need to do some work to consolidate them. In other news, iTunes has changed the way you delete files from your library, but not from the cloud. And if iTunes displays a "session expired" dialog, here's how to fix it.
Combining old music folders in one iTunes library
Q: I have multiple iTunes Music folders from different old hard drives that were dying, and they all now reside on an external HD. One of them is in my iTunes Media folder, others are named Music 2, 3, etc. I am struggling to find an efficient way to consolidate all the music into the iTunes Media folder. Currently I have to open two Finder windows highlighting two different Music folders to manually compare contents, select the correct content and then drag it into the correct folder; then delete the artist and album from Music 2, and then repeat this dozens of times. Is there a better way?
There are lots of reasons that people end up with multiple music folders. In some cases, iTunes will lose track of a library, and prompt a user to create a new one. In others, people have thought it was a good idea to segregate music, manually managing it and spending a lot of time juggling files and folders.
I get these questions a lot, and there's only one real answer. Decide which is going to be your master iTunes library, open it, then drag the top-level folders that contain the music from the different libraries or drives onto the iTunes window. This will add all the tracks to the master iTunes library. This may take a while; hours if you have a lot of music.
When you're finished, you'll likely have a lot of duplicates, but you can sort through these with Doug Adams' $15 Dupin. This app lets you sort by a number of criteria, such as bit rate, in case you have files of different quality, keeping the best versions of your tracks.
The downside to mass-combining iTunes libraries or music folders is that you'll lose any play counts, last played dates, ratings, and playlists. But it's probably better to just start from scratch, and consolidate the music once and for all.
Be careful how you delete
Q: I was sorting through my music library, which uses iCloud Music Library. I wanted to delete some songs to free up space. When I pressed delete, I did not get the usual message asking if I wanted to remove the download or delete the track from the cloud, but I got a message asking if I wanted to delete the track entirely. Is this new?
This is new. I don't know exactly when this started, but previously, if you selected one or more tracks and pressed Delete, iTunes displayed a dialog asking if you wanted to delete a track from your library or from the cloud. Now, the process is very different.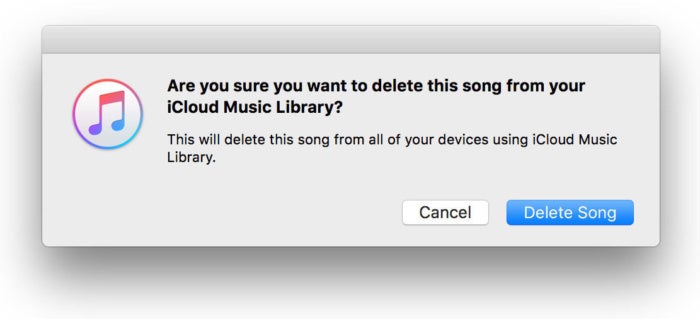 You can still choose to delete items from your local library by right-clicking on a track and choosing Delete from Library. Note that as recently as last month, there were two Delete options is the contextual menu, when you right-clicked on a track in a playlist. One would offer to delete the item from the playlist, and the other from the library. And there's not even a hidden keyboard shortcut that allows you to delete something from your library, and not your iCloud Music Library.
Note that if you don't use iCloud Music Library, pressing Delete in your music library offers to delete an item from the library, as it should. Pressing Delete when in a playlist, with or without iCloud Music Library, deletes the track from the playlist, but not from the library.
So you need to be careful about how you delete music from your library if you use iCloud Music Library. Frankly, I think this is a mistake, because a lot of people will lose music since they're used to the older behavior.
Expired session
Q: Whenever I launch iTunes, a dialog displays telling me that my session has expired. And it displays an email address I no longer use. And this dialog keeps displaying as I use iTunes. What can I do?
Make sure you're signed out of the iTunes Store (from the Account menu). iTunes will remember the last email address you used to sign in. You may also need to deauthorizing your device; again, the Account menu, Authorizations > Deauthorize this computer.
In this case, the first solution solved the correspondent's problem.
Have questions of your own for the iTunes Guy? Send them along for his consideration.