Ever do something on the web, like shop for shoes, and then notice that every other website you visit has ads for shoes? That's the result of website tracking. It's a little creepy, the idea that you're essentially being followed on the web, targeted with advertising. (And yes, Macworld.com is guilty as charged.)
Apple's Safari uses WebKit as its engine to present websites through a browser window. WebKit has features to reduce the amount of tracking a site does, and the latest feature is called Intelligent Tracking Prevention. ITP cuts down on the ability of a site to do cross-site tracking, which leads to the experience I mentioned above.
Safari 11 in macOS High Sierra and Sierra uses ITP. You have the option of turning it on or off. Here's how.
1. In Safari, go to Safari > Preferences.
2. Click on the Privacy icon at the top of the window.
3. In the "Website tracking" section, you have the option to set "Ask websites not to track me." A website may track what you're doing during your visit. You can tell Safari to ask that website not to track you. Some websites will honor the request, some won't.
Check the boxes if you want these features turned on.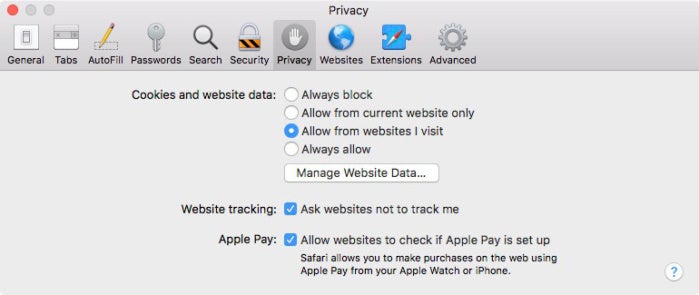 5. Close the preferences window when you are done.