These days, keeping up with games can be a full-time job. So how do you separate the signal from the noise, the wheat from the chaff, the Temple Runs from the Temple Jumps? Allow us to help by regularly selecting a game You Should Play.
Imagine you're a cat. An adorable blue kitty who loves food—specifically, fresh-steamed dumplings. That's not too much of a stretch, right?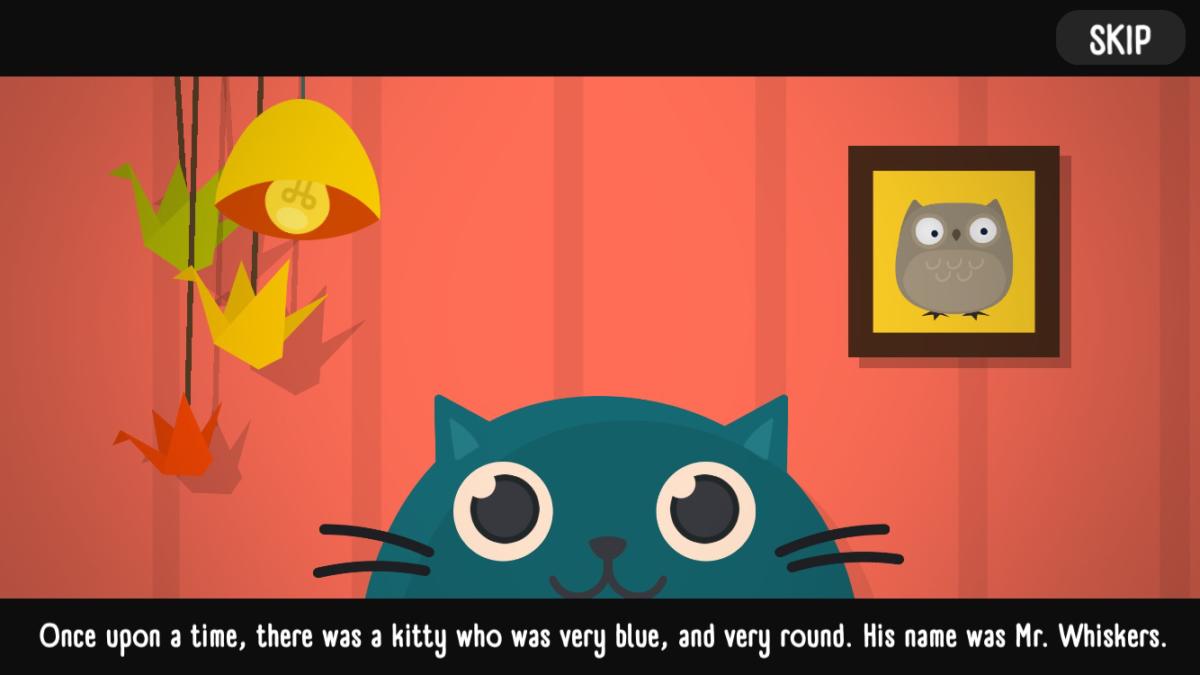 Perfect. Because The Big Journey is a crazy-addictive physics-based adventure game that involves a round, blue kitty named Mr. Whiskers who only wants one thing in life: Dumplings. But his friend, and the owner of his favorite dumpling stand, Mr. Choo, is missing. So it's up to Mr. Whiskers to find Mr. Choo…by rolling around. Mr. Whiskers' mission is to roll through forests, caves, and deserts, and question the local inhabitants about Mr. Choo's whereabouts. And a cat can't do that without food or…points…so he'll also have to collect bugs and dumplings along the way.
It's been a while since I've played a game with a physical controller scheme—and that's not really a mistake, because I generally prefer games that you can play while you're lying in bed. The Big Journey's tilt controls will have you dipping and diving with Mr. Whiskers as he tumbles through tunnels and bounces over hills—and it's super fun.
The Big Journey is definitely the whole package: This game hits all the checkboxes for what makes an awesome mobile game. It's charming and cute, with a great storyline and a seriously impressive soundtrack, and it's definitely worth the $1.99 price tag. Here's why:
The wacky physics are fun to master: The controls in The Big Journey are pretty straightforward, but that doesn't mean you'll get the hang of them right away.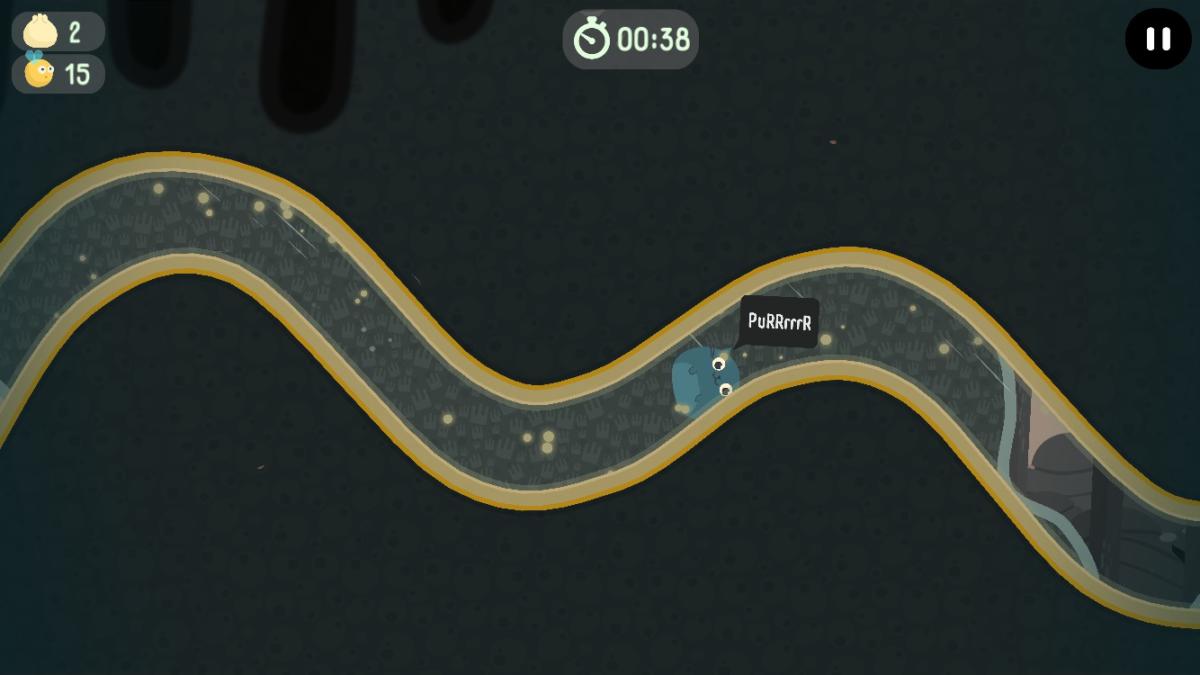 You play as Mr. Whiskers, a cute but rotund cat whose main method of locomotion is rolling with gravity. To move Mr. Whiskers along, all you have to do is tilt your phone, which tilts the game's landscape. Gravity then takes over, and Mr. Whiskers rolls in the direction of your tilt. Mr. Whiskers can also jump if you tap the virtual button in the lower right corner of your screen, and this movement comes in handy when you need to avoid obstacles, bash enemies, or bounce your way up a particularly tough piece of terrain.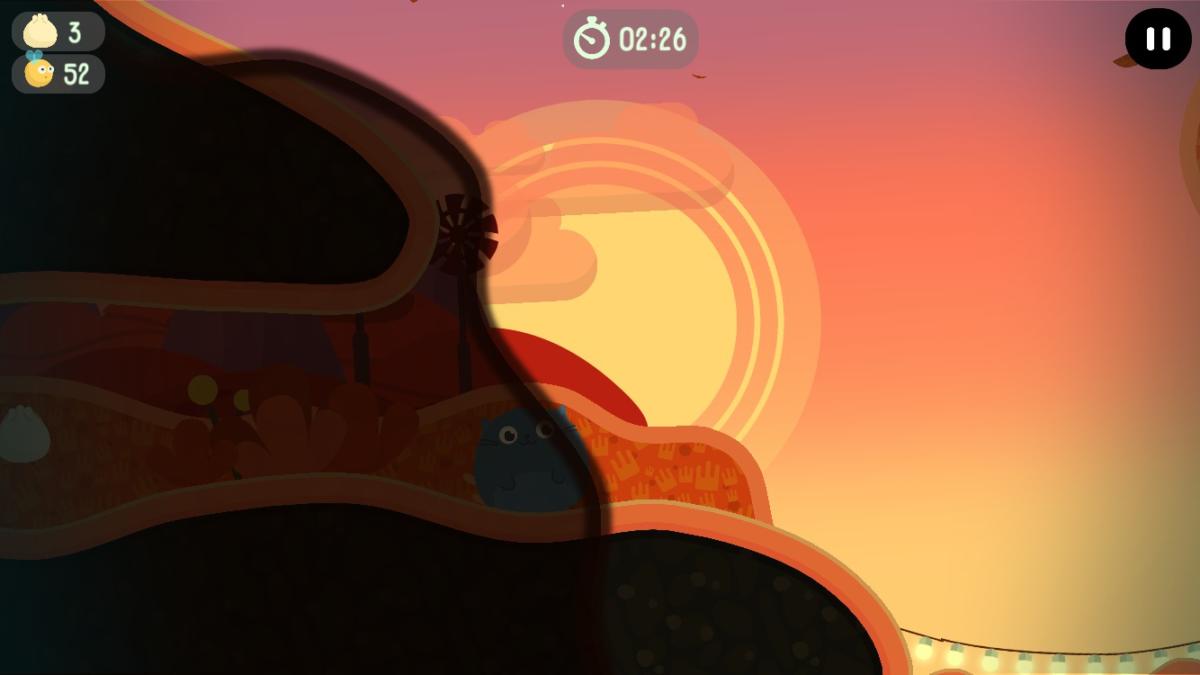 Levels aren't linear, so you'll slosh back and forth across each colorful landscape before you finally arrive in a valley of blooms that indicates the end. But, as you might expect from the name of the game, The Big Journey isn't about the destination…it's about the journey. Each level is packed with hidden paths that lead to treats like delicious dumplings or friendly creatures who may or may not have info on Mr. Choo's location. If you don't hone your tilty, platforming, cat-rolling skills, you'll miss the paths and the secrets they hide.
If you'd rather not use the game's physical controls, there is a button controller scheme that adds two tilt buttons to the lower left corner of the screen, but I found this controller scheme to be a lot more difficult and frustrating than the accelerometer-based engine.
It's all about the journey: Sure, Mr. Whiskers' main goal is to find his friend and gorge himself on dumplings, but there are plenty of secondary goals to keep you occupied (honestly, you'll forget all about Mr. Choo…but Mr. Whiskers won't).
There's a star system that offers achievements based on the number of bugs and dumplings you collect, as well as how fast you complete a level. Standing in your way are the enemies—a variety of cute-but-malicious creatures and obstacles who will grab one of your collected dumplings if you end up hitting them (though some enemies can be defeated with a bash, assuming you time your jump action correctly). The dumpling will pop out of you, Sonic-the-Hedgehog ring style, and you'll have a few seconds to reclaim it before it disappears forever.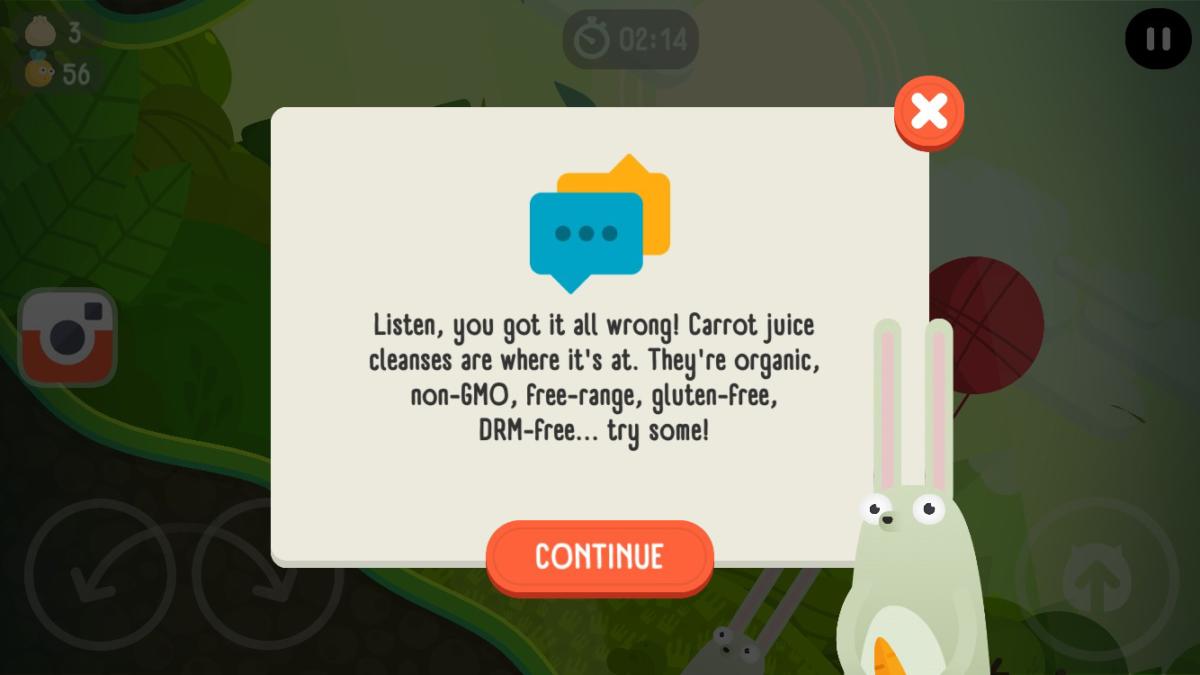 In addition to dumplings and bugs, you'll also find various critters scattered throughout the world. As you come across each critter you'll be able to ask them about Mr. Choo—most of them will know nothing, and will mention their favorite food option as an alternative to your dumplings. (But obviously you're going to hold out for the dumplings.) If the critters you meet happen to be cats, you'll be able to play as those kitties on your next go-round.
It's all just gorgeous: The Big Journey is an absolute delight to play, look at, and listen to. Seriously—I dare you not to fall in love with the vibrant, colorful landscapes and the impressive attention to detail (not to mention the smooth-yet-quirky background elements that make each level come alive without distracting you from the task at hand).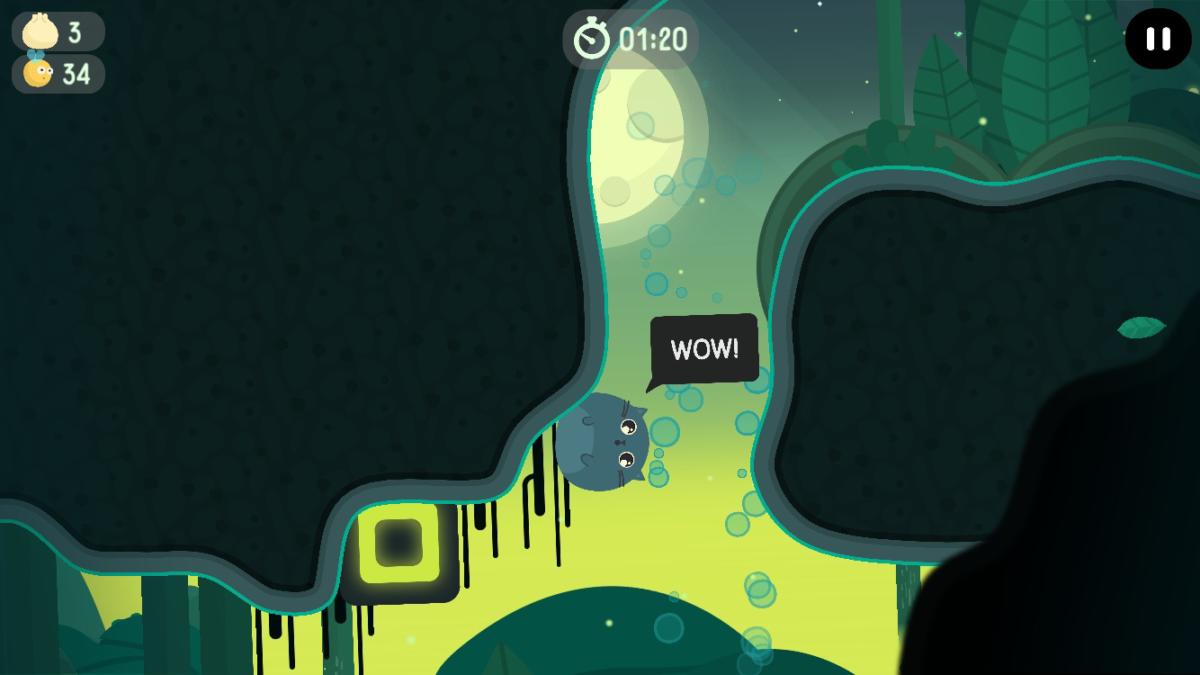 And it's not just the graphics you'll love—the soundtrack is also incredible. There's an especially beautiful and haunting lullaby as you travel through the nighttime woods in chapter two (there are five chapters total, each with five levels and a special story-progressing cutscene).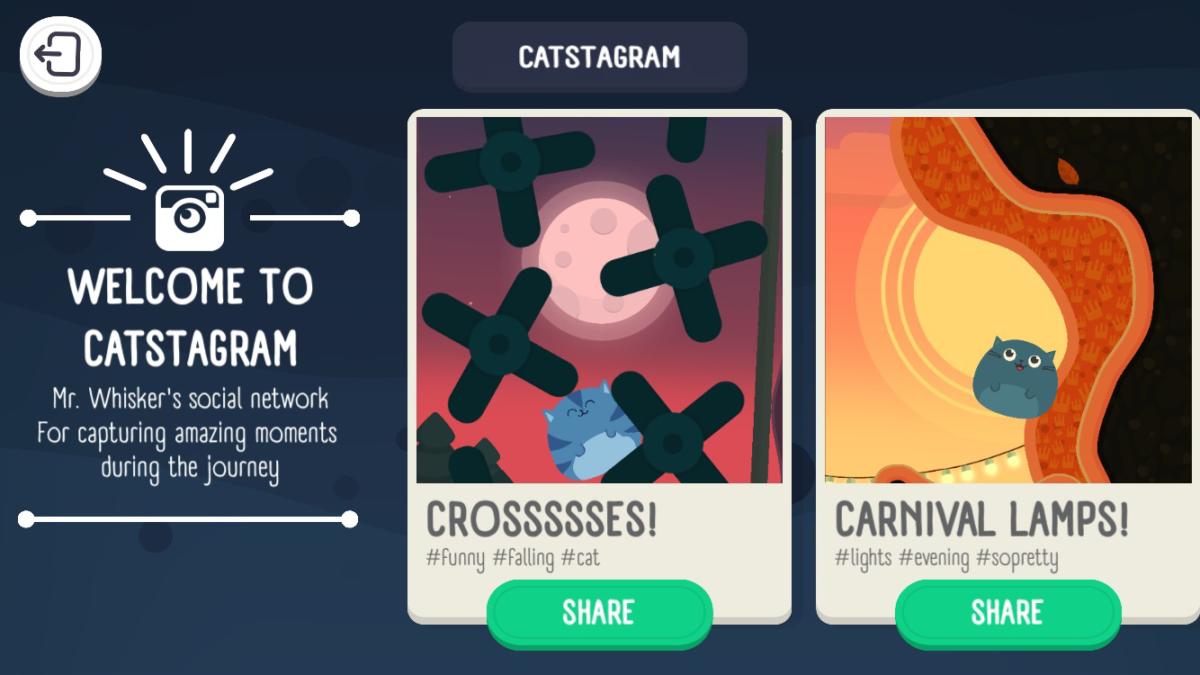 It's not just me—the game knows it's gorgeous, which is why it has built-in photo ops throughout each level. When you see a camera icon appear on the left side of the screen, tap it to take picture of Mr. Whiskers. Your pic will be automatically uploaded to Catstagram (complete with all the relevant hashtags, naturally), and you'll also be able to share it to your real-life social networks if you so choose.
Developer: Armor Games Platform: iOS (iPhone and iPad) Price: $1.99