At a Glance
Expert's Rating
Pros
Easy to use, no-frills journaling apps for Mac and iOS
Unique search options via emotion tracking, tags (with subscription)
iCloud sync (with subscription)
Cons
Annual subscription required for best features
Basic feature set compared to Day One
Import/export limited to text only
Slow menu bar app (macOS)
Our Verdict
Best Prices Today: Lifecraft
Best known for creative Mac software like iScrapbook, Labelist, and PrintLife, Chronos has spread its wings with Lifecraft a digital journal app that works on mobile devices as well. While not as full-featured as the excellent Day One, there are several compelling features that make it worth a look.
Tell your story
Rising like a phoenix from the ashes of the company's former Daylife app, Lifecraft would be considered a "reboot" of sorts. The developer's second crack at Mac journaling addresses grievances I had with the previous release, while enhancing the eye-catching user interface in unique ways.
Lifecraft borrows the same triple-pane UI from its predecessor—journals at left (now with hierarchal sorting), list of entries in the center, and the rest of the window reserved for viewing, composing, or editing. The dark sidebar includes a mini calendar and to-do list, along with current weather for your location, which is automatically added to new entries.
New with this version is "emotion tracking"—color-coded tags assigned from a slide-out panel located on the right edge of the compose window. There are eight primary emotions (Happy, Loving, Optimistic, Surprised, Afraid, Sad, Bored, and Angry), each with seven subcategories for a total of 56 secondary emotions. Emotion colors appear in mini-calendar as well as list view, so you can reflect back on how you were feeling at a glance.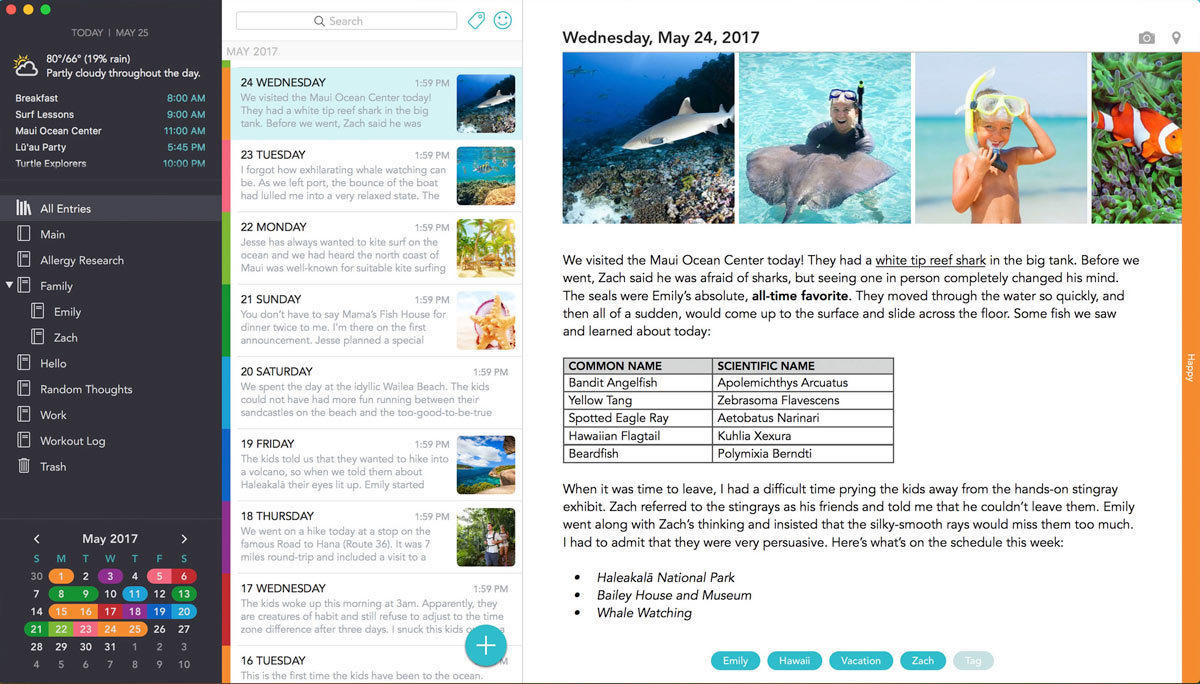 You can also click the smiley button next to the search field, which pops up the "emotion tree"—a graph displaying the number of posts assigned to each emotion, which can be used to apply filters for viewing only Happy or Sad entries, for example. If that's not enough, there's also comprehensive support for custom tags, which can also be used to filter search results.
Get in sync
Lifecraft remedies two of my biggest Daylife complaints: Lack of cloud sync and iOS support. Journals are no longer isolated to the Mac where they were created, and can now be created, viewed, or edited from any device. Well, almost: at the time of this review the iPhone app is about to launch, with native iPad display support close behind. I was able to spend time testing on both devices and found sync quite effortlessly, while the iOS app is well-designed and equally easy to use, with only one minor feature absent (there's no to-do list in the sidebar).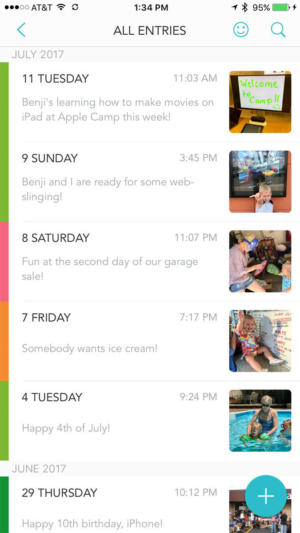 One thing unchanged on Mac is import/export; Lifecraft remains limited to text only, even when printing or saving as PDF, and there's still no way to share entries with friends, family, or social networks. On a more positive note, you can now click on imported photos to view them larger, and Daylife's unique scrolling horizontal carousel for multiple images remains intact, along with the menu bar helper app; the latter can assign emotions now, but was quite slow at doing so.
Rather than offer Lifecraft as a perpetual license like Daylife, Chronos has made the apps free to use, with the catch that you'll have to pay a $15 per year subscription to get the good stuff, namely iCloud sync, unlimited journals and photos, emotion tracking, tags, favorites, and password locking.
I think the price is fair, especially considering competitor Day One's recent move to a costlier Premium subscription (currently discounted to an introductory rate of $35 per year). But that money buys you a more mature app, one with its own cloud sync and hooks to many other services through IFTTT.
By comparison, Lifecraft is no-frills, perfect for average folks to capture memories and emotions, but frustratingly limited for power users. The most glaring example is how Lifecraft doesn't automatically pick up time, date, and location data from imported photos, a convenience Day One excels at.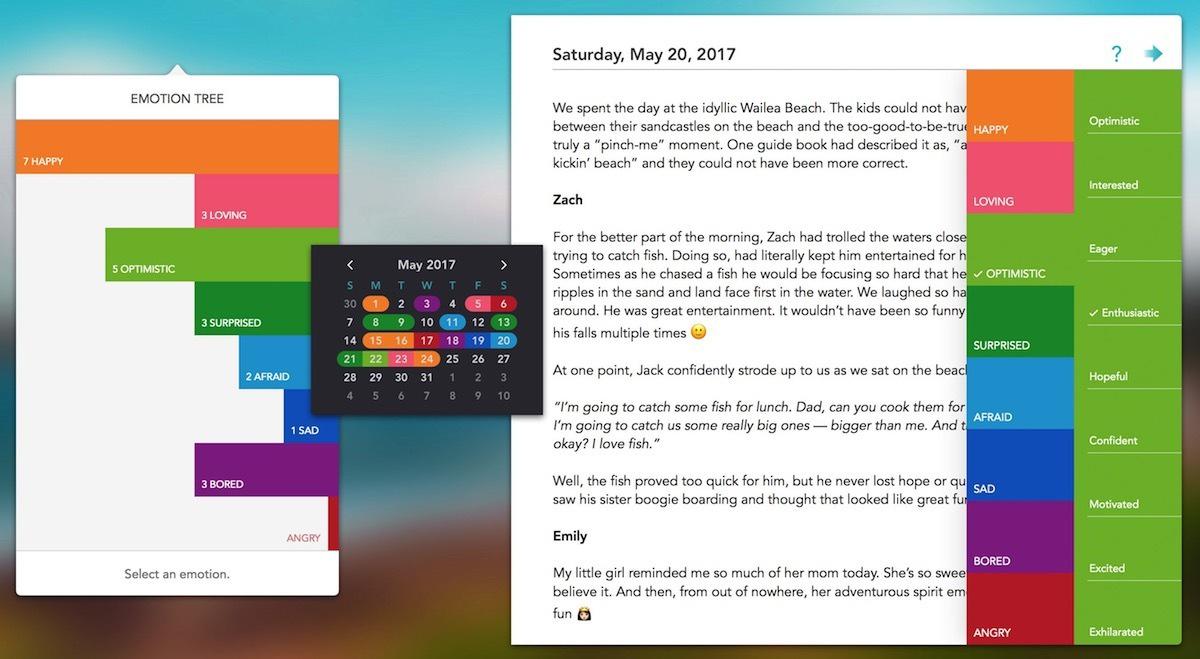 Bottom line
The addition of cloud sync, iOS support, emotions, and tags are a big improvement over the former Daylife, but the makers of Lifecraft will need to bulk up on new features to justify the annual subscription.
Best Prices Today: Lifecraft