Google's new Backup and Sync (15GB free; larger storage options available for a fee) software tries to leverage Google's existing Google Drive and Google Photos products by adding a file-backup option. It has a lot of limitations, but two key advantages. First, it's simple. Second, it works with Google's free storage tier and all its paid tiers for Google Drive, which is reasonably affordable.
Simplicity in file backups helps ensure that people actually back up their files. Nearly every day, I hear a tale of heartbreak about someone who erased photos or a drive or had a hardware failure and had made no other copy. (The best time to back up is starting right now!) I typically steer people to an online hosted backup service with a flat rate for unlimited storage, like Backblaze. Or, if they want more control over encryption and where files are placed, Arq or ChronoSync.
However, if that's too much overhead or too complicated for someone to manage, Google Backup and Sync can at least protect selected folders with no intervention. It's really three products mashed into one, which is why it's hard to pin down exactly what it offers:
Google Drive sync
Backup of selected files
Upload of photos and videos to Google Photos
Each of those is optional. Let's start with what it does before I tell you what it doesn't. It does let you select folders anywhere on internal and attached volumes that it syncs with Google Drive storage in a Computers section. It can ask if you want to backup files on attached USB drives and camera cards, and remember that preference, just like Dropbox.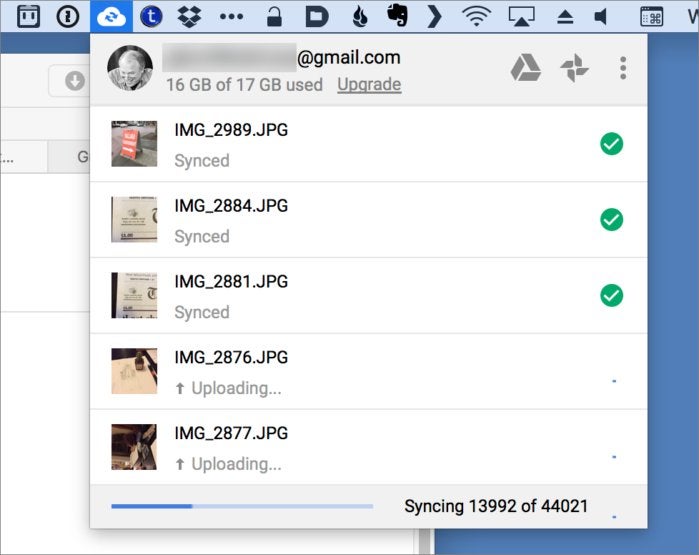 The system recognizes photos and videos and lets you set a preference you may be familiar with if you were already using Google Photos' uploader. If you choose High Quality, your image and movie storage isn't counted at all, but Google may compress files below 16 megapixels (16MP), and it downsamples larger images to 16MP. For video, it says that it might increase compression slightly on 1080p and coarser video, and it downsamples video above 1080p to that resolution. However, you can opt for Original Quality, which simply copies the file and counts the file's size against your quota.
Because Backup and Sync effectively incorporates Google Photos sync, there's a preference that lets you add all uploaded media to Google Photos as well.
When you visit drive.google.com via a web browser or a smartphone app, you'll see My Drive for files synced via Google Drive and Computers for a list of folders and their contents that have been backed up. You can opt with Backup and Sync to sync Google Drive to your computer, but you don't have to; you can use it entirely for backup and access Google Drive via the web.
The software is smart enough to warn you when you delete something in a backup set whether you want to delete it from cloud storage, including in both Google Drive and Google Photos when media is involved.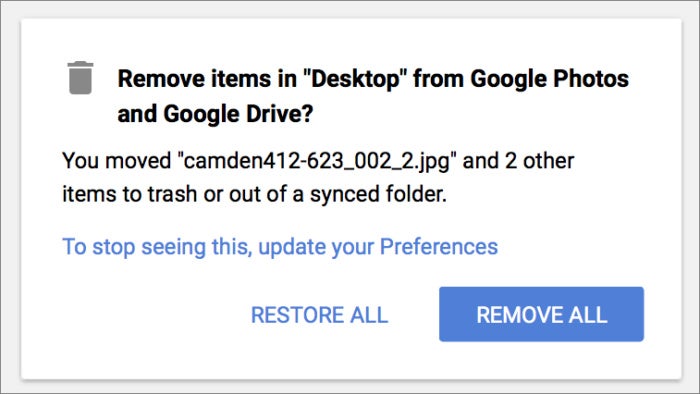 Google Backup and Sync doesn't offer backup snapshots, so you can't select a folder or a computer and select a point in time from which you want all files in those locations to be restored. This can be useful if you're trying to rewind the clock on a project or files that went corrupt. You can select folders or your computer in the web app and download all the current versions of files in whatever you select.
For individual files, whether uploaded via backup or synced, you can select the item, click the three vertical dot bar, and then choose Manage Versions as well as review an activity log of changes. You can select among previous versions of that file.
Bottom line
Is Backup and Sync neither fish nor fowl in trying to be too many things? Not quite. It's better to have a single, flexible piece of software running on your Mac instead of the previous two different sync apps for Google Drive and Google Photos, while also adding this backup feature. The software is consistent and not confusing, and it's an enhancement for people already tied into Google ecosystem. Adding backup completes the picture for them while only potentially adding recurring storage costs if they bump up a tier or more.
For those who install few apps or entirely from the Mac App Store and are primarily concerned about backing up documents and media in a few easy to identify locations, like the home folder's Documents and Photos folders, Google Backup and Sync might be enough. If you need anything more flexible and comprehensive, bump up to software that offers the full range of tools for backing up files, applications, and preferences, and providing good support for restoring as well.