At a Glance
Expert's Rating
Pros
Decent transfer speeds
Pass-through power charging for laptop and iPhone
3 ports at USB 3.0 speed
HDMI video out supports 4K displays
Indicator light
Cons
Supports only UHS-I cards, not faster UHS-II cards
Doesn't pass enough power to charge an iPad
Our Verdict
One advantage of Apple equipping the latest MacBook Pro models solely with USB-C is that each port can multi-task. Power, video, and data can all pass through an adapter connected to a single port. For photographers and videographers, this is a bittersweet change: losing the built-in SD card reader on older Mac laptops is awfully inconvenient, but now a single device can handle several tasks.
This idea led us to look at the HooToo Shuttle 3 Port USB Type C hub, ($60, available on Amazon) a portable accessory that includes an SD card reader, three USB 3.0 Type A ports, an HDMI port capable of powering a 4K display, and a power input port for pass-along charging of the MacBook or MacBook Pro.
Speed
This adapter was reviewed through the lens of what photographers would want, and in that sense the HooToo stacks up well in terms of transfer speeds against the other devices we tested, which included the Cable Matters USB 3.1 Type-C Dual Slot Card Reader, Iogear USB-C 3-Slot Card Reader/Writer, and SanDisk Extreme Pro UHS-II USB-C Reader.
The HooToo is compatible only with UHS-I SD memory cards, which are currently most prevalent in the market and can transfer a theoretical maximum 104 MBps. The SanDisk reader supports UHS-II cards, which include a second row of pins to increase data throughput up to 312 MBps.
For our testing, we copied 12.9GB of images (684 JPEG and raw files) from a SanDisk Extreme Pro SDXC card rated at 95 MBps three times. The average transfer speed was 2 minutes 49 seconds, or a rate of about 76.3 MBps.
We also copied 31GB (9 files) of video from the same card in three passes, which took an average of 6 minutes 18 seconds, or a rate of about 85 MBps.
Those speeds are perfectly respectable on their own, and just slightly behind the other devices we tested.
Since the HooToo does more than just read SD cards, we also copied files with other devices connected, from a television linked through the HDMI port to an external bus-powered hard disk, scanner, and iPad connected via the USB 3 ports. In real-world use, this can enable a photographer to, for example, import images from the SD card in Lightroom and simultaneously copy backups of them to an external drive. (HooToo notes that only one hard drive is supported at a time.)
In every configuration, the SD card transfer speeds weren't impacted. That's partly due to the HooToo's support for USB 3.1 Gen 1 speeds, which, at up to 5 Gbps, leaves plenty of bandwidth to handle those tasks concurrently.
Benchmarks: USB-C memory card readers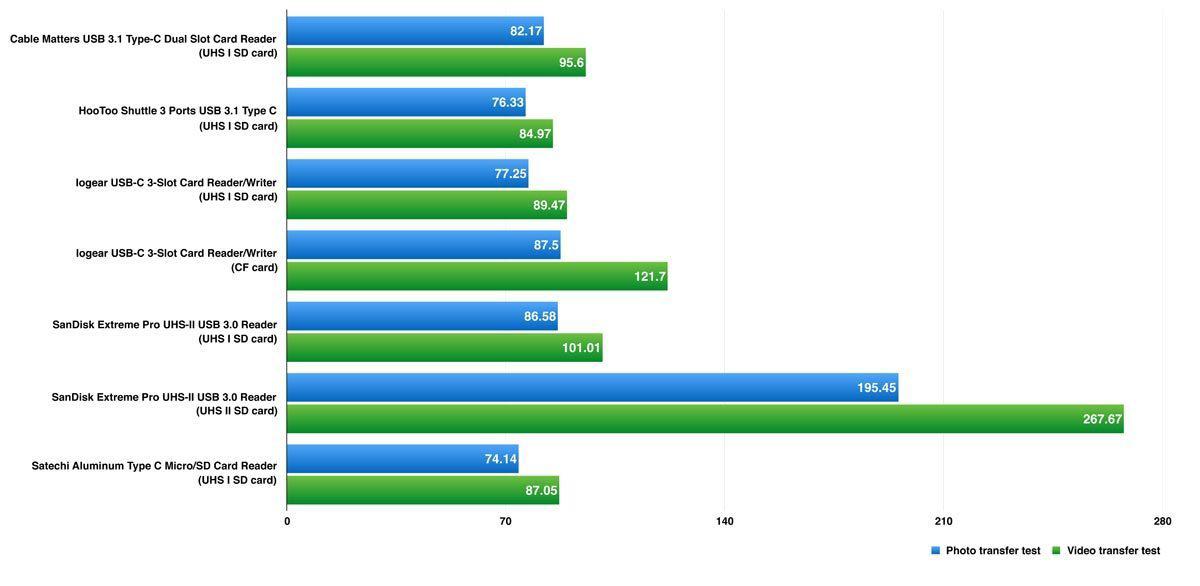 The USB-C shaped DC-in power port enables pass-through charging to the MacBook or MacBook Pro, which is good news for the single-port MacBook. One of the USB Type A ports is configured for charging external devices, but its 0.5A output provides enough juice to charge an iPhone but not an iPad.
The adapter is made from aluminum to echo Apple's laptops (and is available in silver, gold, space gray, and rose hues), and is fairly compact for a device with six ports overall: 1.8 inches wide, 4.4 inches long, and 0.48 inch tall. The HooToo logo lights up to indicate that the adapter is powered and active.
Bottom Line
For photographers or anyone who needs to read SD cards on the go, the HooToo Shuttle USB-C Hub could be the only adapter needed in your bag. Although it's not the fastest memory card reader we tested, it's certainly adequate for a UHS-I device.
Read our roundup of USB-C memory card readers