At a Glance
Expert's Rating
Pros
Universal charging dock doubles as desk phone
Comfortable handset with physical keypad
Loud, clear speakerphone with conference mic
Cons
Expensive considering build quality
LCD time display incompatible with iPhone
Occasionally forgets manual volume settings
Flat design makes seeing entire keypad a challenge
Our Verdict
The Invoxia NVX 200 ($249 MSRP; $215 on Amazon) is an iPhone docking station disguised as a stylish desk phone. The handsome dark grey hardware is petite compared to most landline phones, featuring a rounded base measuring 7.25 inches across, 6.125 inches deep, and about an inch thick. The all-plastic build weighs only two pounds, which is light considering the premium price.
A slim, corded seven-inch handset is cradled at left, two inches wide and half an inch thick. It's more comfortable than an iPhone for longer conversations, provided you don't mind being tethered up to eight feet away by a coil attached to the built-in RJ11 jack. The included AC adapter powers not only the 5W hands-free speaker but also a 96 x 32 pixel monochrome LCD display built into the dock.
When idle, the screen is supposed to display the current time, but I could never get it to work and had to settle for my mobile number instead. The dock expands to fit thicker smartphones with a case; the default position worked for my iPhone 7 Plus in a thin shell case. Eight-inch dock cables are included—Lighting and 30-pin connectors for iPhone, micro-USB for Android—which charge the device when connected.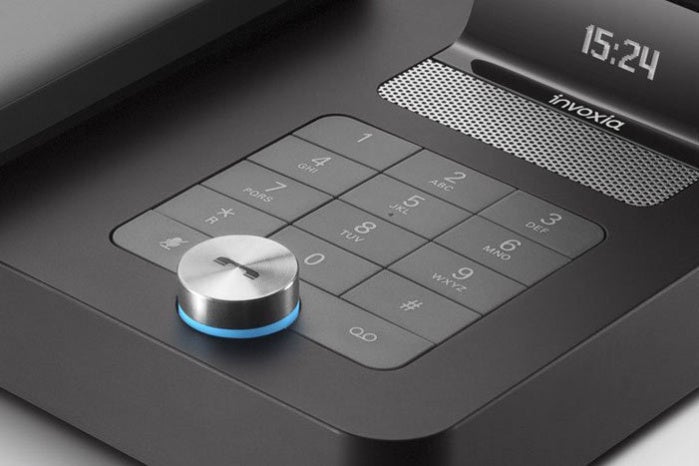 The large physical keypad features mute and voicemail buttons and can be programmed with 10 speed dial shortcuts. There's also a multipurpose knob for switching to hands-free mode, controlling volume, or viewing call history and contacts. The bottom of the knob emits blue light while the phone is in use, a clever touch.
Modern desk phone
Invoxia NVX 200 is a snap to set up: Simply dock the iPhone and wait a few seconds as pairing takes place. Now you'll be able to pick up the handset (which emits a very satisfying retro dial tone!) and use the keypad to place calls.
Since the unit connects via Bluetooth, you can leave the iPhone undocked and still use it if you're within range. Handset and speaker audio quality was good, although the default handset volume level isn't quite loud enough. I had problems with the unit retaining my desired level, but a reset fixed that problem.
NVX 200 technically works with any Bluetooth-equipped smartphone or smaller tablets; my iPad Pro was too large to sit upright. Presumably this is why the handset is positioned lower on the base, causing the bottom to protrude an inch and a half.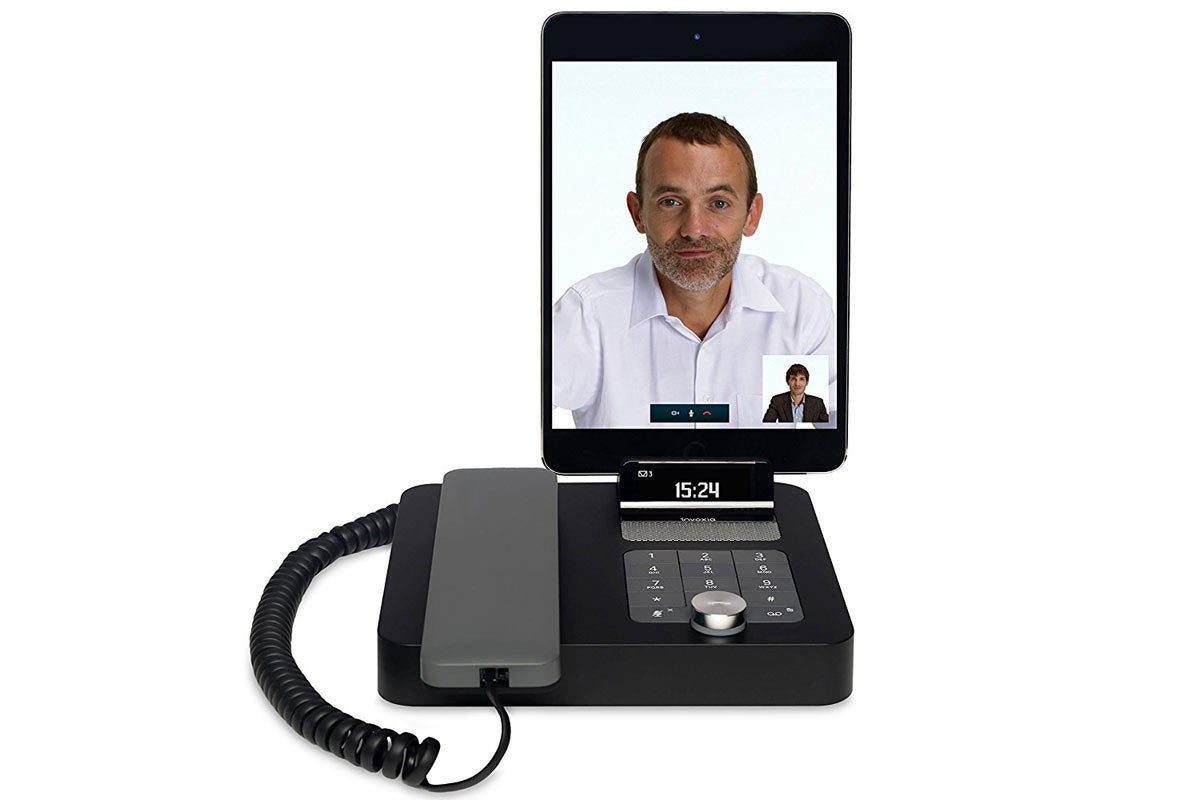 Although NVX 200 is solidly made, the four rubber feet on the bottom come loose quite easily; I lost one almost immediately, so the dock no longer sits level on my desk. The unit could benefit from a bit of rear elevation; with the current flat design, it's hard to see the entire keypad without leaning forward.
Bottom line
Invoxia NVX 200 unites modern smartphones with a desktop docking station in a space-saving form factor, but winds up being an expensive gimmick for all but die-hard desk jockeys.