At a Glance
Expert's Rating
Pros
Compact design
Reads cards from both slots simultaneously
Cons
Supports only UHS-I cards, not faster UHS-II cards
USB-C plug cap fits only one way and could be easily lost
Case construction could be more robust
Our Verdict
A product that is compact will sometimes win out over similar competitors by nature of its size alone. Such is the case with the Satechi Aluminum Type C Micro/SD Card Reader ($24.99 MSRP; available on Amazon), a sliver of a memory card reader that's only about the size of a thumb drive.
Really, it's small
Measuring 1.97 inches by 0.79 inch wide and 0.2 inch tall, the Satechi reader weighs just 0.27 ounce. If you can't find room in your bag for this slip of aluminum, it's time to reevaluate your bag choice.
Despite the size, the reader includes both SD and microSD card readers, which can be read simultaneously. On the other hand, its width means there isn't much room for another USB-C connection in the adjoining port on the MacBook Pro.
A plastic cap covers the USB-C plug, but the plug doesn't sit in the middle of the adapter, so at least half the time we put the cap on the wrong way, making its edge hang over the rest of the adapter.
After just a couple of days' use, the Satechi's case came disconnected from the interior. If you were to plug it into a MacBook Pro by feel and miss the USB-C port, pressing the adapter pushed the case out of alignment with the internal components. It was easily slid back into place, but still annoying.
Speed
The Satechi reader is rated as having USB 3.0 speeds, and our testing put its performance in the middle of the pack of the devices we evaluated. We copied 12.9GB of images (684 JPEG and raw files) in three passes from a SanDisk Extreme Pro SDXC card rated at 95 MBps. The average transfer speed was 2 minutes 54 seconds, or a rate of about 74.1 MBps.
Our video copy test involved 31GB (9 files) of video files from the same card, which took 6 minutes 9 seconds, or a rate of about 87 MBps.
It's worth noting, however, that the first Satechi reader we tested performed poorly, with speeds less than half that. The speeds above were from a replacement unit that worked as advertised.
Benchmarks: USB-C memory card readers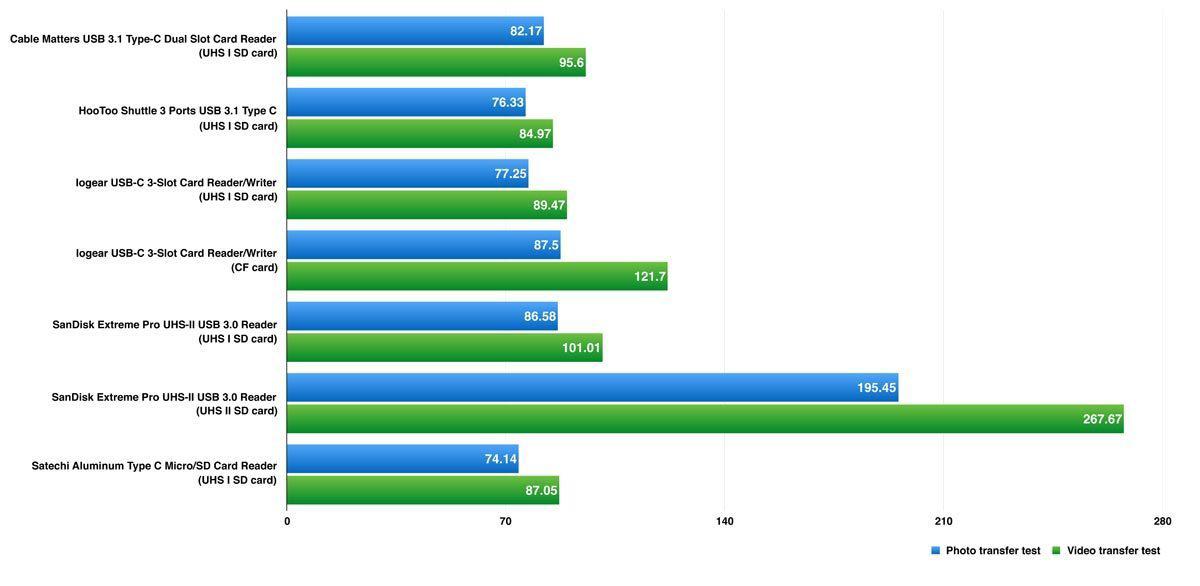 Bottom line
The Satechi Aluminum Type C Micro/SD Card Reader lists for $24.99 retail, but can be found online at a lower price, making it one of the least expensive readers we tested. If space is a primary concern, it's certainly the smallest, even though we'd hope for better case construction.
Read our roundup of USB-C meory card readers