Wi-Fi Assist is a feature in the iPhone to help with internet connections. The name is a little misleading, though as reader Bob Andres finds out:
Does Wi-Fi Assist boost cell phone reception in a low-service area?? We have poor service in our stone office building and are hoping Wi-Fi Assist will make the difference.
Unfortunately, no. Wi-Fi Assist is exactly the opposite. If you're on a Wi-Fi network and access is spotty, iOS will "assist Wi-Fi" by tapping into an accessible cellular network. (And, warning, a lot of people in the past have sucked down massive amounts of data unintentionally by enabling this feature, which Apple has turned on by default. I haven't received horror stories lately, so perhaps it's been fully tamed.)
If this is about cellular calling, however, there's a separate feature on an iPhone 5c or later that can help: Wi-Fi Calling. It lets you place phone calls via a Wi-Fi network, which routes them to your carrier's telephone network, rather than use cellular signals. Your carrier has to offer this as a feature, and many do. AT&T, T-Mobile, and Verizon Wireless are three that do.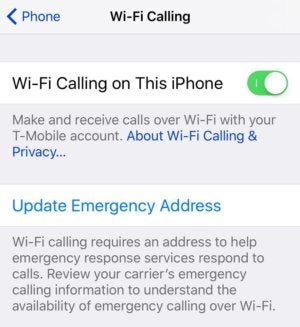 In Settings > Phone > Wi-Fi Calling, you tap the switch on, and then wait for carrier activation. You have to enter a fixed address for emergency or 911 calls. This is meant as a sort of extra backup in case your location can't be obtained from a cellular network when an emergency call is placed, since you can use Wi-Fi Calling on networks other than your home network.
Once the feature is enabled, the label Wi-Fi appears to the right of the carrier name in the status bar in iOS. If you turn on Calls on Other Devices for other iOS hardware and Macs—models released mostly in the last five years—that use the same iCloud account, you can also make Wi-Fi calls from those devices.
Ask Mac 911
We've compiled a list of the questions we get asked most frequently along with answers and links to columns: read our super FAQ to see if your question is covered. If not, we're always looking for new problems to solve! Email yours to mac911@macworld.com including screen captures as appropriate. Mac 911 can't reply to—nor publish an answer to—every question, and we don't provide direct troubleshooting advice.