Nintendo has always seemed a step or two behind the times when it comes to the online capabilities of its devices, whether it's issues with the interface or how you connect to and communicate with friends. The Nintendo Switch looked like it was going to change all of that: it's a more modern offering from the legendary gaming company, seamlessly transitioning between console and handheld modes and carrying a Wi-Fi connection in either form.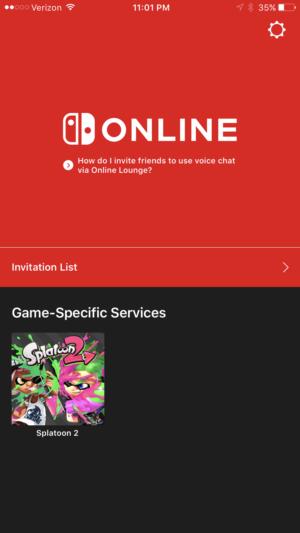 Furthermore, the smart parental controls app that launched with the device this March appeared to signal that the company was more Internet-savvy than we've ever seen in the past. But Nintendo launched the system without a complete online experience: the network is half-formed right now, as a paid subscription service will launch in 2018 with additional features and the long-awaited availability of downloadable retro games. Until then, online play is free, but the online functionality lacks frills.
That half-formed nature extends to the company's new iPhone and Android app, Nintendo Switch Online, which serves as an on-the-go hub for your online interactions for the console. Given the incomplete online service and modest current software lineup, it actually only works with one game: Nintendo's own Splatoon 2. But it's still a potentially critical app, as it serves as the only way you can do voice chat online with teammates through Nintendo's servers.
In classic "Nintendo doing online things" fashion, it's awkward, and even figuring out when and how to use voice chat isn't especially clear.
Need a helping hand in using the Nintendo Switch Online app with your Switch console? Here's a look at what the app does right now, how to use voice chat with or without a headset, and whether it's actually worth the fuss.
What it does
When I wrote above that the Nintendo Switch Online app only works with Splatoon 2, I really meant it: the app is essentially useless right now if you're not playing that new release. Future games will surely use the app, but as of this writing, that's the only thing you'll find here.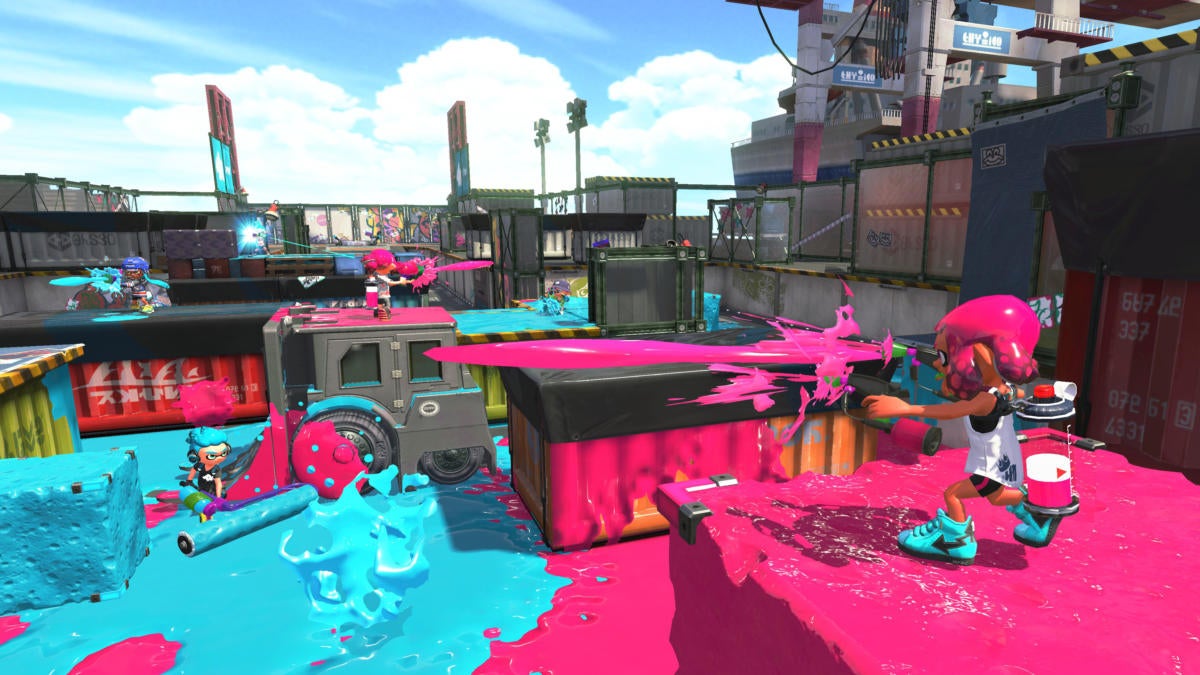 What's Splatoon 2? Well, it's pretty great: it's essentially Nintendo's take on the squad-based shooter game. In classic Nintendo fashion, that typically violent genre has been transformed into something both wholesome and addictive, as you work together as a team to cover as much of a level as you can with your paint color. You'll use paint guns, rollers, bombs, and other creative weapons, and try to be the quartet with the most visible splatter when time expires.
As it currently stands, the Switch Online app doesn't seem like it'll take one unified approach to its interface across all games. Instead, we may get a different "game-specific service" for each game—essentially, an app within an app. And again, right now it's just Splatoon 2. You'll need a Nintendo account to login, and it's the same you'll use on your Switch—and the same you might've used for Super Mario Run, Fire Emblem Heroes, or Miitomo. Once logged in, you'll tap on Splatoon 2 to fire up SplatNet 2, the game's dedicated hub within the app.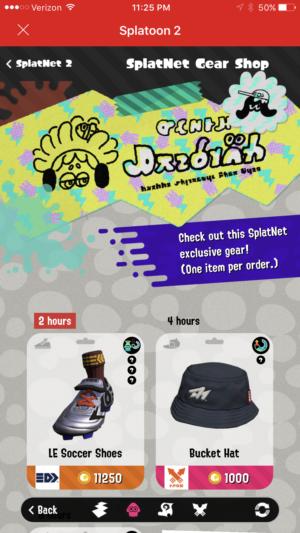 SplatNet 2 offers quick access to things like match statistics and a look at which maps are currently rotating through the various online battle modes at present (they swap regularly). It also lets you view details on upcoming in-game events, as well as purchase in-game items in Splatoon 2's gear and clothing shops, thankfully only using earned currency through battle.
It's also the only way you'll be able to engage in real-time voice chat with your teammates while playing on the Switch. True story! Rather than build any kind of native headset voice chat functionality into the Switch, Nintendo wants you to use your smartphone to make the connection. Unfortunately, the current implementation isn't great, both in terms of how the iPhone app works and how useful it is within Splatoon 2.
Using voice chat
Unlike most online shooter-style games, Splatoon 2 doesn't make voice chat an expected or essential part of the experience. It's not enabled in regular or ranked battles; in fact, the only way you'll be able to use it is in private skirmishes or League Battles with friends or players you've faced online before. That approach sits well with Nintendo's previously skittish nature regarding communication and connectivity with other online users, but it means that the usage here is incredibly limited.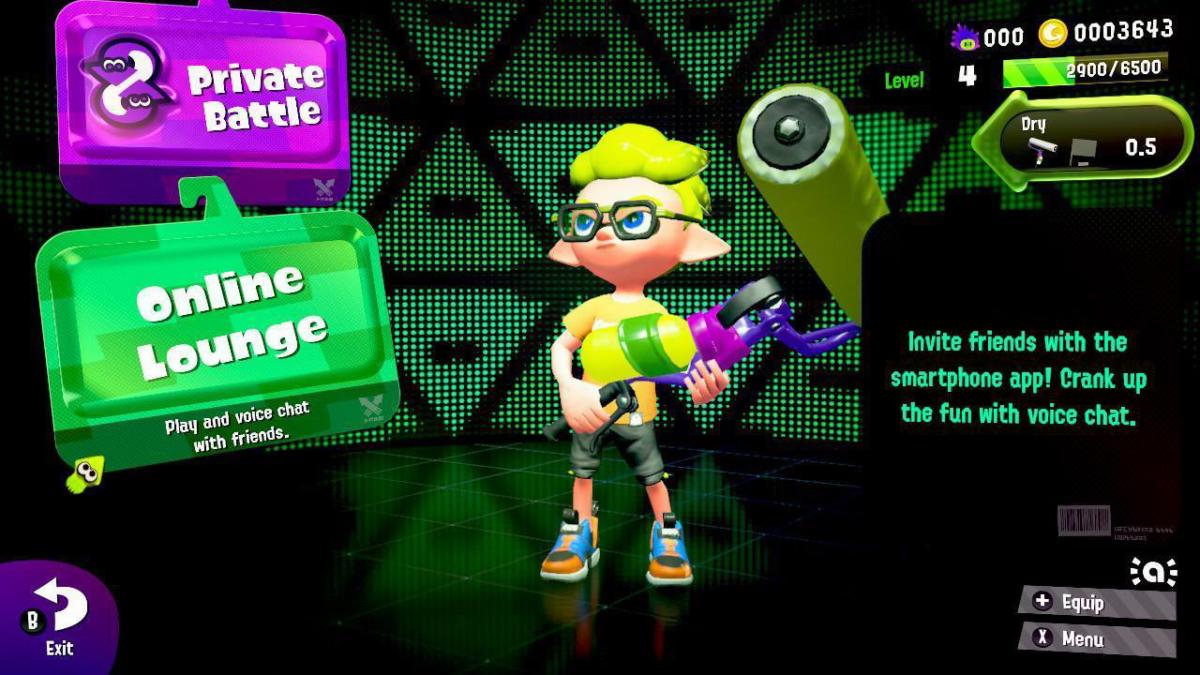 If you do want to use a headset, you'll need to head into the Online Lounge in Splatoon 2's lobby on your Switch. From there, you can create a room or accept an invitation to join someone else's room. If you choose to create a room, you can send a notification to your iPhone to make it easy to jump right into the action on that side of the equation. From the app, it's easy to invite in your Switch friends, pals from Twitter or Facebook, or random competitors that you've already faced in Splatoon 2.
The one big advantage of using an iPhone for voice communications is that you don't actually need a full-fledged "headset" with a microphone—any old earbuds or headphones will do the trick, or you can just use your phone's speaker. You'll be able to hear your friends talking through your headphones or the speaker, and then the phone's built-in microphone will relay your own voice to the group. It's incredibly straightforward, but the downside is that you won't get the Splatoon 2 game audio through your phone.
If you want the mix of both in-game sound and chat audio, you'll need a headset designed for the Switch and that express purpose. Right now, that's the HORI Splatoon 2 Splat & Chat Headset, which is officially licensed by Nintendo and sells for $30.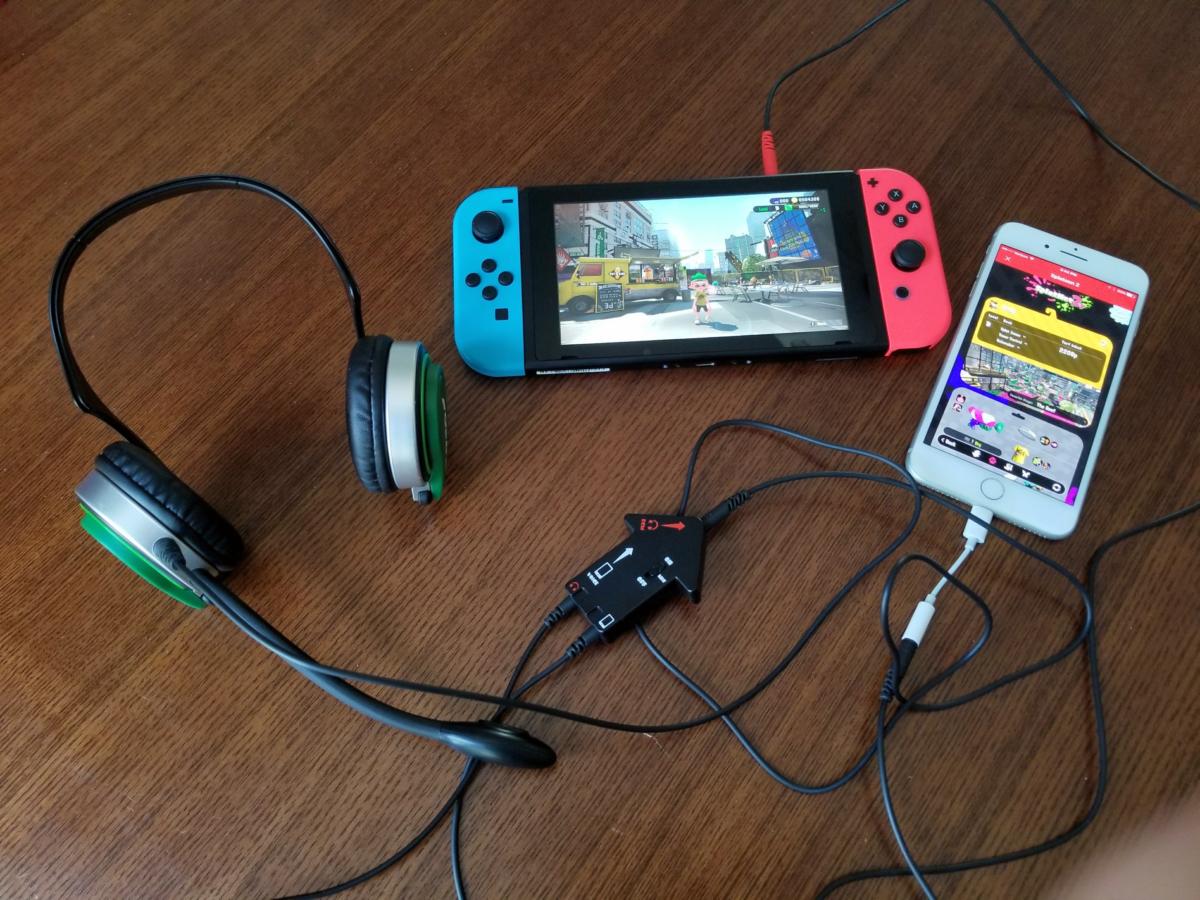 It's a cumbersome thing, really. The compact headset is attached to a mixer/splitter, which then has one cord going into your iPhone and another cord going into the Switch console itself—and there's a ton of cable here. But the non-adjustable, behind-the-head design is awkward and I found it very uncomfortable with a fairly large head, plus the sound quality is a bit iffy and it's surprisingly quiet. The swappable, colored plates are a nice touch, but a little bit of style doesn't outweigh the rough substance here. There's a reason why it has a 2.6-star rating at Amazon (as of this writing).
Here's the upside, at least: you can detach the Splat & Chat headset from the mixer and plug in another headset with a microphone to still get the full audio experience. Spending $30 just for that little part might be a tough pill to swallow, but if you're serious about playing Splatoon 2 with voice chat, then you might be able to talk yourself into it.
Should you bother?
On the other hand, you could not use Nintendo's app and still chat with your friends. Not only is the use of voice chat in Splatoon 2 limited, but the Nintendo Switch Online app can be extremely irritating.
How so? Well, if you turn off your phone screen or switch to another app, you'll be dropped from the chat room and unable to talk with friends. That's absurd! If you tap a text message notification that comes through, you'll lose the connection—and that's even true if you get a low battery warning. The app must be in full view if you want to talk. It's like Nintendo's app designers have never actually used a smartphone.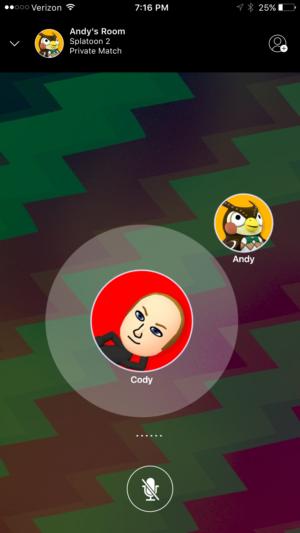 If you have a solid, steady group of friends who want to play Splatoon 2, then you should just ditch Nintendo's app and find your own solution. Use Skype or WhatsApp, for example, or the gaming-centric Discord. All of those let you do group voice chat with pals, and you don't have to worry about keeping the app on your screen at all times. Better yet, by using a different service independent from the Switch, you can chat while playing any mode in the game.
Nintendo claimed its mobile app would take the hassle out of online voice chat while gaming, but at least in this initial incarnation, it's quite the opposite. Splatoon 2 is plenty fun without bringing a headset into the equation, so if you're a casual player, don't bother for now. And if you're a more devoted fan who wants more tactical team play, then you're probably better suited using one of those other aforementioned apps to chat while you also play together.
Hopefully we'll see a friendlier and much more useful Nintendo Switch Online app experience in time, as further games release and Nintendo rights some of its initial missteps. For now, it's usable, but Nintendo hasn't made a very strong argument for its existence.