If you, like me, were wondering when the iPad's sales free fall would come to an end, we may now have an answer. Earlier this week, Apple released its latest financial results, including the first quarter of sales growth for the company's tablet in more than three years.
Arresting the tablet's decline, though, didn't necessarily mean blockbuster sales. Apple moved 10.7 million iPads in the most recent quarter, but that's still well below the company's quarterly record sales of 18.6 million back in 2014.
That said, an upswing is an upswing. Whether it continues is anybody's guess—and boy, does Wall Street love to guess—but there are a number of potential factors that might have the iPad poised for a return to form.
Just don't call it a comeback.
Just "the iPad"
Though Apple doesn't break out its sales by model lines, the general consensus seems to be that the sales in the most recent quarter were driven by the company's fifth-generation iPad, released back in March. The $329 model is the cheapest full-size iPad that Apple has ever released, and while it may not match up to the Pro line, it's a lot of performance for the price tag.
And the truth of the matter may be that people aren't buying iPads for performance. Though plenty of folks—myself included—have argued that you can get most, if not all, of your work done on an iPad, I'd wager that most consumers aren't doing their work on the iPad, for whatever reason. But they are using their iPad for plenty of common daily tasks: email, web browsing, social media, video playing, and the like. The fifth-generation iPad's A9 processor is plenty capable for all those tasks with performance to spare.
Many of the additional features, then—like the improved display of the Pro models, compatibility with the Apple Pencil, and the addition of a Smart Connector—are likely lost on the average user. Moreover, the fifth-generation iPad is potentially an attractive device for use in both education environments, where it boasts an even lower price tag (just above $300), and in some enterprise situations where those additional features are unneeded. Not to mention as point-of-sale terminals, information kiosks, and other less demanding use cases.
In other words, the fifth-generation iPad has commoditized the tablet, while still providing the broad support and ecosystem access that you're not going to get from cheap Android-based competitors.
Go Pro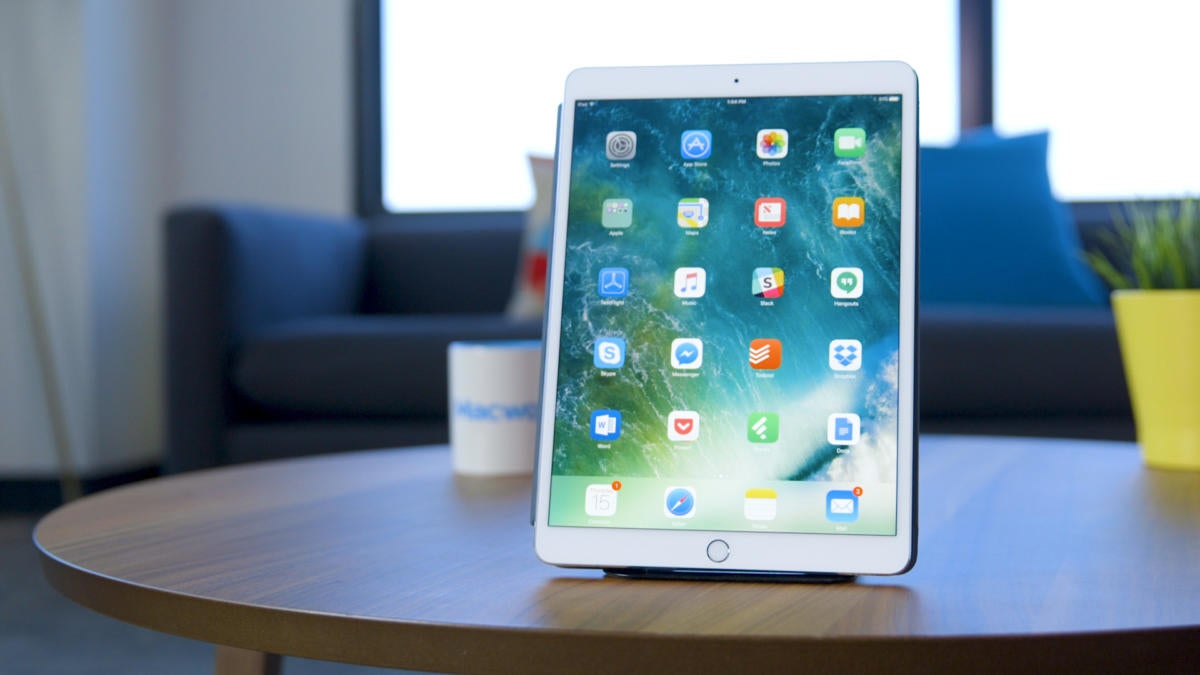 Meanwhile, the iPad Pro aims to be living up to its name. Effects of the new iPad Pro's sales may not have fully felt in the most recent quarter, which ended July 1—just a couple weeks after the new Pros started shipping. But I'd argue that the new 10.5-inch iPad Pro is positioned to appeal both to those new customers looking for the most powerful tablet around, as well as consumers looking to upgrade from older models. (I can speak to the latter especially, as I traded in my iPad Air 2 for a 10.5-inch iPad Pro, with no regrets.)
The increase of the screen size, though it didn't satisfy all who had hoped for an even higher-resolution display, is a major factor. Setting aside the 12.9-inch Pro, which presents an entirely different set of tradeoffs, there's been no change in the size of the "standard" iPad's display since its launch back in 2010. Just as the iPhone 6 series spurred on new sales and upgrade purchases thanks to its larger screen size, the iPad 10.5-inch offers a similar appeal—even more so given how similar the form factor is in size and weight to its predecessors.
A bigger screen continues to be a major feature when it comes to touch-based devices, not only because it means more viewable area but also because it means a larger control surface. Even everyday functions like typing on the onscreen keyboard can be made more pleasant and less frustrating with a modest increase in screen size. That's a powerful argument for upgrading, even before adding in harder-to-demo features like ProMotion.
Mini-mized
Speaking of different screen sizes, you might have noticed one particular Apple product getting none of the love: the iPad mini. Though Apple is still selling the iPad mini 4, it's become the tablet only for those that prize small size above everything else: it's both more expensive than the fifth-generation iPad and less powerful. Spec-wise, it's about the same as the iPod touch, albeit with an option for cellular data.
It may be that Apple is biding its time on the iPad mini, leaving it to sit around like the iPod touch or the Mac mini, to be updated sporadically. At the moment, both use the A8 processor that also runs the Apple TV and the upcoming HomePod, so it's clear Apple can produce those chips at scale and probably for a good price. But the iPad mini has never been a winner on margins for Apple, and now that the company has gotten the 9.7-inch iPad down to a better price, it makes the mini a much harder sell.
Trouble with the curve
Of course, it may be premature to declare an iPad rebound in full effect. As we've observed over the last several years, iPad owners don't swap their devices out nearly as often as iPhone users, many of whom upgrade on a one- or two-year cycle. Like Macs, iPads remain usable longer, and the pace of innovation doesn't seem as rapid as with smartphones.
So don't expect the iPad market to look like the iPhone market, to hit those heights or to grow as consistently. None of that means the iPad isn't a success, just that it has a different curve than its smaller sibling. As the Mac has shown, you can survive a long time without that kind of runaway growth—and that's hardly a model to sneeze at.