At a Glance
Expert's Rating
Pros
Small, light body is easy to tote around
180 degree field of view is helpful for beginners
Companion app acts as a remote control and output repository
Cons
Hard to juggle phone and camera simultaneously
Network connections occasionally went AWOL
Our Verdict
LucidCam ($499; available on Amazon) addresses one of the issues that prevents wide adoption of virtual reality (VR): VR headsets aren't hard to find, but VR content creation remains a major barrier.
LucidCam is a compact, lightweight (8 ounce) stereoscopic 3D VR camera that slides nicely into the palm of your hand, and it promises to boost interest in casual content creation by and for mainstream viewers.
The unit, whose smooth, stylish exterior sports two front-facing fisheye lenses—like a pair of eyes with peripheral vision—gives you a 180-degree spherical 3D visual field of view (left, right, up, and down) for each lens. It captures both video and still images with a single button and switches modes easily. Both the still and video record at 4K per lens, with video capture at 30 fps.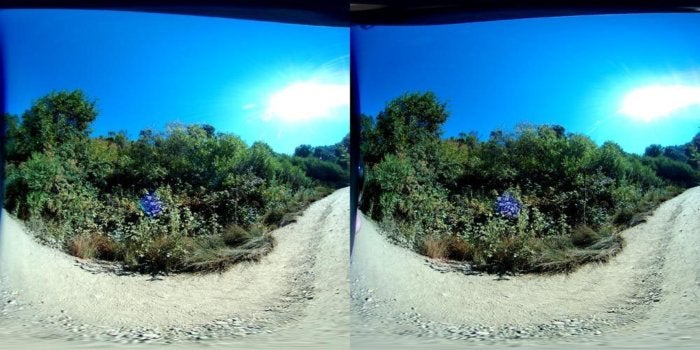 LucidCam records 180-degree 3D
One thing that sets LucidCam apart is that it records 3D 180-degree VR, as opposed to 2D 360-degree footage. Lucid VR is betting that its method will better serve amateur videographers by producing more dynamic footage with a well-defined, compositional point of view. The 3D quality makes it deep and immersive, but the 180-degree angle also makes shooting and producing more accessible because the output is internally stitched, and it is compatible with conventional photo and video software. The camera generates some 50MB per minute. It also records stereo audio via 48Hz microphones, which produce non-compressed, editable 16-bit audio.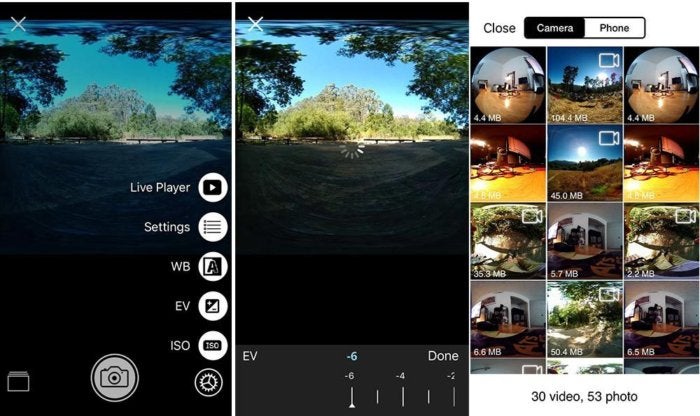 LucidCam is functional right out of the box, packed with 2GB of RAM and 32GB of onboard storage, though you can plug an additional 32GB into it on a microSD card. If you want 360-degree 3D content from this unit, it can be done, but you'll need three cameras loaded onto a rig.
LucidCam ease of use
LucidCam has no viewfinder, so you can't see what you are filming with the camera. The best way to learn how to film, without the help of the companion Lucid VR iOS app, is to experiment with shooting to see what the camera sees, and thus position it properly without an assist.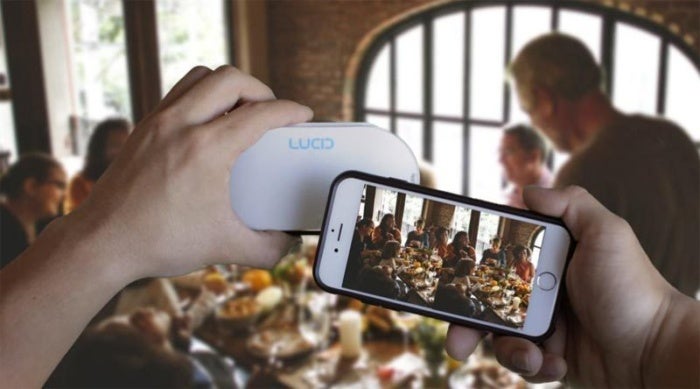 With a 180-degree field of view, the camera sees what is in front of it in wide angle (f/2.2). Workflow instructions, linked from the LucidCam site, take you step-by-step through the process of shooting both images and videos.
The company says its lithium-ion battery lasts about 1.5 hours of shooting, but if you make sure the camera is off when not in use, it can last for the day.
Lucid VR app
LucidCam works with its own mobile helper app, which lets you control the camera from your phone, observe previews of your shots, view your finished stills and videos, and even share the finished output via Facebook and YouTube.
The app also lets you view photos and videos from the camera on its gallery page, but you must choose the selections you want to save and download them to your phone.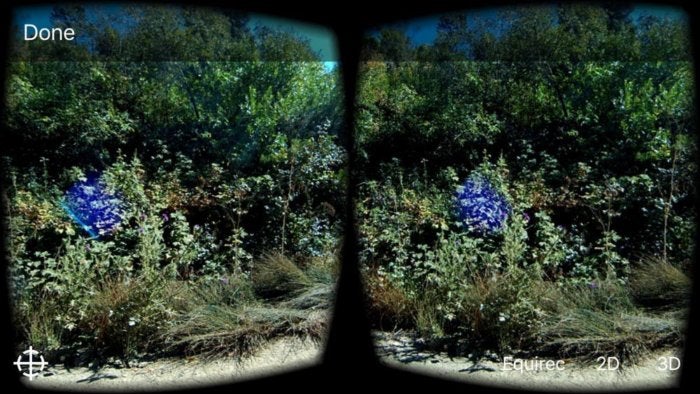 The app works by a peer-to-peer Wi-Fi connection to enable photo or video recording. You can immediately preview the scene before shooting, adjust basic settings like exposure and white balance, and view and manage your library. You can view photos and videos in 2D, 3D, and equirectangular formats. The split screen mode lets you watch the VR action with your favorite headset, complete with head tracking and image stabilization, which lets you move your iPhone in any direction to navigate the scene. You can also view footage by connecting a micro HDMI cable to a screen.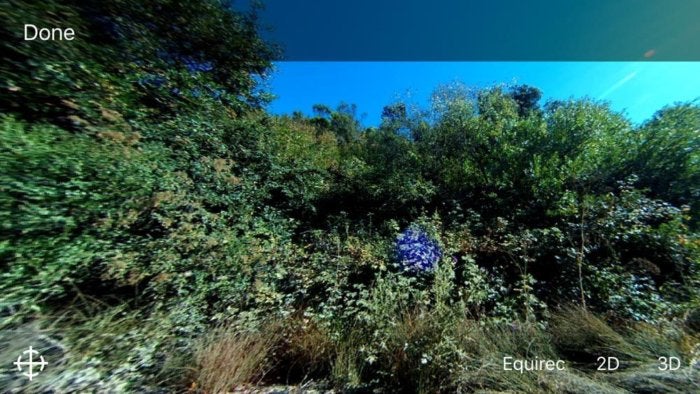 You have a choice in how to view your output: 3D, 2D and equirectangular. You can switch dynamically between the modes on the fly so you can always view footage in the most optimal way.
LucidCam connection issues
Overall, the camera worked well with the iPhone app, readily connecting in order to stream the shot to use the camera as a remote control, but occasionally the connection acted cranky, and sent an error message that said I could not connect to the network. Subsequent tries generally worked, but that's frustrating when you're juggling a camera in one hand and an iPhone in the other while at the same time trying to capture a fleeting scene.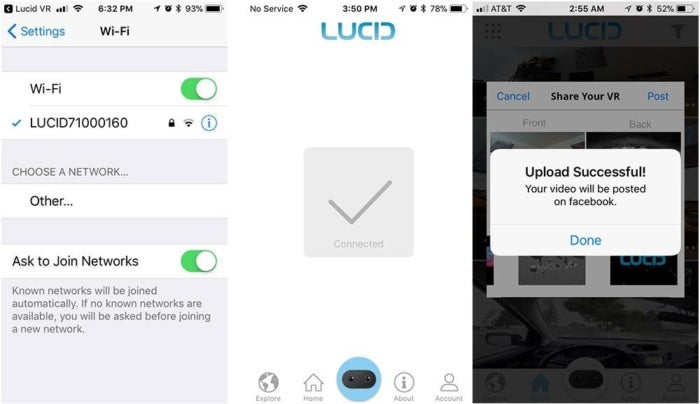 You might opt to keep your connection and camera going until you're finished shooting, but because that will drain both the camera and the phone battery, perpetual connection is not an optimal solution. However, having to connect each time you launch the camera can get tedious. Plus, as a design issue, the connection button butts up directly against the shutter, which increases the likelihood that you will hit the wrong button.
Shooting with LucidCam: Watch your fingers
While the operation of the camera itself is drop dead simple, keeping your fingers out of the shot is more challenging than it may first appear. Because of the wide field of view, you need to be conscious of where your hands are at all times or you will ruin your shot. It's best to hold the camera more or less in the same manner as when you shoot with your iPhone.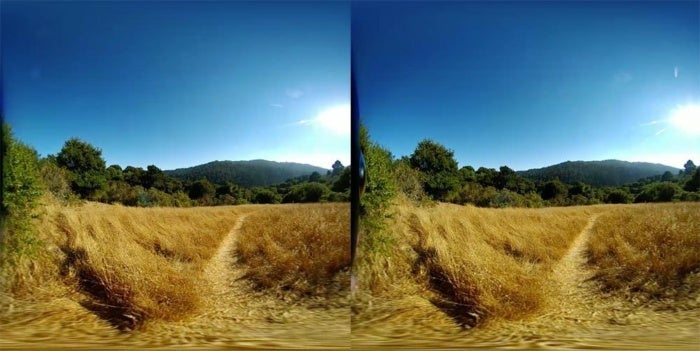 Holding your iPhone preview in one hand and your camera in the other is tough to do both simultaneously and single-handedly. Often I had to ask my photo assistant (a.k.a. my husband) to hold the phone preview while I positioned the camera and made sure my sticky fingers weren't in the way. The company does sell a Phone Clip for $49 that lets you attach your phone to the back of the LucidCam, which solves the problem of how to hold both the camera and your phone. But you have to spend the extra cash.
The best way is to just turn off the preview, or place the camera on a surface like a picnic table, and then concentrate on your live feed before pushing the Record button. Even then, sometimes the lens protrudes into the shot, but that can't be helped.
Bottom line
Anyone who is intrigued by the prospect of producing VR shots and movies the same way they do with a digital camera, may want to explore LucidCam as a choice. The decision to opt for a 180-degree camera that shoots 3D will appeal to family memoirists as well as documentary shooters. However, shooting with the camera and the app presents issues that normal cameras don't, so be prepared to finesse your technique to get the shots you want.