If you've read any articles about Mac-based local and cloud backup software and services by me or any other long-time tech writers, you'll know that, first, we largely recommended Code42's CrashPlan for Home and, second, we have long also had concerns about it. That turned out to be reasonable, given that Code42 has announced the end of its Home product. Now it's time to pursue a CrashPlan alternative, and this article will help get you started.
First off, why did we like CrashPlan for Home so much? It was comprehensive, letting you back up nearly anything to anything: from a computer to external drives; from one computer to another you controlled for networked or remote backup; from one computer to a peer, a computer run by a friend or colleague, with full encryption so that person didn't need to worry about protecting your files; and to CrashPlan's central cloud servers. It also had two strong options for user-controlled encryption.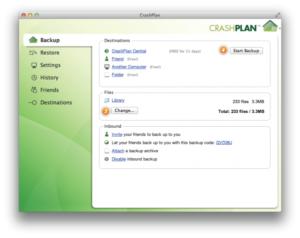 But that was balanced with how ugly, awkward, and slow the Java-based client software was. Yes, Java! Code42 had promised a native Mac client starting years ago, which it delivered—only to enterprise users. Over the last few years, it got rid of multi-year, highly discounted subscriptions, and a method of seeding a backup by sending a hard drive and the complementary method of restoring by having them send a backup on a drive to you.
On August 22, Code42 announced it will discontinue its home offering, focusing instead on business and enterprise customers. While I long expected it, Code42's reassurances over the years feel a bit like ashes to those that stuck with the software.
They're not shutting down their Home servers tomorrow, or even soon, but if you're a user, you could wind up with a decision point to make in as soon as 60 days. I have suggestions for how you can shift your backup strategy and enhance it.
Migrating to another Code42 service
Code42 will stop operating its CrashPlan for Home cloud services on October 22, 2018. As of August 22, it no longer offers renewals or new subscriptions. All customers received a two-month extension on their expiration date to make sure nobody was canceled immediately. (There are no refunds, which seems unfair to recent subscribers. Without offering legal advice, you can check with your state's consumer-protection agency about whether this violates regulations in your state.)
But here's the problem. If you're using CrashPlan in any reasonable way, you're not just cloning your current set of files, you're archiving older versions. The value of continuous cloud-based backup is having access to often many previous versions of the same file, including deleted files. You can configure CrashPlan and many other cloud services to control the depth of archives, when they're culled, and how long and whether to retain deleted files.
Because Code42 will be shutting down its Home servers, unless you've maintained a separate local, networked, or peer-to-peer backup over the same period of time with the same settings, you'll lose your archives—unless you migrate to another one of its services.
Code42 is offering a highly discounted migration option to its Small Business service that retains all your files (up to 5TB per computer) and gives you access to the native CrashPlan client that was once promised for Home users. Code42 will charge you nothing for the remainder of your Home subscription, 75 percent off the rack rate for 12 months, and then the full price. (If your Home subscription expires after the October 22, 2018, cutoff date, Code42 will migrate your files automatically to keep the paid-for service in operation.)
This flavor is $10 per month per computer, twice that of the Home service's individual rate (if paid annually). But if you were using CrashPlan's family offering, you paid as little as $12.50 a month on an annual basis for up to 10 computers. The Small Business software doesn't support peer-to-peer backups, but I suspect that feature was most important years ago before cloud storage was abundant and inexpensive. CrashPlan is also offering a discount on one-time rival Carbonite's backup offerings, which I don't recommend for Mac users, for reasons described in the next section.
Given there's no penalty as long as your subscription is active, the path of least resistance would be migration to the Small Business offering if you have more than a few months left. This lets you evaluate other options and get the benefit of the better software without having to make a quick decision.
I'd also suggest migration within Code42's systems if it's critical to you to not lose any of these past archives. CrashPlan offers no tools to download or extract entire archives.
A separate strategy to retain archives and abandon Code42 would be to use CrashPlan's restore feature to find a snapshot or snapshots of particular folders and retrieve those and keep those stored locally with carefully chosen names so you can walk backward in time to find those files.
While your account remains active, you can also use CrashPlan's Web app to retrieve files. You're limited to 500MB in a given restore set at a time.
If your archives aren't important to you in the long run, or you're using Dropbox or other sync services to handle archives of files you create and modify, then you're not tied down. Let's look at how to cut the cord.
Replicating CrashPlan for Home with other software and services
Because CrashPlan comprises local computer, networked, peer-to-peer, and cloud-based backup software and services, it's possible you will need multiple methods to replace it. I recommend for most people that you have a clone of your system, an offsite clone or archive, and a cloud-based archive. (The clone allows a quick recovery from a failed or corrupted drive; the offsite clone can offer a similar benefit for a stolen computer or one destroyed in a disaster. If you encrypt your backup drive, you don't have to worry as much about it being stolen from an offsite location, too.)
Some people use very few applications, and rely on cloud-based photo, email, contacts, and calendars, in which case the most critical part is being able to have two backups beyond those synced documents and other files. Syncing services aren't perfect, though it's been a long time since I last heard of any major service having any data loss for customers.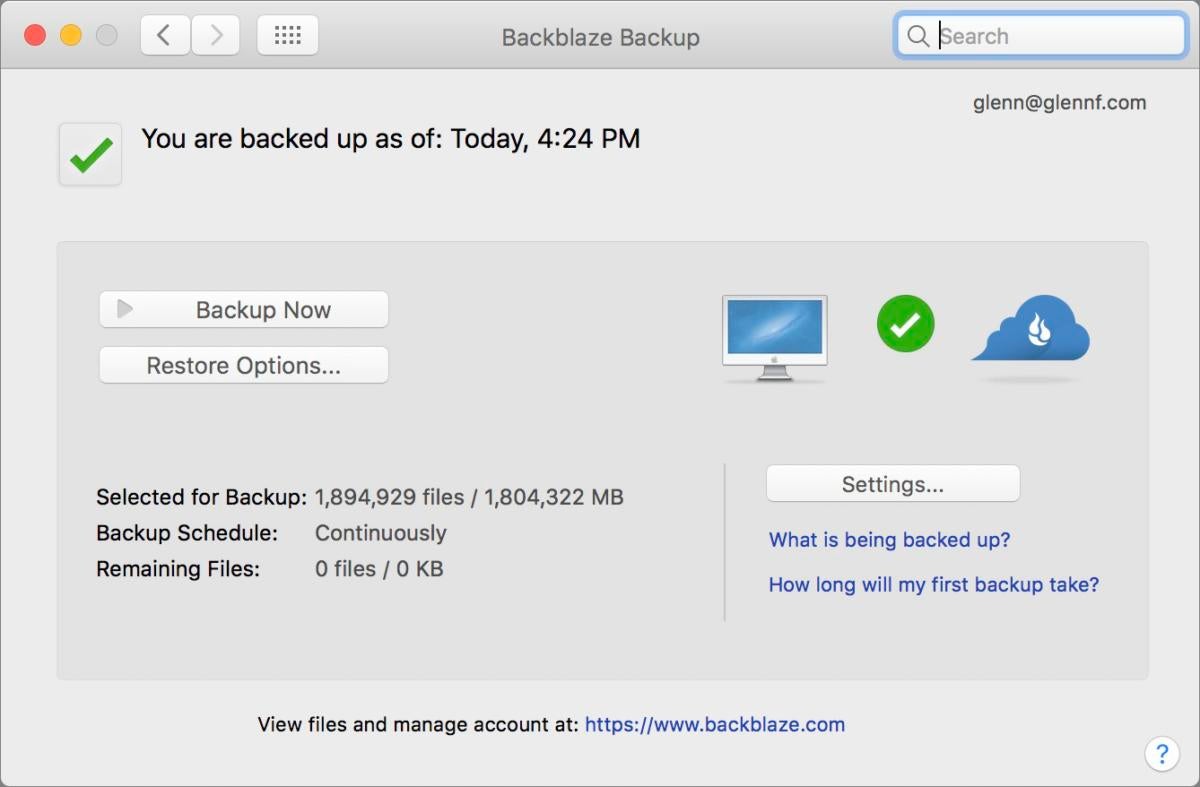 Switch your cloud backup. The cloud part of CrashPlan is easiest. I recommend Backblaze hands down. It's affordable relative to CrashPlan for Small Business at $5 a month, $50 a year, or $95 for two years. It has a native and exceedingly fast backup client, recently upgraded to be even faster. It's been reliable in my usage of nearly two years, and it's highly recommended by a number of long-time Mac pundits, writers, and tech heads who I know and trust. With a gigabit Internet connection, my backups can pass hundreds of megabits a second upstream.
Backblaze won't archive system files; that's the right behavior for a clone, and not for archiving software, anyway. What makes it stand out over Carbonite, which I don't recommend, is its encryption implementation. Let's be fair: CrashPlan does it best, if you use either of two strong options they offer. Using CrashPlan's crummy Home or newer native clients, all encryption and decryption can happen using a key only you possess and know and entirely in the client.
Backblaze has the right set up for encryption, allowing you to choose a private key only you know and can access. Data is encrypted in its client and sent to its servers. Carbonite lacks this option on its Mac clients. Backblaze falls down only in restoring files: it only restores via a Web app, which requires its servers to temporarily possess your key. That opens a place of risk if its server software were compromised or it faced secret government orders, which are unfortunately a real thing in the U.S. and other countries. I'd like them to evolve past this, and offer native on-computer decryption, which removes the risk nearly entirely of third-party access.

Switch your local and networked backup. If you were using CrashPlan for local or networked backup, the easiest swap is to Time Machine. Time Machine has a primary problem of being a black box, and when something goes wrong with an archive, you can't repair it. This is especially true with Time Capsule, which has an internal drive on which you can't run Disk Utility's First Aid. Since I recommend rotating your clones offsite, Time Capsule also requires owning two Time Capsules to accomplish that, or using an attached external drive, which is very slow. I do recommend Time Machine for local and networked backup via a drive attached to one of your Macs as a combination of clone and archive. Just own two similar capacity drives, keep one offsite securely, and rotate them occasionally.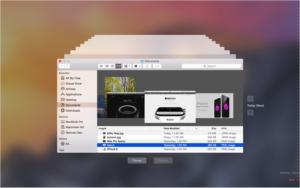 You should also enable encryption on any drive you use with Time Machine. Then if someone were to obtain your Time Machine drive when your computer was powered down or grab one of your offsite drives, your data remains effectively impregnable. ( See these instructions for turning encryption on with an external drive.)
I've also experimented with using the Arq archiving software as a Time Machine and cloud service alternative. Arq archives files in human-readable format, not a proprietary one. It can archive them remotely to a variety of consumer-level and enterprise-class cloud account and usage-based storage systems. I reviewed Arq a few months ago. It's not terribly complicated and lets you set your own encryption for each archived destination. Depending on your needs, Econ Technologies' ChronoSync might be the better option, even though it's deeply complicated and better suited for sync or for very fiddly archiving plans; it has archive features and works with local and networked drives, and various cloud services, too.
Switch your cloning. If you were using CrashPlan to clone your system—Code42 didn't recommend that! But you could do it, anyway. Switch instead to Time Machine, which creates an effective clone as part of its basic operations; or pick SuperDuper or Carbon Copy Cloner, software dedicated to creating scheduled clones on local drives or to disk images.
Switch your peer-to-peer backup. If you've been using CrashPlan to swap files with someone you know elsewhere also running the software, there's no direct replacement, and it may be time to start rotating backups offsite to a safe-deposit box or other secure location. More advanced users could look into using SFTP (Secure FTP), which uses a secure connection to access files, and will work over the Internet if your computer has a publicly routable IP address. It can be enabled as easily as checking the Remote Access box in the Sharing system preference pane, and it allows logins via macOS accounts. Pair this with Arq or ChronoSync.
Deactivating CrashPlan on your computer
If you want to continue to be able to restore files from your CrashPlan archives for as long as your subscription is active using the Mac client, you have to leave the software installed. You also cannot delete a backup set or change the contents of the set. If you do so, CrashPlan deletes the files that you removed or the entire backup set from your archives.
Instead, use Settings > Backup to change the frequency from Always to run in the least frequent amount of time, like 6:00 am to 6:01 am on Mondays.
However, if you're ready to remove the application entirely and never retrieve archives or use the Web site for restoring (limited to 500MB of restoration at a time), follow Code42's instructions on using its uninstall app. This allows directs you to find additional folders to delete that may have temporary or cached data.
The persistence of storage
Code42's decision reminds us how much other people's business plans can affect our need for the persistence of data. Because Code42 uses a proprietary format and you're just effectively renting space on its servers, you can't retrieve your raw archives and move them. It's not like shifting from one email program to another.
As part of any change you make, if you need deep archives that you own for a long time or forever, I'd urge that you look into software that lets you retain those and in a format you can read without requiring third-party software.