Safari has a feature called Reading List, where you can save webpages for reading at a later time. It's different from a bookmark in that you can access the webpage without an internet connection. Your Reading List can use iCloud to sync across all your associated logins so you can access your list on any device.
Macworld reader Derrel Sims would like to remove some, or maybe all, of the items in his Reading List in Safari, and wonders how to do so. The reason Derrel can't find a way to delete all of the items in iOS is that no such option exists! You can, however, delete individual items in iOS and macOS in fairly obvious manners.
In iOS:
Launch Safari.
Tap the bookmarks icon.
Tap the Reading List (eyeglasses) icon.
Swipe left on an item.
Tap Delete.
In macOS:
In Safari, select View > Show Reading List Sidebar if it's not displayed.
Control-click any item.
Select Remove Item.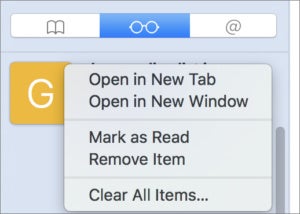 And if you're using macOS, you can easily delete all Reading List items. In step 3 just above, select Clear All Items and confirm by clicking Clear. Voila! If your iOS devices are synced with that copy of Safari, all your Reading List items disappear there, too. (This can't be undone, so be careful.)
iOS has no corresponding item. You can delete offline storage used for Reading List items, however, through a slog into settings:
Open Settings > General > Storage & iCloud Usage > Manage Storage.
Wait for the list of apps to populate, and then swipe down until you find Safari, and tap it.
Swipe left on Offline Reading List.
Tap Delete.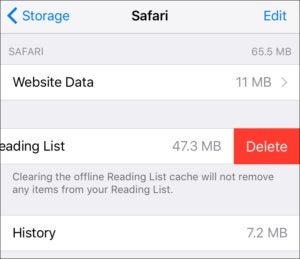 Ask Mac 911
We've compiled a list of the questions we get asked most frequently along with answers and links to columns: read our super FAQ to see if your question is covered. If not, we're always looking for new problems to solve! Email yours to mac911@macworld.com including screen captures as appropriate. Mac 911 can't reply to—nor publish an answer to—every question, and we don't provide direct troubleshooting advice.