At a Glance
Expert's Rating
Pros
Check in on your pet at any time
Talk to your pet and hear their response with the two-way audio feature
Feed treats, photograph, shoot video, and share images of your pet on social media
Allow friends, family, and even interested strangers look in on your pet
Cons
Camera has limited vision
Multiple cameras are needed to cover the entire house
App connections are sometimes glitchy
App interface can be confusing
Our Verdict
Best Prices Today: Petcube Bites Pet Camera: Flings Treats, 1080p HD Video, 2-Way Audio, and Night Vision
Here's the scenario: You're at work all day, leaving your companion animals all by their lonesome. Sure, they're enjoying the comforts of home, but one essential thing is missing: You. The remedy: Petcube Bites ($249 MSRP: $229 on Amazon), an interactive camera-slash-feeder that lets you view, talk to, and serve up treats to your furry friend.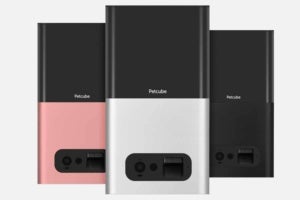 Petcube Bites, the latest incarnation of Petcube's internet-based pet care monitors, joins the original Petcube Play that specializes in animal-human interaction. Available in silver, rose gold, and carbon black to fit any decor, Petcube is part baby sitter, part security camera, featuring a 138-degree wide-angle view, 1080p HD video, night vision, 3x digital zoom, and two-way audio.
The unit is fairly sizeable, with a bigger footprint than the previous camera units. The treat-detachable container can be washed by hand or in the dishwasher. The unit's streamlined design fits on most shelves, bookcases, or tabletops, but you must be near an outlet to keep it plugged in, which limits where you can place it.
The star of Petcube Bites is the treat dispenser, which literally flings treats from the unit's body, on schedule or manually, via the app. Sound and motion alerts in the form of purrs or woofs emanate from your phone whenever your darling moves a paw or shifts position on her chair.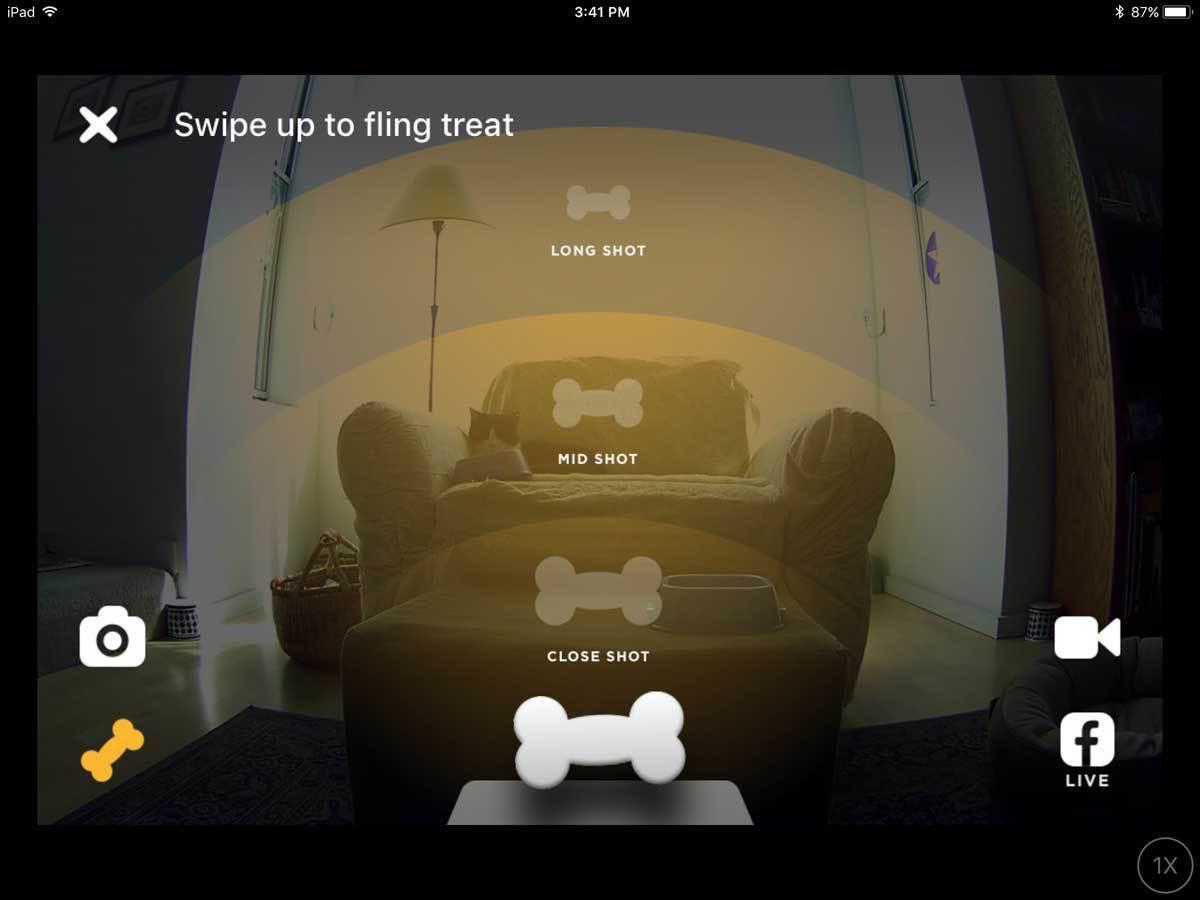 Just fill the internal treat hopper with up to two pounds any brand of treats—as long as they are dry and crispy and measure 1 inch or less. For smaller treats, multiple pieces may be dispensed at once.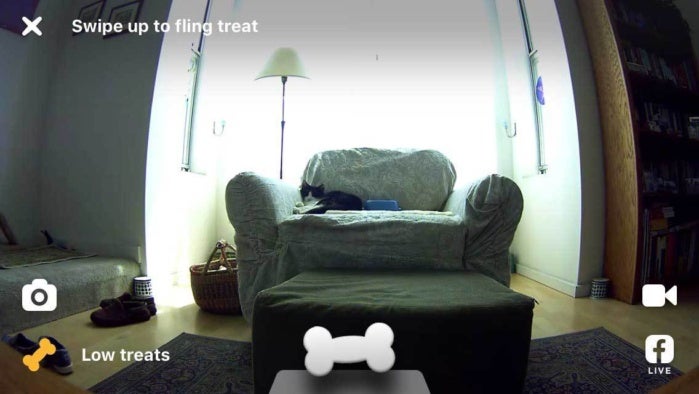 Petcube app
Petcube is nothing without its free companion Petcube app, which lets you control the dispensing of treats as well as access to your camera and sound features. Friends and family can download the app to their iPhone, Apple Watch, or Android phone and to interact with your furry one even if they do not own a Petcube unit (or a pet).
A public sharing option lets anyone within the Petcube community observe your pet for specified times during the day that you can choose and control. Animal shelters, in conjunction with Petcube, are using it to engage the public and encourage adoptions by giving people access to the Play unit's laser toy.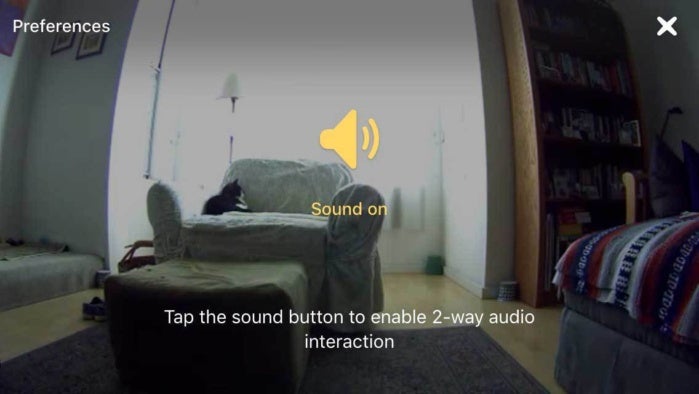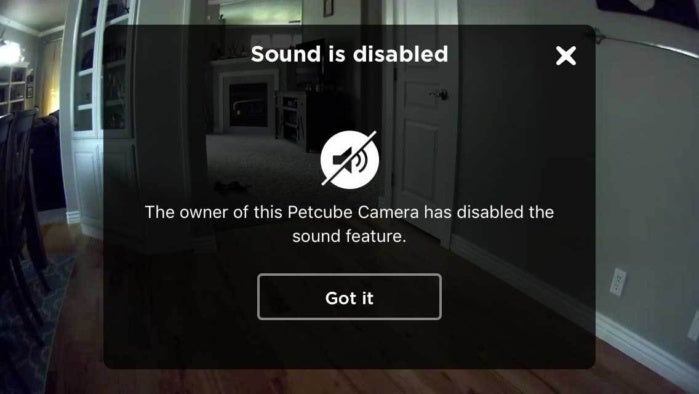 Petcube provides various ways to view and record your pets while Petcube Bites is operating. You can shoot a snapshot of the live stream by tapping the Camera icon on the bottom left of the screen, and then share the photo on Facebook, Instagram, Twitter, via email, or save it to your Camera Roll. Another tap lets you live stream your camera to selected Facebook friends.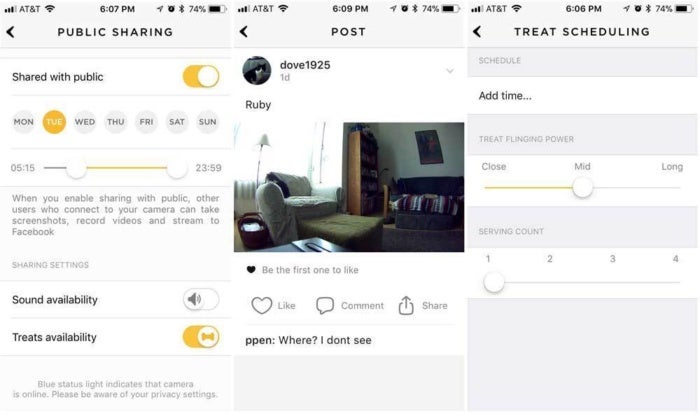 A gesture gives you up to a 3x digital zoom, while an infrared sensor can automatically stream night vision black and white video in pitch darkness.
Petcube Bites is not as useful for public interaction. It does not have a built-in laser toy like Petcube Play, so strangers cannot play with your pet. Typically, you would not want a stranger's voice speaking to your pet, or flinging treats.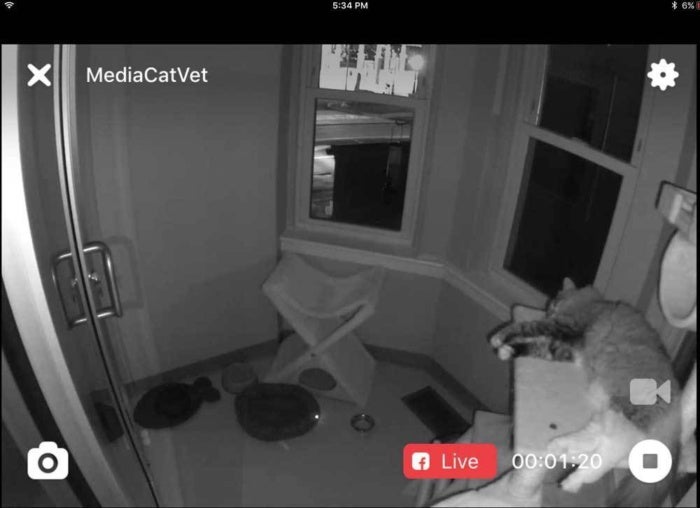 Petcube Bites: Video service
Petcube Care, an optional fee-based service, enables automatic cloud video recordings of your pet, letting you review her rock star moves throughout the day.
Combined sound and motion in the room, and sometimes even changing light from a window, can trigger automatic video recording and notifications so you can see exactly what caught your pet's attention, if they are in distress, or they are misbehaving. You can configure it to notify you when new video recordings are ready.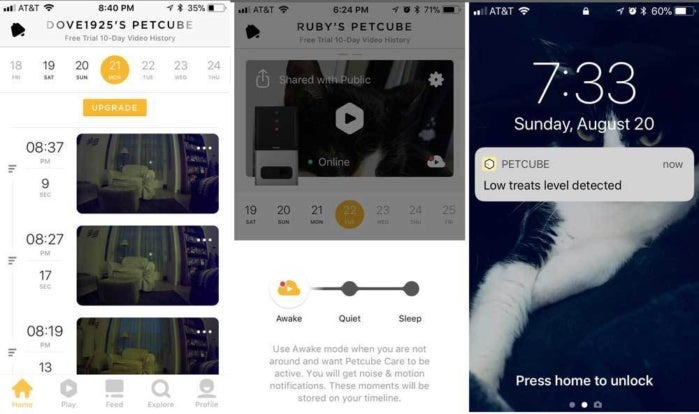 All Petcubes come with a free 30-day Petcube Care trial, but beyond that, the cost for single devices is $10 per month with additional devices at $5 per month for a 10-day video history (30-day history pricing is also available). Separate subscriptions are required for each Petcube camera, if you have more than one unit (say, for upstairs or in the basement). Without a subscription, each Petcube camera provides a four-hour video history.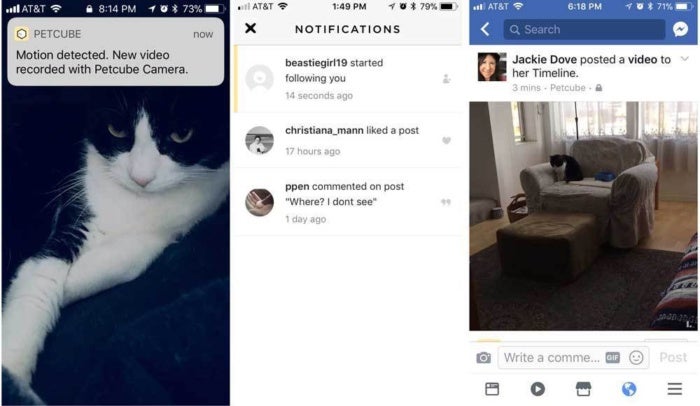 Petcube Bites: Limitations
Petcube Bites can reside anywhere in your home, either on a table or mounted to your wall for a sweeping view of the room. However, the Petcube camera can only see within its own line of sight. If your pet is not occupying her favorite space where the camera is positioned, you will not see her.
The viewing limitations may be partially mitigated by the voice activation, which pipes your voice into the home in order to get your pet's attention. I have watched my cat's ear twitch slightly at the sound of my voice, but she does not get up and stand at attention awaiting my words. Flinging treats inspires a mild curiosity at best.
How much your pet responds to Petcube is largely a function of age, personality, and perhaps species. My testing with the remote laser toy definitely appeals to cats, but the Bites unit does not feature the laser.
Petcube Bites: Performance
Petcube mostly functioned as advertised. It shows a view of the room, flings treats at your command, and lets you have a two-way conversation with your furry beloved. The 3x digital zoom lets you shoot Hollywood-style close-ups of your pet, but you cannot use the zoom with other camera features like sound or treats.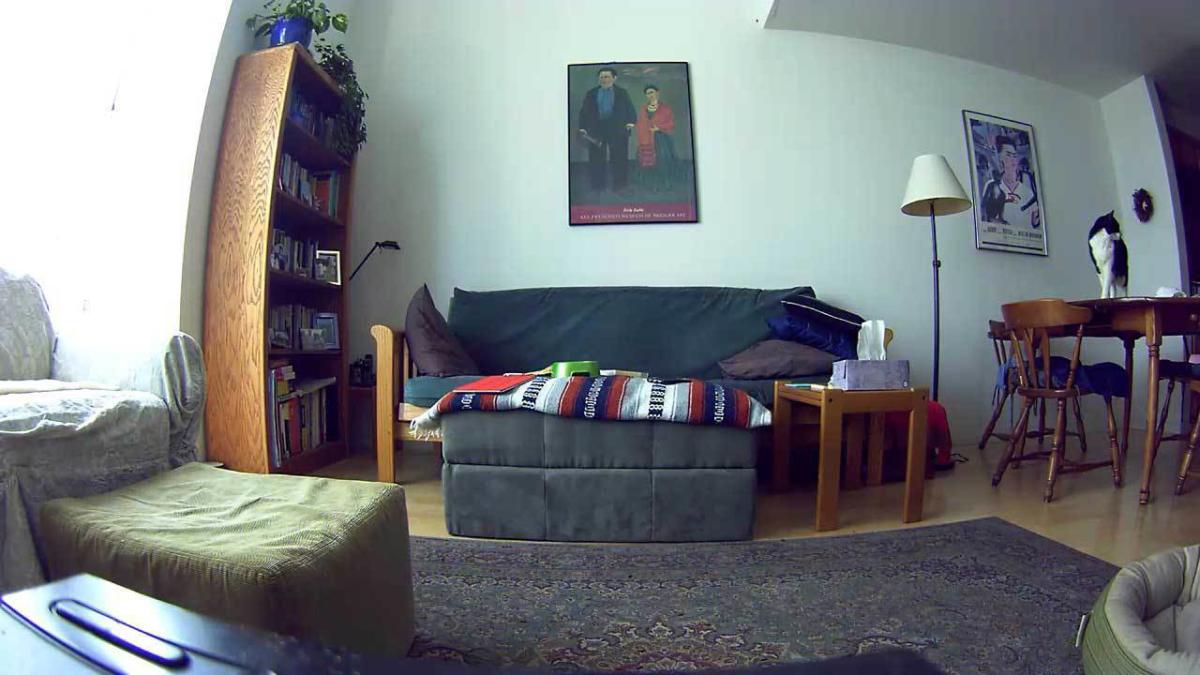 Issues sometimes arose when pairing the app with the Petcube or the unit would disconnect for no apparent reason, or go offline. Generally, when operating away from home, there was very little interference or interruptions.
Bottom line
Petcube Bites serves multiple purposes and works as advertised. I get that Petcube has specifically differentiated its products, but I can't help wishing that the Bites unit also included the laser toy. That would widen the appeal for animals who are less motivated by treats and voice than by visual stimulation. The app could use some streamlining, particularly in connecting and following people and pets.
The most useful Petcube Bites scenario is if your living environment is constrained for space or your pets are restricted to a particular room in the house, the better to consistently view and interact.
Best Prices Today: Petcube Bites Pet Camera: Flings Treats, 1080p HD Video, 2-Way Audio, and Night Vision