iTunes 12.7 for Mac was released on Tuesday with a major change in the app. Apple has redesign iTunes so that it focuses on sales of music, movies, TV shows, audiobooks, and podcasts. It no longer has an App Store for buying apps for your iPhone or iPad.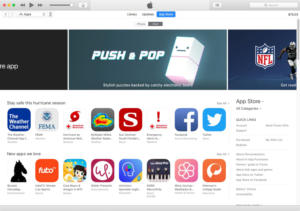 This means that in order to buy an iOS app, you must do it on the iOS device itself. You no longer can buy an iOS app within iTunes, and then load the app to your device when you perform a sync.
Apple announced last month that iTunes U content can now be found in the iTunes' podcasts section.
If you purchased ringtones through iTunes, Apple says that you can download them through your iPhone using the App Store app, or through Settings > Sounds > Ringtone > Store.

How to upgrade to iTunes 12.7
On your Mac, launch the App Store app in your Applications folder.
Click on the Update button at the top of the app.
The app will use the internet to look for new updates. If you don't see the iTunes 12.7 update, try reloading the page by pressing Command-R.
When you're ready, click the Update button next to the section about the iTunes 12.7 update. If the iTunes app is open, your Mac will tell you that the installation cannot proceed until you close iTunes. Click Continue to have your Mac close iTunes and continue with the upgrade.
The installation will take a few minutes. You should not need to restart your Mac, unless you also decided to click the Update All button, which installs any other OS updates available.
When you launch iTunes 12.7 you'll see a disclaimer about the changes.

Apple