Email is one of those programs that you use, and then you realize that you have files dating back from a long time ago. Macworld reader Chris want to take control of the message in Apple's Mail, specifically the messages he has sent.
I swear I used to be able to control how long my sent mailbox kept old sent messages—I'm sure I set it to 1 month! Now, however, I cannot find any pop-up or drop-down menus (like Junk Mailbox, which I have set to erase after one week). I don't want all my old Sent messages from 1998!
I don't recall a way to delete sent messages automatically in Mail. However, you can create a rule that will solve the problem for you:
Select Mail > Preferences and click the Rules button.
Click Add Rule.
Name the rule "Delete Sent Messages" or however you'd like to identify it.
From the conditions area, choose Date Sent, Is Greater Than, and then enter the number of days. In this example, I used 365 days.
In the Perform the Following Actions section, choose Delete Message.
Click OK.
You're prompted to apply to existing messages. If you click Apply, this will immediately (and irrevocably) delete all sent message that meet that criteria.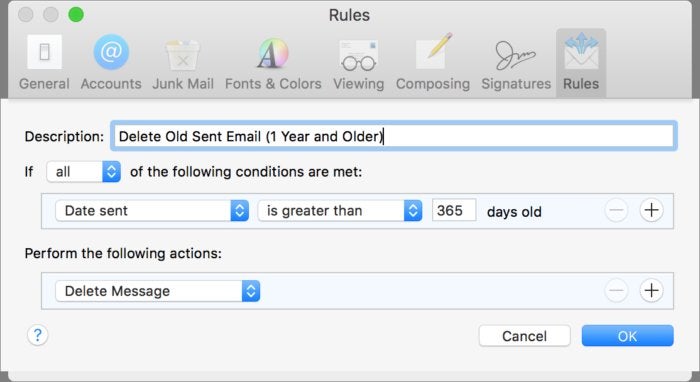 Now, Mail won't apply this rule after this point, because active rules apply only to your inboxes. However, you can every once in a while select the Sent mailbox in the Mailboxes list and then choose Message > Apply Rules.

You can choose a different tactic if you just want to archive messages locally. Create an archive mailbox in the On This Mac section of the Mailboxes list: hover over On This Mac, click the +, and then name the mailbox. In step 5, choose Move Message and then pick the mailbox you created under On This Mac.
Ask Mac 911
We've compiled a list of the questions we get asked most frequently along with answers and links to columns: read our super FAQ to see if your question is covered. If not, we're always looking for new problems to solve! Email yours to mac911@macworld.com including screen captures as appropriate. Mac 911 can't reply to—nor publish an answer to—every question, and we don't provide direct troubleshooting advice.