Apple's iCloud is handy in that it lets you have access to your files on multiple devices that have internet access. But what's actually stored in iCloud isn't that obvious to the user.
This seems to be the case for Macworld reader Izabella. She asks why iCloud isn't reducing storage on her MacBook more than it is. She sees iCloud storage on her computer taking up 80GB of storage but says she's paying for 200GB of iCloud storage. "I want to use this space for other things," she notes.
iCloud doesn't necessarily save you storage, as confusing as that is, because it's a mix of synchronization and cloud-based storage options.
iCloud Photo Library syncs all your photos and videos, but unless you set Photos (in Photos > Preferences > iCloud to Optimize Mac Storage), the full-resolution file for each piece of media remains on your Mac. Check that box, and you could save 80 to 90 percent of a library's size.

iCloud Music Library also syncs music, but lets you keep local files unless you take action. You can select songs or albums and Control-click to select Remove Download, which deletes locally stored files and leaves the backups in iCloud. (Be sure you have a backup of your music files before you do this! Things can go wrong.) If you want to know which songs are only in the cloud, create a Smart Playlist with the criteria Location Is Not On This Computer.

iCloud Drive is always synced: a copy is always on your computer and in iCloud for everything listed except for the next item!

Desktop & Documents is an option (introduced in macOS 10.12 Sierra) to shift and sync less-used files from those two Home folder locations to the cloud, and only download them locally as needed. You can access that option via  > About This Mac > Storage and click Manage (or via Applications/Utilities/System Information, and choose Window > Storage Mananagement), and then click Store in iCloud. You want a high-speed broadband connection for the times you need macOS to retrieve those files.

iTunes purchases. Also in the storage manage tab of System Information, you can opt to delete what can turn out to be gigabytes of downloaded media that remains available for retrieval or streaming on demand from the iTunes Store.
Making a few changes could free up tens to hundreds of gigabytes of storage, depending on the amount of media and kinds of documents you store on your Mac.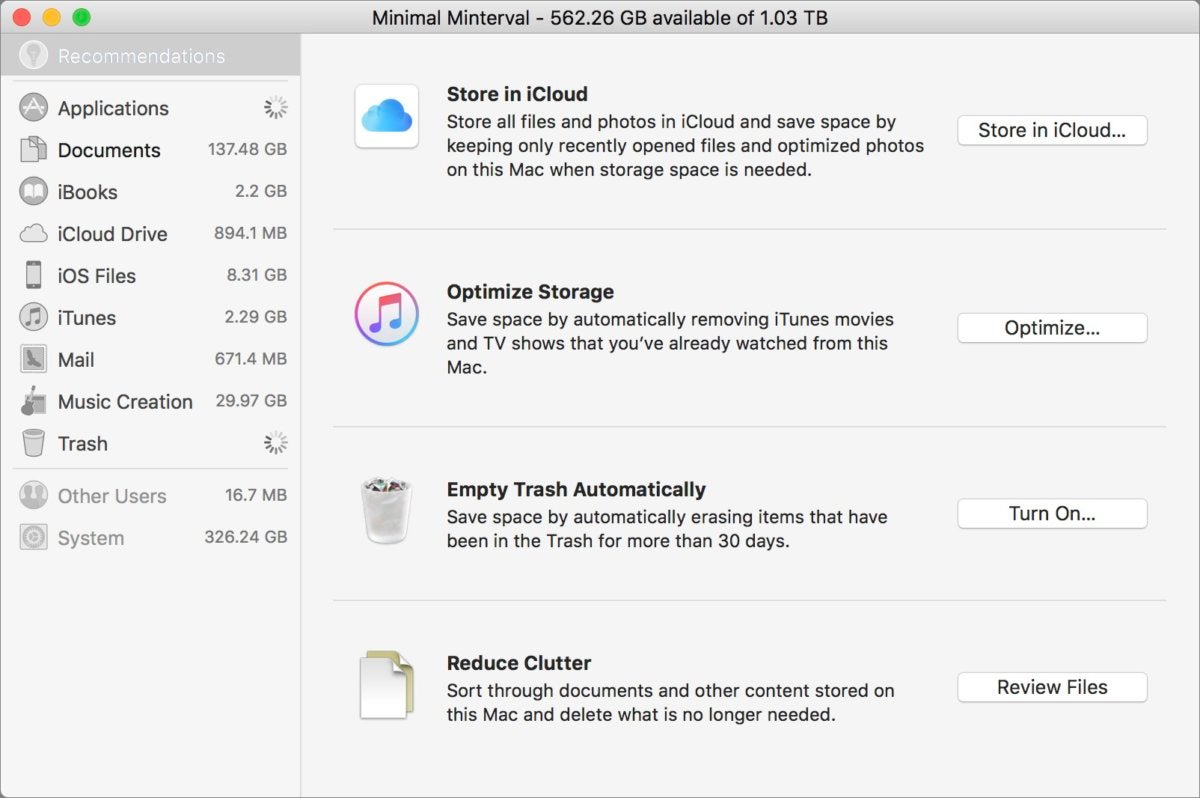 A warning, though: you're relying on iCloud and Apple to keep all that data safe for you. I'd rather have more storage on my computer, keep all the iCloud items copied from and to my main Mac, and separately clone and archive all those files myself in addition to iCloud.
Ask Mac 911
We've compiled a list of the questions we get asked most frequently along with answers and links to columns: read our super FAQ to see if your question is covered. If not, we're always looking for new problems to solve! Email yours to mac911@macworld.com including screen captures as appropriate. Mac 911 can't reply to—nor publish an answer to—every question, and we don't provide direct troubleshooting advice.