At a Glance
Expert's Rating
Pros
Fast access to Mac keyboard shortcuts from connected iPad
Up to 256 custom shortcut buttons for each Mac app
Includes prebuilt panels for 13 built-in macOS apps
Cons
Time-consuming process to add new shortcut buttons
Can't export application shortcuts to share with others
No way to configure or save settings on Mac side
Requires Lightning to USB connection, no iPad Pro Smart Connector support
Our Verdict
Best Prices Today: Keymand
Keymand ($20 on the iTunes store) is an iPad app that turn the iPad into an application-specific keyboard for Mac applications like Final Cut Pro. Hardware application-specific keyboards exist, but they aren't particularly well-suited to tasks beyond the ones for the apps they are designed for. Keymand can work with a wide array of apps, not just production apps that most application-specific keyboards focus on.
Keymand syncs with a free Mac companion app through a required Lightning to USB connection, which also keeps your tablet charged while working. Sadly, the app syncing via the iPad Pro Smart Connector isn't supported.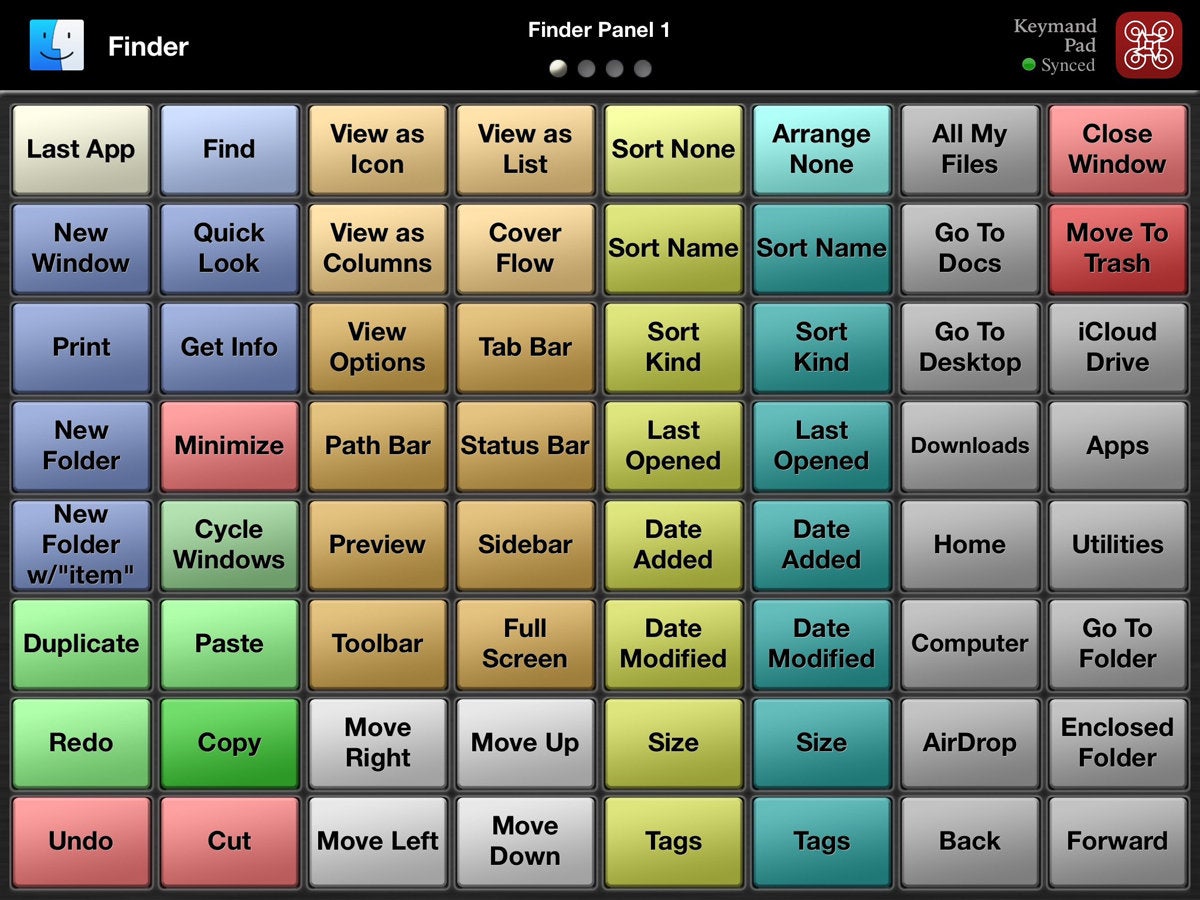 Keymand: Shortcut commander
After launching both apps, click Connect on the Mac side, then tap Accept at the iPad prompt. When the sync indicator changes from red to green, Keymand is ready to use, automatically reconnecting whenever the iPad app is relaunched or after waking from Mac sleep.
Keymand displays the current application name and icon in the upper left corner, as well as a grid of 64 one-tap buttons at a time, which update as you switch between applications. Buttons respond instantly when tapped, and the Mac app uses a negligible amount of CPU; you'll wind up with another icon in the menu bar, however. Buttons can be left blank for a more eye-pleasing layout, and each desktop app can use up to 256 possible shortcuts spread across four panels.
As you start using Keymand with favorite Mac apps, expect to see a lot of blank panels. That's because the app only includes panels for 13 macOS apps: Finder, App Store, Calculator, Calendar, Contacts, Dictionary, Font Book, iTunes, Mail, Notes, Photos, Preview, and Safari.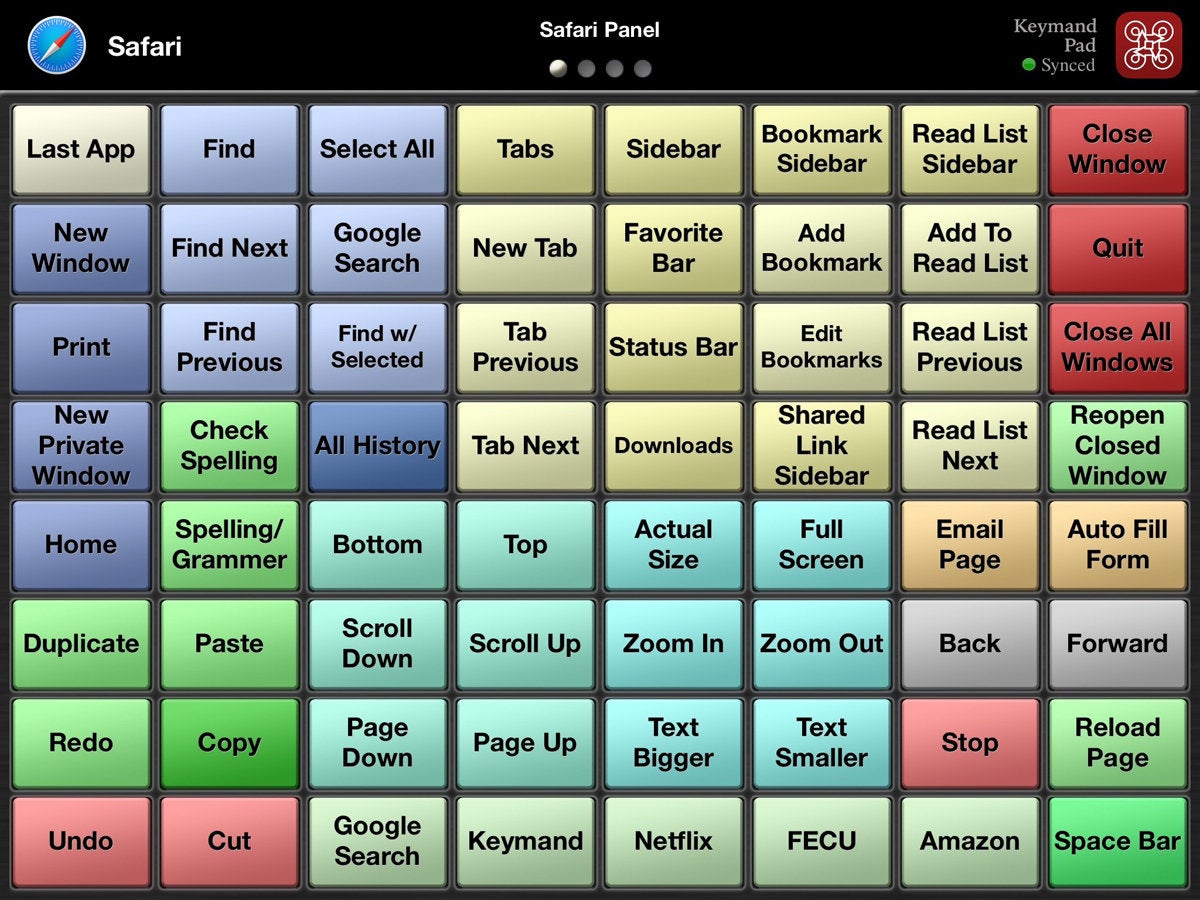 Keymand: Designing buttons
For other applications, users must create their own custom buttons on the iPad. Switch to settings view by tapping an icon in the upper right corner, where you can assign keyboard shortcut buttons on a per-app basis, each with custom names and colors. The process is straightforward enough: Tap and hold the current color to save as a swatch, which can then quickly be applied to any other button.
While convenient for mobile workflows, Keymand would benefit from the ability to assign buttons on the Mac side as well. Settings are only saved on the iPad, convenient for those who move between multiple systems, but not very conducive to sharing shortcuts with co-workers or colleagues.
The inability to export shortcuts is a rather glaring limitation for an otherwise useful app. I'd love to see the developer provide an online community where users can share individual app settings with others, which would make it easier for novices to get started. (An SQLite database is accessible from the Keymand app in iTunes File Sharing, but there's no way to save data for specific applications.)
For the time being, Keymand appeals mostly to power users willing to dedicate time to assigning shortcut buttons one at a time, or casual users content with the built-in Mac software commands and occasionally supplementing favorite apps.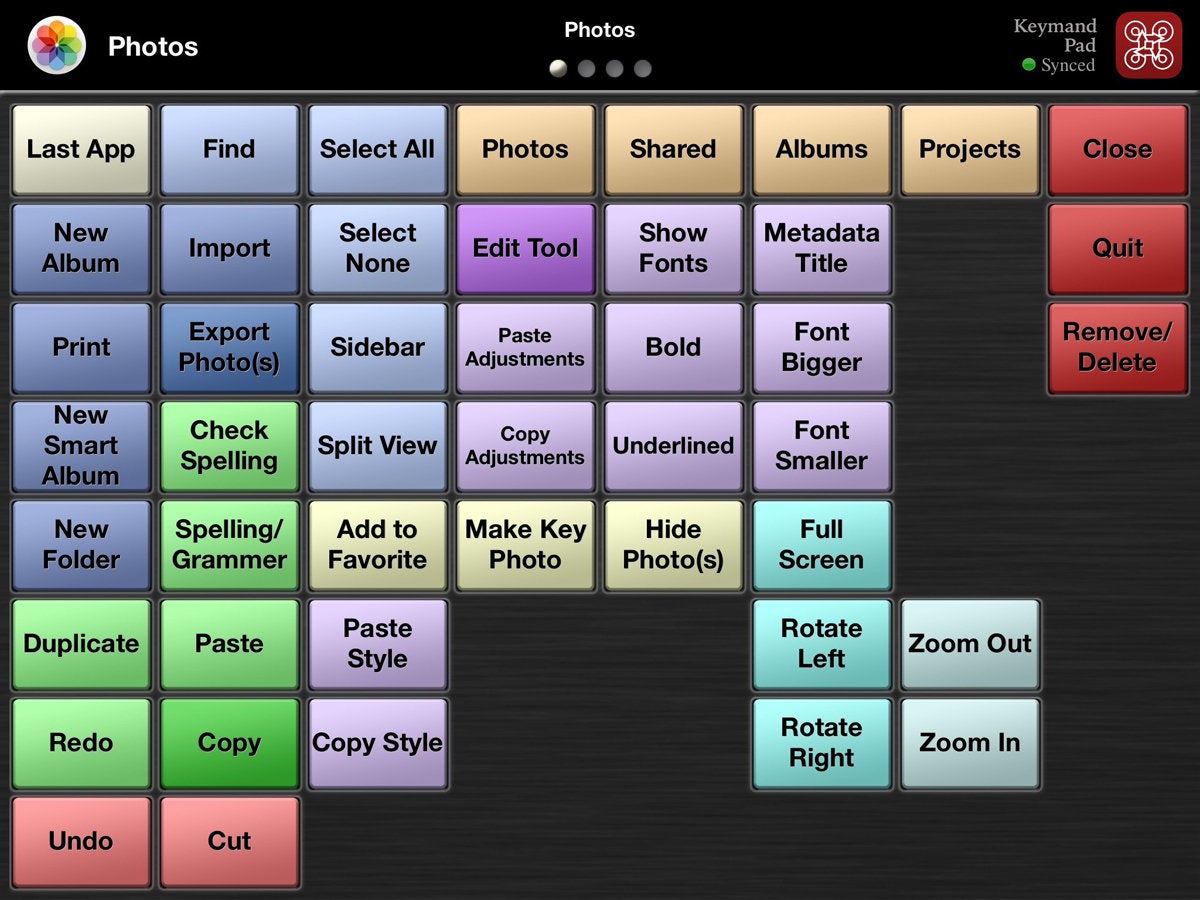 Bottom line
As someone who spends weekdays parked at a desk, Keymand puts my iPad Pro to work as a Mac keyboard accessory. But the cumbersome and time-intensive assigning of shortcuts would be better performed on the computer instead of the tablet.
Best Prices Today: Keymand