When Apple updated iTunes to version 12.7, it overhauled the iOS/iTunes interaction. We ran a guide, " iTunes 12.7: How to cope with the abrupt changes," which answered most of your questions. But one thing I noted in passing continues to come up: several readers have asked if they can really, really dump the iOS application files that iTunes retained after the upgrade.
You don't need these. Really. You don't. iTunes will never rely on them to sync back to your iOS device. Delete them. Go ahead.
iTunes 12.7 no longer syncs iOS apps to iOS devices, something it's done since the beginning of the App Store. iTunes has never had great features for managing iOS apps stored on your Mac, and iTunes 12.7 didn't help you take any action with those stored files, either. I found 5GB of iOS apps on one computer and 26GB on another, even though I haven't synced an iOS device to either in years. Other readers report finding tens or even hundreds of gigabytes of such files!
These files all have a .ipa extension, and Apple identifies their kind in the Finder as "iOS app." You should be able to find them in the iTunes media folder. On my system, I found them in ~/Music/iTunes/Mobile Applications, where there were both IPA files and a Downloads folder full of what appeared to be ancillary apps called download.app. Those can be deleted, too. If you use iTunes > Preferences > Advanced to change the location of your iTunes library, it's possible you'll have IPA files in two or more locations. High Sierra should be able to search by type using kind:ipa, but on my system this produced no matches despite the existence of IPA files in indexed locations.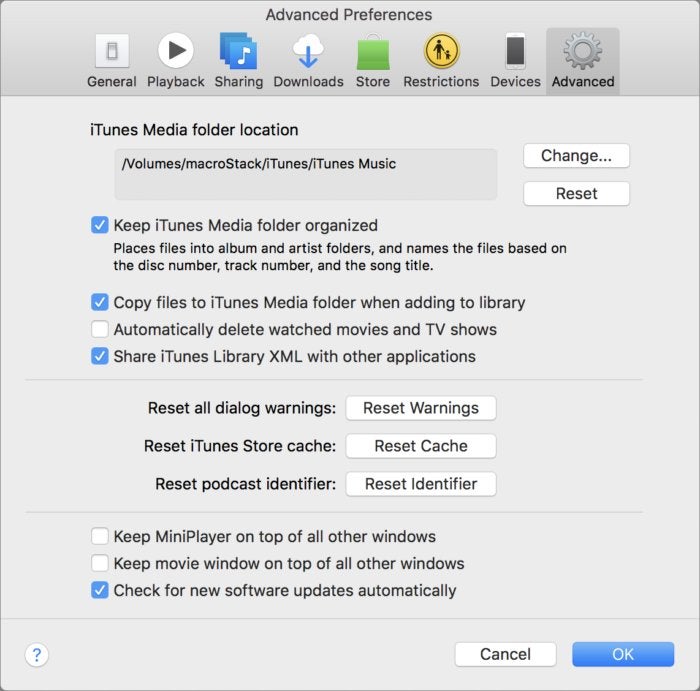 (There's one exception to all this: if you have apps that still work in the version of iOS running on your device and the app is no longer available from the App Store for download. You can drag apps from your Mac to an iOS device via iTunes, as explained in this Apple FAQ under "Manually add items from your computer." However, it's not good for syncing, and it would be a mess for restoring apps.)
Apple quietly added an option in all High Sierra installation—formerly only in macOS Server—to prevent downloading the same app and other Apple material more than once on the same network, however. Content caching, found in the Sharing system preference, lets you turn any Mac on your network into an iCloud and Apple media repository. With that feature on, iOS devices, Apple TV, and other Macs will use it to store iOS apps, macOS updates, iCloud data, and other elements that are shared among your networked devices.
This can give you some of the advantages of a local copy of iOS apps without the hassle or requirement of interacting with iTunes. Apple formerly reserved this feature to macOS Server.
The best part? You just turn it on and forget it. It's entirely self managed. Make sure and click the Options button to choose how much storage you want to devote to caching and which drive you want to use (the boot drive is the default).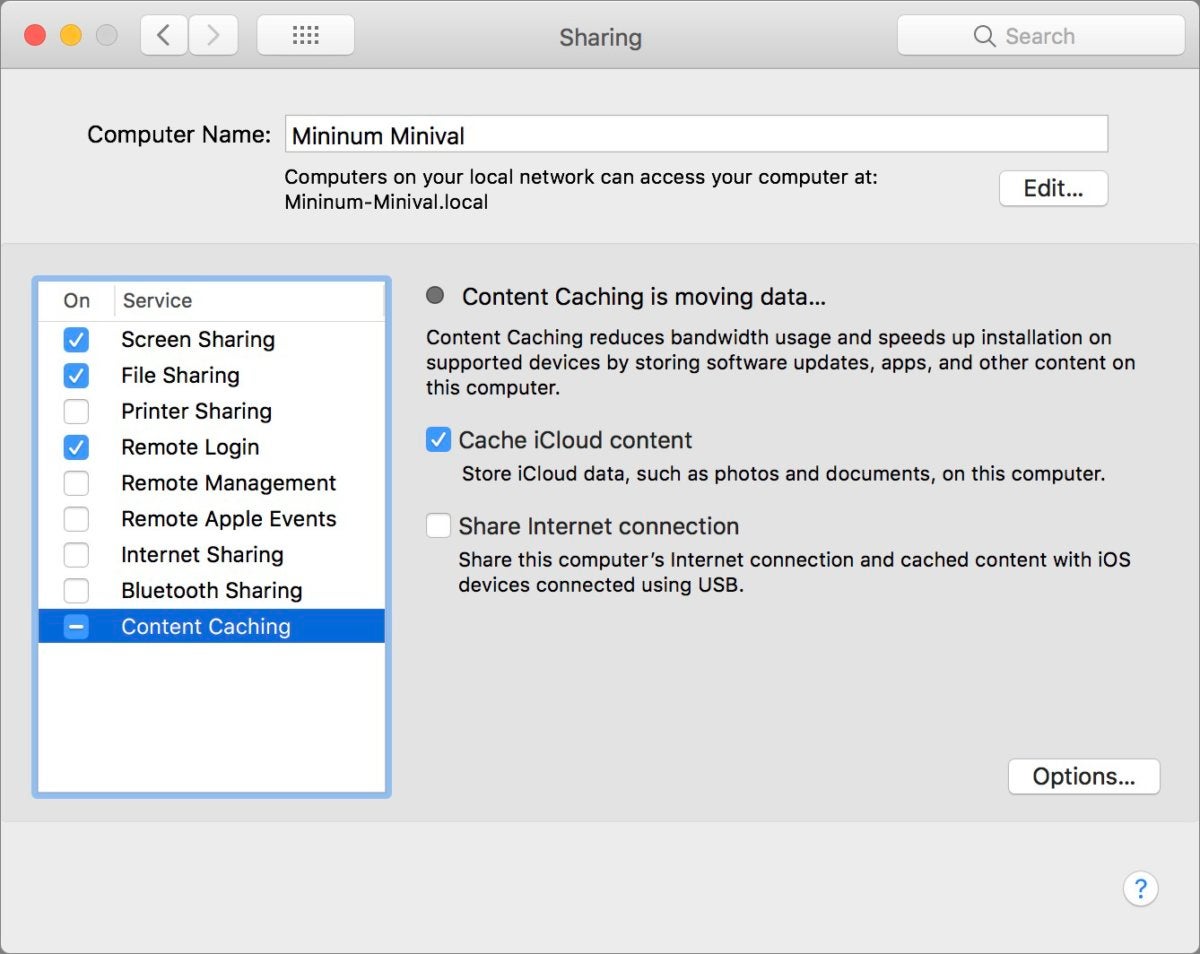 Ask Mac 911
We've compiled a list of the questions we get asked most frequently along with answers and links to columns: read our super FAQ to see if your question is covered. If not, we're always looking for new problems to solve! Email yours to mac911@macworld.com including screen captures as appropriate. Mac 911 can't reply to—nor publish an answer to—every question, and we don't provide direct troubleshooting advice.