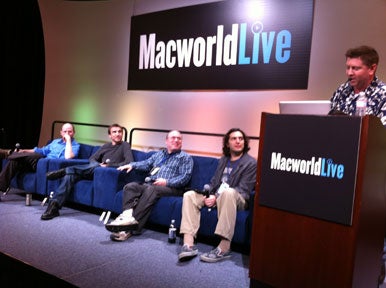 From Thursday on the floor of Macworld 2011, it's a special live version of Mac Pundit Showdown! Philip Michaels hosts the panel, which features Glenn Fleishman, Lex Friedman, Paul Kafasis, and Dan Moren. Let the punditry begin!
Please note that a brief technical glitch wiped out one of Phil's questions. We've inserted a note at the appropriate point.
Listen to episode 227
If you'd like to see the Mac Pundit Showdown with your own eyes, view the embedded YouTube video below.
Show notes
To subscribe to the Macworld Podcast via iTunes 4.9 or later, simply click here. Or you can point your favorite podcast-savvy RSS reader at: http://rss.macworld.com/macworld/weblogs/mwpodcast/
You can find previous episodes of our audio podcasts at Macworld's podcasting page.
Have any feedback on this podcast? Send me an email; audio comments in the form of an AAC or MP3 file are particularly welcome. You can also leave us a message at 415/520-9761 if you'd like to have your comments included in a future podcast.