As expected, Nintendo's next mobile game will be a new entry in its popular Animal Crossing life simulation franchise, Animal Crossing: Pocket Camp—and it's coming out in about a month.
Nintendo's strategy thus far with mobile games has been to streamline and adapt its enduring franchises instead of awkwardly porting games originally designed for physical gamepads, and so far it's worked out wonderfully. Super Mario Run did a fine job of automating enough of the classic Super Mario Bros. experience for one-handed play, while last spring's Fire Emblem Heroes kept the tactical combat of its source material within a simplified structure.
Based on the 14-minute teaser that Nintendo live streamed on Tuesday, Animal Crossing: Pocket Camp might actually provide the most natural translation from the past console and handheld entries to mobile. Here's a preview of what to expect in late November.
Your own campsite
Animal Crossing first debuted in America on the Nintendo GameCube in 2002, delivering an adorable, low-key simulation experience that found you living in a village, completing odd jobs and activities, and interacting with your fuzzy neighbors. The series has since spread to other Nintendo platforms and sold more than 30 million copies along the way, and the calm, approachable gameplay seems pretty well intact with this new mobile edition.
As the title suggests, Animal Crossing: Pocket Camp shifts the scenario to a campsite, where you're the new manager. You'll need to spruce up the abandoned place by crafting furniture and decorations, hunting down resources, making friends, and exploring the surrounding areas. It's not just the campsite either: you'll also have your own camper van, which you can customize to your heart's delight with furniture and knick-knacks.
Crafting furniture and expanding your campsite draws out furry animal friends to visit, and once they've stayed at your place, they'll wander back from time to time to hang out and chat. Basic chairs and beds are one thing, but it's the amenities that seem to pull in more guests: you can build things like half-pipes and merry-go-rounds to really elevate your camp.
Luckily, you can hop in the camper and take a ride elsewhere on the island setting, visiting places like the beach and forest to catch bugs, fish in the deep blue waters, hunt down natural resources, find fresh pals, and see what other kinds of surprises you might stumble upon. Honestly, Animal Crossing: Pocket Camp looks like a more interactive and game-like take on Miitomo to some extent, and you can link up with your real-life pals with friend codes to interact in the game.
Like the previous entries, you can customize your cute little avatar, plus the game takes place on a proper 24-hour cycle, meaning it'll be the same time of day in the game as it is in your own world—and that can change the types of animals and human characters you encounter in the world. Nintendo will also serve up seasonal events and festive bonuses to keep you logging in on a regular basis. Given the "late November" release target, maybe we'll start off with some Thanksgiving flair. And if not, the stream did show off some festive Christmas sights.
How does it look?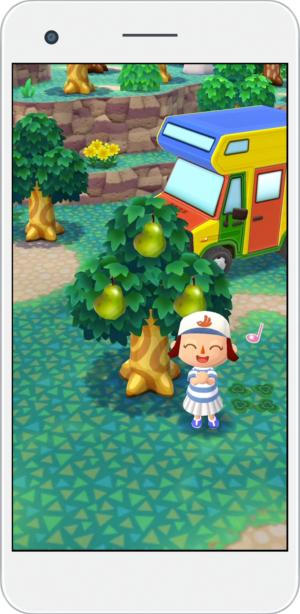 It actually looks pretty sharp! It's been more than four years since the series' last core entry, the beloved Animal Crossing: New Leaf on the ever-underpowered Nintendo 3DS, so Pocket Camp might well be the most attractive entry to date. Granted, it seems a bit scaled back in terms of the size of environments, and you'll use a map screen to switch between locations, but the in-game 3D graphics are impressively crisp and expectedly charming.
As for the game itself, Pocket Camp definitely looks like it maintains the feel of the past entries, albeit in this new kind of package. It seems as laid-back as ever, letting you live your own little life on this cute island filled with anthropomorphic animals.
You might love that, or you might not. While the Animal Crossing series has its fervent admirers, others basically consider it to be adorable busywork: you'll complete simplistic, repetitive actions to earn currency and items, and then rinse and repeat. For some players, that's just the kind of laid-back, pressure-free experience they're looking for. For others, it's pure tedium doused in a cartoonish glaze.
But that's Animal Crossing, however you ultimately view it. What's different here, of course, is the free-to-play approach. That's no surprise at all: Fire Emblem Heroes was also a freemium game, and while Super Mario Run ultimately had an in-app price tag behind its free download, that's likely to be the outlier in Nintendo's gradually-expanding lineup. Free-to-play is the mobile way, and Fire Emblem Heroes actually handled it pretty well.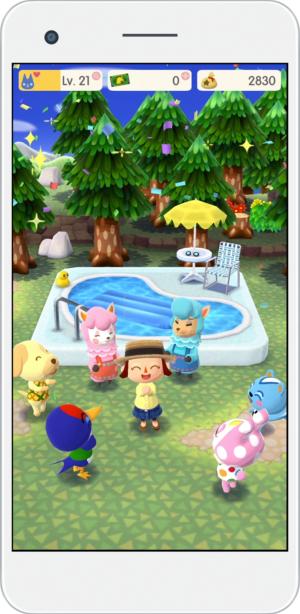 From what we've seen in the video, Animal Crossing: Pocket Camp seems to have timers for building furniture and amenities, forcing you to wait around while things get built. Additionally, if you're lacking materials for crafting, you can pay Leaf Tickets to cover any missing materials. Leaf Tickets will also be provided through gameplay tasks, but naturally, you'll be able to buy them in bundles to help speed along crafting waits or take shortcuts. There will also be special promotional bundles available with Leaf Tickets and other valuable items.
Animal Crossing: Pocket Camp's success may ultimately lay in how subtle that freemium system feels, and whether players feel like they're goaded into spending money. There's always been a grind to the game, but the introduction of premium in-app purchases could change the perception of how it feels and flows. If it seems overbearing or balanced to ratchet up sales, then players might not feel very welcome on Nintendo's delightful mobile island.
It's also worth noting that Nintendo also suggested in 2016 that its Animal Crossing mobile game would connect to some version for one of its home or handheld gaming systems. However, with no new entries on the horizon for the Nintendo Switch or 3DS, we don't know if that's still in the cards for Pocket Camp.
It's out soon
Ultimately, the first impression here is a pretty good one: Animal Crossing: Pocket Camp seems to maintain enough of the core experience in its transition to mobile while adding a new theme and some fresh twists. It looks like a potentially perfect fit for mobile, offering up a super-chill game that you can spend a little time in without any pressure or expectations. That's quite the opposite from the challenging, combat-centric Fire Emblem Heroes!
While freemium elements are unsurprisingly present here, Nintendo's reasonable free-to-play approach in Heroes suggests that we won't get a game that feels like a miserable slog if you don't spend real cash. Fingers crossed, at least. We'll find out in a few short weeks when Nintendo unleashes the game on both iOS and Android.