When you install iOS updates from the device itself (as opposed to using iTunes on a Mac prior to iTunes 12.7), the download and installation typically happen as a single operation. Reader Monica is confused by the state of her device after an update failed.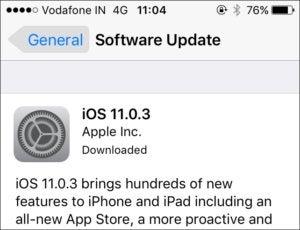 She asks: "Why does it still say 'install' when it also says downloaded?"
It's a quirk that I've seen myself a number of times. You tap Download and Install, but if there's an error or interruption after downloading, the installation doesn't happen. This has happened to me when the device puts itself to sleep, even though the installation seems to be in progress.
The download is cached, so the device doesn't have to retrieve the same data again. The downloaded portion is just an invisible installer, which has to execute and perform the actual upgrade. Tapping Install Now launches that downloaded installer and carries out the remainder of the task.
Ask Mac 911
We've compiled a list of the questions we get asked most frequently along with answers and links to columns: read our super FAQ to see if your question is covered. If not, we're always looking for new problems to solve! Email yours to mac911@macworld.com including screen captures as appropriate, and whether you want your full name used. Every question won't be answered, we don't reply to email, and we cannot provide direct troubleshooting advice.