Computers are supposed to be good at counting, right? So why do the numbers sometimes not add up for photos? Macworld reader Jeffrey asks a question that's similar to ones asked by others:
The photo count between my Mac and my iPhone are not the same. I use iTunes syncing along with My Photo Stream to keep the devices identical. Something has gone amiss. I don't have any idea how to troubleshoot the image counts since iTunes is supposed to be syncing the images. How might I determine if a problem really exists, and if so, how do I fix it?
There are long-running discussions on Apple's forums about iTunes syncing not matching up numbers in iPhoto and Photos for macOS and iOS devices. These seem to stem from deleted photos where corresponding thumbnails remain in the library databases. If that's the case, you can rebuild an iPhoto library with these instructions and repair a Photos library by following these directions.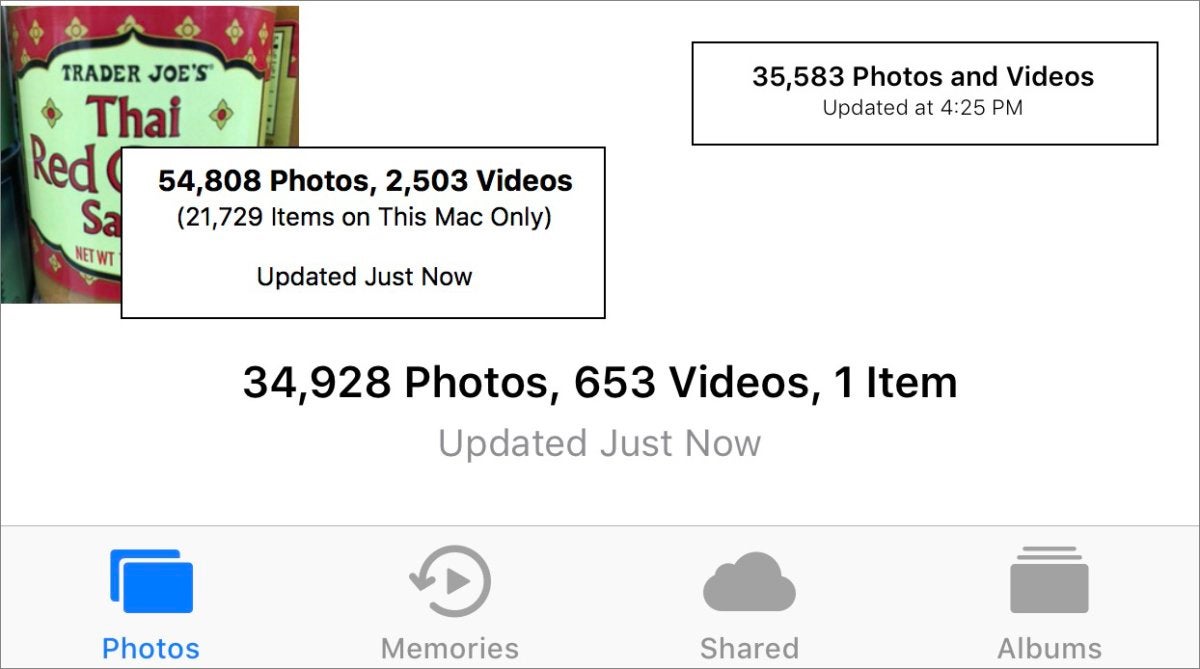 However, I've noticed even with iCloud Photo Library, which I use, there can be discrepancies. Let's look at my library in Photos for iOS, Photos for macOS, and iCloud.com:
Photos for iOS reports 34,928 photos, 653 videos, and 1 "item" (35,582 total)
Photos for macOS reports 54,808 photos and 2,503 videos (57,311), but "21,729 items on This Mac Only" for a net of 35,582
And iCloud.com reports 35,583 photos and videos as a single number
You can see it's mostly consistent, although confusing. Why is there one more item at iCloud.com than in iOS and macOS? What is "1 item"? (Apple offers no insight on that.)
The most explicable thing, however, is the "on This Mac Only" label: Photos in macOS allows both imported and referenced images. In Photos > Preferences > General, if the box next to Importing is checked, whenever you drag media in or use the File > Import option, images and videos are copied to your Photos library. Uncheck that, and the image is referenced from the location on your Mac, including external drives. Referenced images are not synced to iCloud Photo Library.
If you're trying to figure out which are referenced and which are not, Apple puts a subtle icon in the corner of all referenced images—it looks like a rectangle with an arrow pointing to the middle right from the lower right.

But you can also create a smart album that collects all these.
Select File > New Smart Album.
In criteria, choose Photo, Is, Referenced.
Name the album something descriptive
Click OK.
You can select any referenced media and then choose File > Consolidate, and you'll be prompted to copy the media into your Photos library, which will also re-point that thumbnail reference to the imported one.
Ask Mac 911
We've compiled a list of the questions we get asked most frequently along with answers and links to columns: read our super FAQ to see if your question is covered. If not, we're always looking for new problems to solve! Email yours to mac911@macworld.com including screen captures as appropriate, and whether you want your full name used. Every question won't be answered, we don't reply to email, and we cannot provide direct troubleshooting advice.