Updated 12/13/17: iOS 11.2.1 has just been released, restoring remote access in HomeKit.
iOS 11 is the biggest change to Apple's mobile operating system in years. It's so ambitious in scope that some of it's its most interesting features didn't make it into the initial release. iOS 11.1 mostly fixed bugs and brought us a bunch of new emoji, but iOS 11.2 is more substantial, with the addition of Apple Pay Cash.
After six beta releases, Apple made the unusual move of pushing out iOS 11.2 over the weekend, because it fixes a nasty bug whereby apps that trigger daily notifications could cause your iPhone to crash starting on December 2.
What's in iOS 11.2?
New features
The biggest new feature of iOS 11.2 is Apple Pay Cash (only in the U.S., for now). Apple's person-to-person payment system works within iMessage and lets you instantly and directly send money to other iOS users.
For full details on Apple Pay Cash, including how to set it up and how it works, check out our guide.
iOS 11.2 also speeds up the maximum rate of wireless charging on iPhone 8, 8 Plus, and X. These phones shipped with support for the Qi standard up to 5 watts, but 11.2 bumps it up to 7.5 watts. That's technically faster than the in-box adapter, which is infamously slow. But of course, you'll need a Qi-based wireless charger that properly supports rates up to 7.5 watts to notice the difference.
You'll also notice the new ability to control AirPlay 2 devices in Control Center. You can quickly switch between controlling multiple different playback destinations independently. This is important groundwork for the coming HomePod release, but it works with Apple TV (4th generation or 4K) right now if you update that device to the tvOS 11.2 as well.
This update adds three new live wallpapers for the iPhone X. It also brings a change for developers who offer recurring subscriptions—they'll be able to charge introductory rates. For example, a service that costs $10 a month could be free for the first two weeks, or $5 for the first month. This change should affect tvOS 11.2 as well, so all those subscription streaming services might get introductory deals.
There's a new "Sports" section in the TV app.
The Podcasts app can now advance automatically to the next episode of the same show.
Bug fixes
Of course, we expect iOS point-releases to fix some bugs, and 11.2 cleans up quite a few. As mentioned already, it addresses the Dec. 2 crash bug. Apple has also fixed that bug in the Calculator app where your input was waiting for long animations to play out (if you hit 1+2+3 you'd get 24, because it didn't register the second plus sign).
And of course, the A [?] bug introduced in 11.1 is gone too, but Apple had already released a small 11.1.1 update to fix that.
The full list of bug fixes, from Apple, is as follows:
– Fixes an issue that could cause Mail to appear to be checking for new messages even when a download is complete – Fixes an issue that could cause cleared Mail notifications from Exchange accounts to reappear – Improves stability in Calendar – Resolves an issue where Settings could open to a blank screen – Fixes an issue that could prevent swiping to Today View or Camera from the Lock Screen – Addresses an issue that could prevent Music controls from displaying on the Lock Screen – Fixes an issue that could cause app icons to be arranged incorrectly on the Home Screen – Addresses an issue that could prevent users from deleting recent photos when iCloud storage is exceeded – Addresses an issue where Find My iPhone sometimes wouldn't display a map – Fixes an issue in Messages where the keyboard could overlap the most recent message – Fixes an issue in Calculator where typing numbers rapidly could lead to incorrect results – Addressed an issue where the keyboard could respond slowly – Adds support for real-time text (RTT) phone calls for the deaf and hard of hearing – Improves VoiceOver stability in Messages, Settings, App Store, and Music – Resolves an issue that prevented VoiceOver from announcing incoming Notifications
Visual changes
There are a number of small visual changes. Album art in the Command Center is in a square icon, a few emojis have new art, there's a new waiting animation for the Live Photo effects (loop, bounce, and long exposure), and you can now access the same wallpapers that came with the iPhone 8 and X on other iPhone models.
The new Wi-Fi and Bluetooth toggle behavior in Control Center is explained in a pop-up window. This doesn't address complaints that these toggles do not actually fully disable Wi-Fi or Bluetooth, but at least it lets users know what's going on.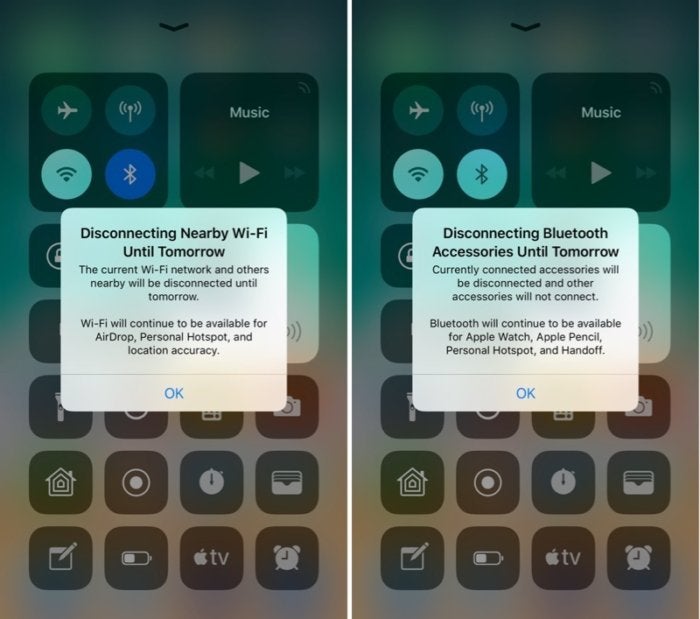 You'll notice a little bar in the upper right of the lock screen to indicate the corner you'll find Control Center in.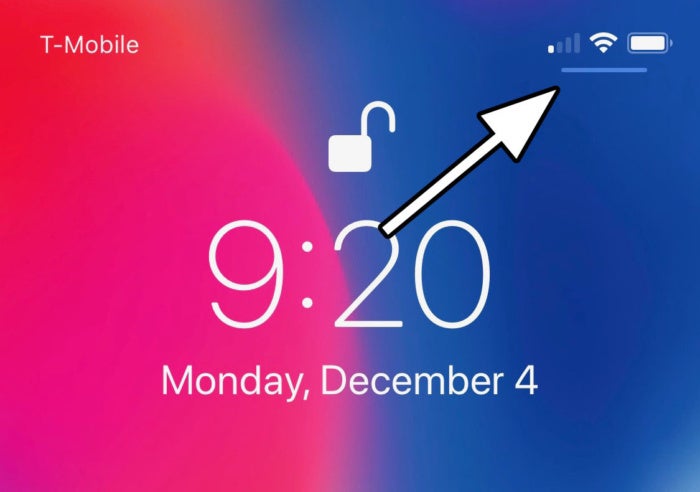 11.2.1 update
The 11.2.1 update simply restores remote access to HomeKit for shared users of HomeKit devices. A critical vulnerability was discovered on December 7 which would allow unauthorized users to remotely control HomeKit devices, including important smart home security stuff like locks and garage door openers. Apple quickly disabled remote HomeKit access in a server-side update. iOS 11.2.1 fixes the problem and restores remote access to authorized users.
How can I get it?
After a day or two, you should be automatically prompted to install iOS 11.2. If you don't want to wait, simply head to Settings > General > Software Update.
If you want to use Apple Pay Cash, you'll have to be in the U.S., and you'll have to set it up first. We have a guide to help you out with that.