Most tech-enhanced plush toys become the bane of parents' existences: they come alive with lights and sound at inopportune times, require batteries, can be heavy and clunky, and may not wash very easily. And in the case of certain connected toys, you might even worry about your child's personal data being recorded and stored.
Given all of that, you might bristle when you first hear of Parker: Your Augmented Reality Bear, Seedling's new iPad and iPhone-enhanced toy. But this charming bear is fully squeezable with no caveats: it doesn't have any wires or batteries inside, and it won't make a peep or start to glow if you accidentally step on it while your kid is asleep.
Instead, all the digital lifting happens on your iOS device, letting you interact with the soft toy as if you were treating its wounds or feeding it a snack, or even getting it ready for bed. That kind of approach has its clear benefits, but also limitations—yet it's pretty pleasing all the same.
Just stuffing, no tech
With most connected toys, my four-year-old son and I will play with them for a stretch, and then I'll collect all the pieces and make sure they're stored out of his reach. The Sphero Star Wars R2-D2 droid and Anki Overdrive cars, for example, seem fairly durable when you're using them as intended—but they're not meant to take ongoing abuse from a rambunctious child. One steep drop down the stairs and those pricey tech toys are likely to be toast.
Not so with Parker: this bear has already been down the stairs with nary a nick or scratch. My son's eyes lit up when the bear was first unboxed: he asked if Parker could sleep with him at night and join his family of stuffed bears. Of course. Why not? Parker's just as soft and fuzzy as the rest of his plush "guys," as he calls them. Now Parker has a bed to sleep in, and a boy of his very own. And I can toss the bear in the washing machine when he inevitably gets gross.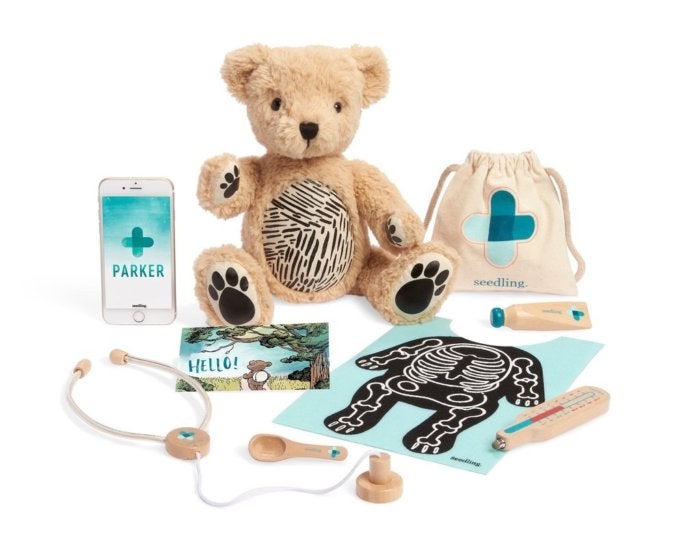 But looks are deceiving here, as Parker isn't just another stuffed toy. He's a bear designed to live in the digitally-augmented world of your making via the iPad/iPhone companion app.
And as you'll quickly find out, via both a rhyming poem on an included card and the short intro cartoon in the app, Parker's been on a long journey and he's feeling a bit under the weather. Of course, the included wooden stethoscope, thermometer, medicine bottle, and spoon might have given his ailments away, but in any case, you'll have a chance to make things right within the app.
Bear care
Playing doctor with Parker spans a variety of quick-hit activities within the app, some of which include actual augmented reality elements via your device's back camera, while others require only simpler actions within the app itself. All the while, you'll aim to make Parker feel better by tending to his wounds, giving him healthy snacks, and checking on his insides to ensure that everything is working right.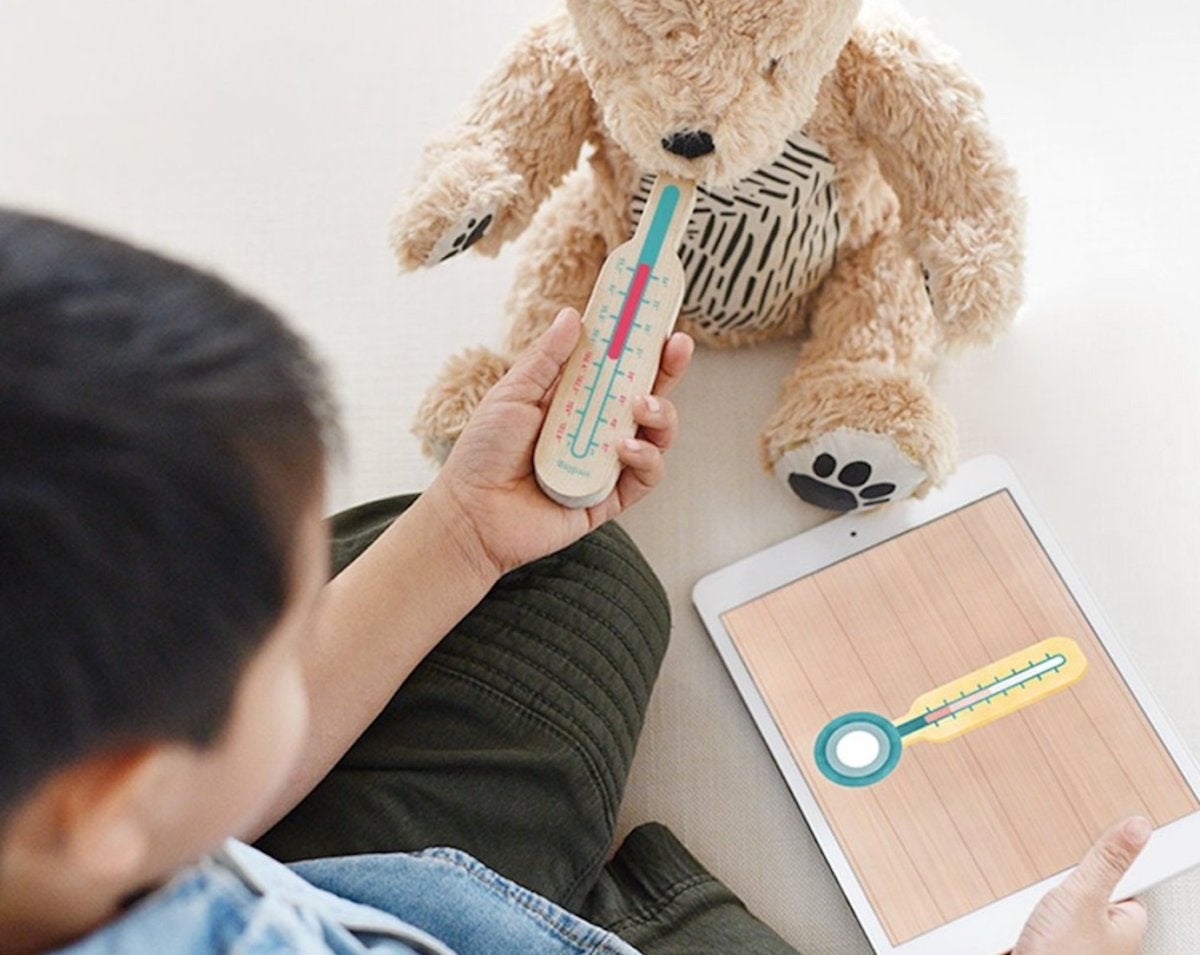 Augmented reality comes into play in a couple of different ways. You can place plants and animals into the 3D space around you via an ARKit-powered activity, letting you create a snazzy environment for Parker within the digital version of your living room or bedroom. And if Parker is happy and well cared-for in the app, then it'll make the AR world a bit sunnier in the process. In other moments, you'll put a felt skeleton overlay on top of the bear and look at it with your iPad or iPhone camera. Onscreen, you'll see the bones come to life, sometimes with little smiley faces, or you'll watch the digital food that you just fed Parker slide down into his tummy.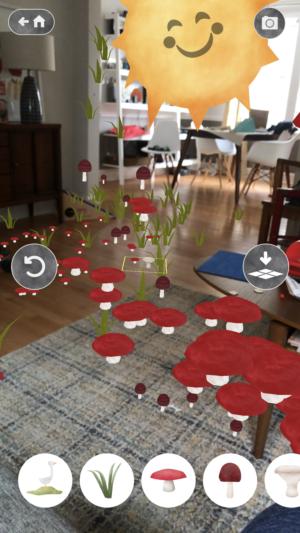 The non-AR activities, on the other hand, might have you "check his temperature" by putting the soft stylus-like end of the wooden thermometer into Parker's mouth before pressing it on your touchscreen, sliding food to Parker, or applying an ice pack or bandage as needed. You can also color and design your own in-app bandages, and create drawings for Parker.
While the AR world and drawing activities can keep kids occupied for potentially extended stretches, some of the activities last for mere seconds—and then they cycle and repeat, or you can access them in any order you choose. Soon after my son and I started playing with the app, I felt like we had pretty much seen it all. After another hour or so of cumulative play, that was pretty much still true: a couple of unseen mini-games had popped up with further play, but by and large, he was still going through the same routine of simple activities.
The sweet spot
I was a bit bored of the activities at that point, but I fall well outside the recommended age range (3 to 6). My four-year-old, on the other hand, was still enthralled by placing dozens of plants and items around the AR world, feeding Parker snacks, and hearing the bear's joyous yelps when he's tickled and taken care of. He also loved the poem on Parker's card, which comes in its own little envelope, which I've now read several times over.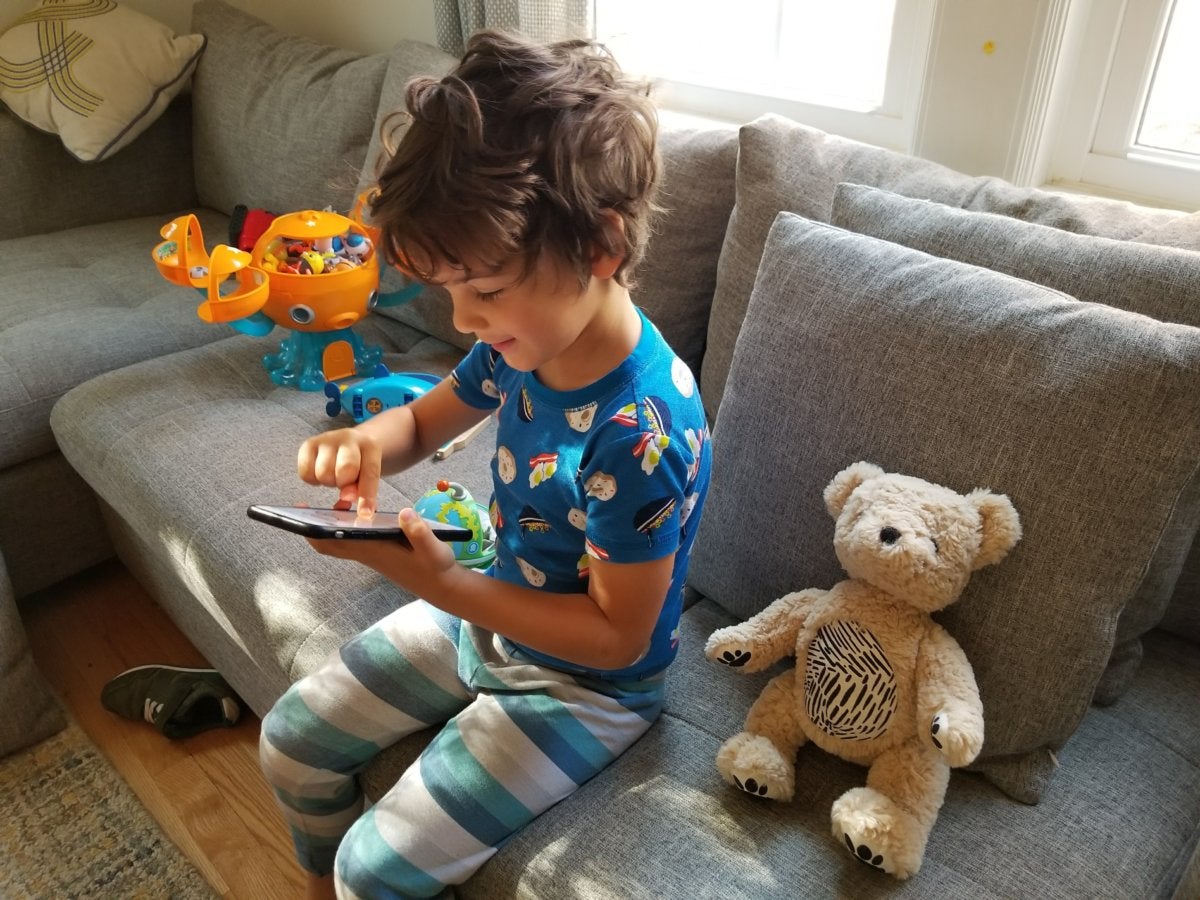 Seedling emphasizes that Parker is a STEAM toy—that is, one that targets science, technology, education, arts, and mathematics-based learning and fun—and also suggests that it helps build empathy for other living creatures (pretend or otherwise) and digital literacy. But for all my son cared, it was just a silly and fun thing to do on Daddy's phone with his new bear friend. Besides, learning is always best when you don't realize it's even happening, right?
Parker may not be the most technical or elaborate of app-enhanced toys, but there's something very pure and sweet about the whole experience. It's a great little plush bear with a few fun doctor toys alongside, and the app is just the cherry on top—albeit one you'll pay a slight premium for in the overall cost. The app download is free, but the kit with Parker and all of the physical stuff is $60. That's a little bit more than you'd probably pay for just toys of comparable quality.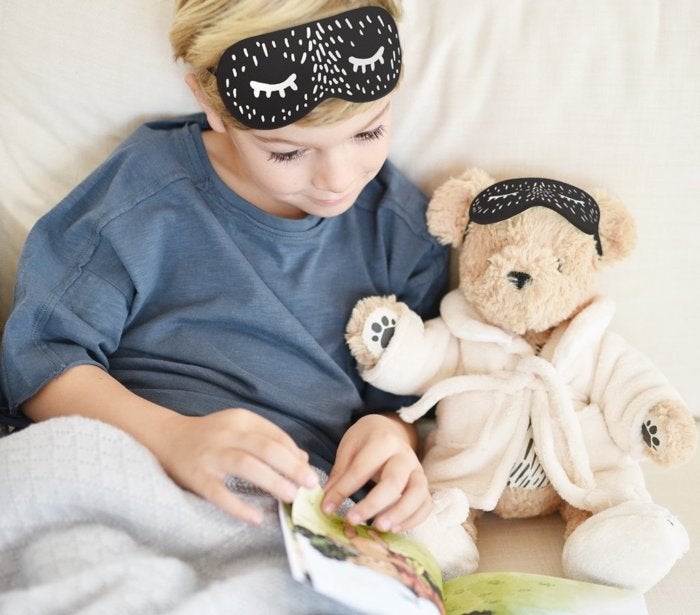 And there's an expansion pack, too: a Bedtime Kit ($40), which come with bear jammies, sleeping masks for both Parker and your kid, play toothbrushes for both, a storybook, and additional app content. I didn't have a chance to try out the bonus bedtime stuff, but given my son's reaction to Parker's doctor gear, I'm sure he'd get a kick out of it. I'm not certain that I want to spend $40 on toy bear accessories, but it is a way to extend the experience. We'll have to wait and see whether Seedling makes any further Parker add-on sets.
Parker: Your Augmented Reality Bear offers up one of the best compromises for a connected toy right now. When completely disconnected from screens, it's still a delightful little plush bear ready to be hugged, tossed, trampled, and loved, not to mention used to spur little ones' own imaginations. But when paired up with your iPad or iPhone, it has just enough of an added layer of storytelling and interactivity to make it worthwhile. That it works so well in both forms is really a delight.
Parker: Your Augmented Reality Bear