Updated 09/05/18: 9to5Mac has what it claims are leaked official Apple images of the OLED iPhones (the 5.8 and 6.5-inch models). What's more, it says that the OLED models will be called the iPhone Xs (5.8 inch) and iPhone Xs Max (6.5 inch).
Now that we're well into 2018, rumors about the next iPhone have started to pile up. We'll keep track of everything that's being said and analyze what seems feasible in this article so you can keep up with the latest iPhone gossip.
iPhone Xs and iPhone Xs Max images and named leaked
9to5Mac has gotten its hands on what it says is a leaked official Apple image of the new high-end iPhones. The 5.8 and 6.5 inch models look similar to the current iPhone X, but with a glossy gold band around the sides (gold is a reported new color for the phones, in addition to the current black and white versions).
The site says that it is sure the phones will be named the iPhone Xs, which seems like a bad idea. You either call it the "iPhone Ten S" (iPhone Tennis) or the "iPhone Ex S" (iPhone Excess).
In a separate story, the site claims that Apple has decided to drop the "Plus" moniker from the larger model, and will instead go with "Max" to differentiate it from its smaller sibling.
Plausible? The rendering looks legit and seems entirely plausible. I can't say we're fans of the iPhone Xs name here, but it does seem like something Apple would do. iPhone Xs Max, though? Sure, it could happen, but we hope not!
No Apple Pencil support, 6.1-inch model slightly delayed
This rumor was reported on August 27, 2018.
A new investor note by analyst Ming-Chi Kuo adds several new details to already-reported rumors about the upcoming iPhones.
First, he claims that, contrary to a report by Trendforce earlier this month, Apple will not offer Apple Pencil support on the OLED-equipped iPhones this year, because the experience isn't good enough.
He believes the iPhones will go up for preorder on September 14 and be available on September 21, but the less expensive 6.1-inch LCD-based model will come "slightly later due to its production schedule."
The OLED-based models are to have 4GB of RAM (up from 3GB in the iPhone X) and the LCD model will have 3GB.
The larger 6.5-inch OLED model is projected to have a 3,300-3,400 mAh battery, while the 5.8-inch model will have a 2,700-2,800 mAh battery and the LCD model a 2,600-2,700 mAh battery. For comparison, the current iPhone X has a 2716 mAh battery.
Plausible? Nothing we see here contradicts the most reliable previous rumors, and everything seems well within the limits of what we expect. The rumor of Apple Pencil support coming to iPhone always seemed sketchy, so we're not surprised to hear that contradicted. The most interesting new detail here is that the 6.1-inch LCD model, expected to be Apple's biggest seller due to it's combination of price and features, is going to release after the OLED models (though we don't know by how much).
Bloomberg: New names, new colors, new cameras
In what has become an annual tradition, Bloomberg News has chimed in with his well-sourced prediction of what will happen at Apple's September iPhone event. While there aren't a ton of new details about the devices, he confirms much of what we knew about the new phones:
There will be three new models, with the 5.8-inch and 6.5-inch being OLED, and the 6.1-inch model sticking to LCD like the iPhone 8.
The 6.1-inch model will have an aluminum frame versus the stainless steel one on the iPhone X, and come in an array of colors.
All three phones will be equipped with Apple's TrueDepth camera and Face ID unlocking system.
Some international models will have dual-SIM slots.
Apple will likely call the new phones iPhone Xs and may dump the "Plus" moniker on the largest model.
The processing speeds and camera will be the biggest improvements over last year's iPhone X.
The 6.5-inch model will have "the ability to view content side-by-side in apps like Mail and Calendar."
Plausible? Absolutely. There isn't much here we don't already know from prior rumors and Bloomberg News is generally extremely accurate, especially when reporting a rumor this close to an event.
German carriers say iPhone pre-orders to begin on September 14
This rumor was reported on August 20, 2018.
German site Macerkopf has information sourced from German carriers that Apple and carriers will begin taking preorders for the new iPhones on September 14. This gives us a good hint as to when the new models will be announced, as preorders typically begin just a few days after the announcement event.
Plausible? Definitely. For the last several years, the new iPhones have been announced on the first or second Tuesday or Wednesday of September. We have long suspected that this year's event will happen on Tuesday, September 11, though the association with that date may lead Apple hold the event on September 12 instead.
Either way, it makes perfect sense for iPhone preorders to begin a few days later, on Friday at midnight, as they typically do.
More efficient wireless charging with copper coils
This rumor was reported on August 20, 2018.
China Times has a report that claims, according to their supply chain sources, that at least one of the new iPhone models introduced this year will feature wireless charging coil made of copper.
The iPhone 8, 8 Plus, and X support wireless charging up to 7.5 watts using the Qi charging standard. They feature ferrite polymer composite (FPC) coils—a thin membrane composed of a plastic-metal hybrid. It's inexpensive and thin, but offers more resistance than a pure copper coil.
A copper coil would be a tiny bit thicker, but copper offers lower electrical resistance. That means more efficient wireless charging with less heat.
Plausible? Apple's always trying to make its phones thinner, so a slightly thicker charging coil seems like something it wouldn't pursue. However, the difference in thickness could be only a fraction of a millimeter, and there may be enough room in the new phones for it. The Qi standard is flexible, with a maximum charge rate of 15 watts, but charging at that speed would generate too much heat with the current coils. A copper coil would let Apple charge wirelessly at a faster rate while generating the same heat as current iPhones. Or, Apple may stick to a 7.5-watt limit, relying on the copper coil to keep things cool and reliable.
Apple to supercharge OLED models with Pencil support and 512GB
This rumor was reported on August 14, 2018.
Industry analyst Trendforce is easing into the 2018 iPhone rumor waters with a new report. As spotted by 9to5Mac, Trendforce offers two new predictions for the high-end 5.8- and 6.5-inch OLED models. First, it believes that they will come in three storage tiers now, topping off at 512GB rather than 256GB. Samsung's recently launched Galaxy Note 9 also includes at 512GB option. However, while Samsung's phone also comes with an additional 2GB of RAM, Trendforce says Apple will stick with 4GB of RAM for all capacities of the OLED phones.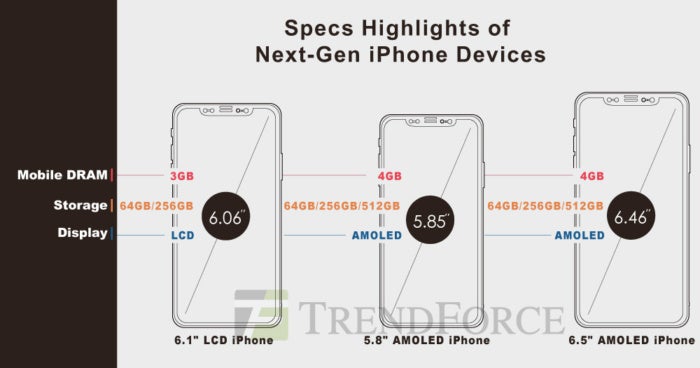 In addition to the capacity bump, Trendforce also predicts that Apple will bring Pencil support to the iPhone for the first time. Apple's $99 stylus has thus far been limited to the iPad and iPad Pro, so bringing it to the iPhone would represent a shift in Apple's strategy.
Plausible? Apple often changes iPhone storage options based on the price and volume availability of flash memory chips. With the iPhone 8 and X, it doubled the low-end capacity over 2017's iPhones from 32GB to 64GB and eliminated the 128GB option, so a higher-priced 512GB model in 2018 seems perfectly plausible. Demand likely wouldn't be too high, but the extra space will be worth the higher price to power users since the iPhone doesn't have expandable storage like Android phones.
Pencil support is equally intriguing. It seems logical that Apple would add support for its stylus, but it likely wouldn't keep it current design. As things stand, the Apple Pencil is specifically designed for use on the iPad's significantly larger screen, so Apple would need to produce a new model with a smaller tip and form factor.
Dual-SIM iPhones on the way
The fifth beta of iOS 12 went out to developers on July 30 and it only took one day for the tipsters at 9to5Mac to spot an intriguing bit of code that points to dual-SIM enabled hardware on the way.
In part of the system responsible for generating diagnostic reports, there are references to "secondSimStatus" and "secondSimTrayStatus." Elsewhere, another component has an "isDualSimDevice" reference.

Plausible? There have been rumors of dual-SIM iPhones in the works for years. In many countries where smartphone use is growing the fastest, it's a lot cheaper to have one SIM with a pay-as-you-go talk plan and other data-only SIM. Some customers won't consider a phone that doesn't have that capability.
Perhaps having two modem vendors with different capabilities has made this challenging in the past, and the change is being enabled by the switch to a single modem vendor? Or maybe Apple has never wanted to give up the space for two SIM slots, but a move to eSIM would let them have a primary internal eSIM and a secondary SIM in a tray? Either way, this rumor looks pretty likely. It's hard to think that this code references anything else.
What we don't know is exactly which iPhone model(s) may get dual-SIM support. It could be only for a future iPhone SE replacement, for example, or it may be available on higher-end iPhones but only in certain countries where dual SIMs are popular.
6.1-inch LCD iPhone may launch after the OLED models
This rumor was reported on July 25, 2018.
A new report from Barron's cites an analysis from Morgan Stanley's Katy Huberty in expecting relatively weak September iPhone sales compared to most years. The reason? While the 5.8-inch and 6.5-inch high-end iPhones with OLED screens are expected to launch in September as usual, the 6.1-inch LCD model may suffer a small delay.
Huberty's report says, "uspected issues with LED backlight leakage" are to blame for the small delay. Apple is trying to give the 6.1-inch LCD iPhone the same curve-hugging, super-slim bezel design as the OLED models (only with a very slightly thicker bezel). That's creates big technical challenges with the location fo the display controller and backlight leakage around the edges.
This is actually an improvement, according to Huberty. According to her report, suppliers originally expected a six week delay on that model, forcing it to launch in November, perhaps even later than the iPhone X did last year.
Plausible? A small delay for one product in Apple's lineup isn't unheard of, and creating an iPhone X-like form factor with an LCD screen is a big challenge for a company as famously fussy about display quality as Apple. Still, when you start predicting iPhone release dates, anything can happen.
All three front glass panels leaked
This rumor was reported on July 17, 2018.
As we count the days to the new iPhone's expected September unveiling, Twitter user Ben Geskin has seemingly spilled the beans for all to see. A new photo reportedly shows off the front panel for all three iPhones, letting you easily see the size difference between the 5.8-inch, 6.1-inch, and 6.5-inch models. Of note, the rumored LCD model has slightly thicker bezels all around, but all three feature the same iPhone X-inspired design, with no home button and a camera notch at the top of the screen.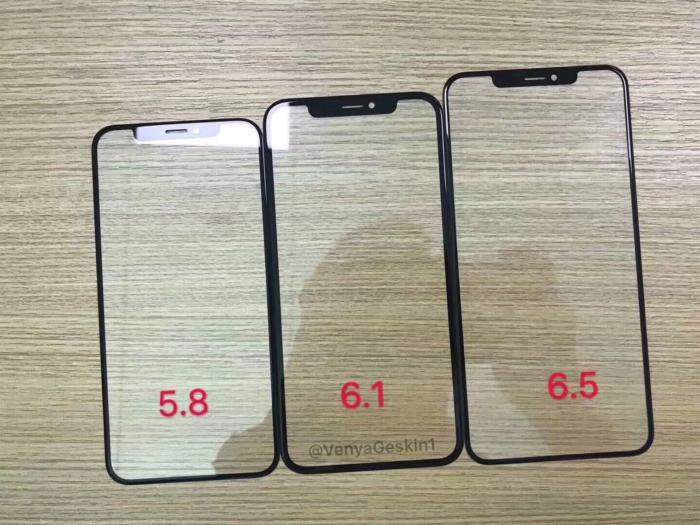 Plausible? We've been hearing for a while now that the 2018 iPhone will come in three sizes, and this leak certainly fits that narrative. It makes sense for Apple to go all-in on the design introduced with the iPhone X as quickly as possible as iOS shifts to a more gesture-based navigation without a home button. Previous rumors have pegged the 6.1-inch middle model as the cheapest of the lot, and if true, we expect it to sell as fast as Apple can make it, and maybe even faster.
New iPhone to come in bold new colors
With just a couple months to go until the new iPhones are unveiled, Ming-Chi Kuo is providing some new details on the upcoming models. While confirming the pricing of a $700 LCD low-end model and a $999 6.5-inch flagship, he also spills some details on the different versions that will release. For one, the 6.5-inch iPhone will be available in gold (a color that's available on the iPhone 8 but not the iPhone X). But it's the 6.1-inch model that's most interesting: According to Kuo, it will come in five colors: grey, white, blue, red and orange. The current iPhone 8 comes in just three colors: space grey, silver, and gold, so this would represent quite a change.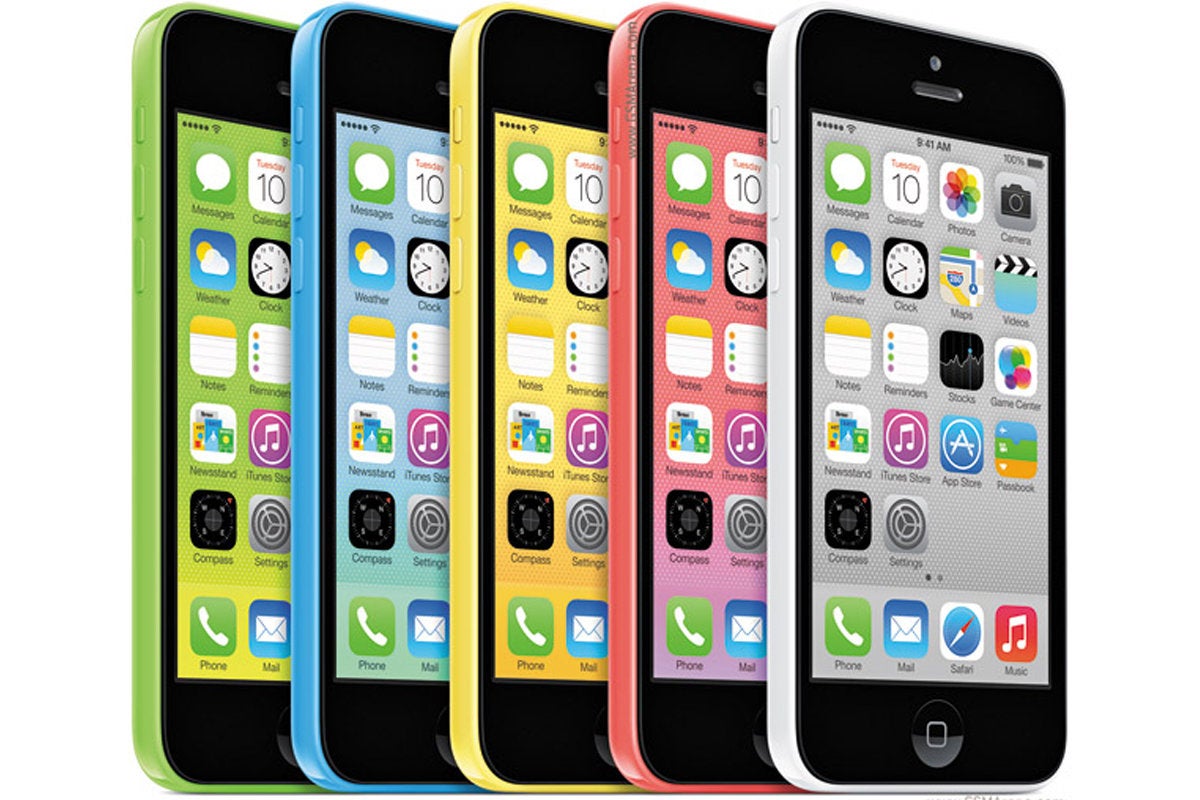 Plausible? Sure, why not? Apple introduced the "unapologetically plastic" iPhone 5c five years ago in green, blue, yellow, pink, and white to boost sales and visibility of the handset, so it wouldn't be a complete departure to do the same thing this year. Apple will likely position the 6.1-inch iPhone similarly to the iPhone 5c as both a new model and a cheaper alternative to the high-end phones, so a bunch of colors would help distinguish the lines. Plus, who doesn't want an orange iPhone?
USB-C Power adapter photos leaked
This rumor was reported on July 2, 2018.
The Chinese site Chongdiantou has what it claims are early images from someone in Apple's supply chain of the USB-C power adapter that is said to ship with this year's iPhones.
We first reported a rumor about this back in May, and today's leaked images appear to lend credibility to that initial report.
Plausible? The design of this engineering prototype does match the previous CAD drawings and, more generally, Apple's style. These things could easily be faked or a case of mistaken identity, but we think this will probably come to pass. Apple's iPhones have continued to ship with an unsatisfying 5-watt USB-A power adapter, when it's phones are easily capable of charging much faster. It's long past time for Apple to replace its power adapter and provide the average user with the much faster charging performance the iPhone is capable of.
iPhone X Plus to cost less than iPhone X
This rumor was reported on June 4, 2018.
Well-known Apple analyst Ming-Chi Kuo, who often made remarkably accurate predictions based on his supply-chain contacts for analyst firm KGI Securities, is back with a new prediction. He recently left KGI Securities, but has landed at rival firm TF International Securities. This is his first report at that company.
Kuo says that the largest model, the 6.5-inch OLED "iPhone X Plus" (if you will), will cost between $900 and $1000. The 5.8-inch OLED model, similar in size and shape to the current iPhone X, will fall in the $800-900 range. That's considerably cheaper than this year's iPhone X, but potentially more expensive than the iPhone 8 Plus, which starts at $799. The LCD-based 6.1-inch model would cost $600-700.
What's more, Kuo says that he expects Apple to announce all three new phone models at an event in September, with all three shipping to customers in September. This contradicts other rumors that claimed the LCD-based model might not ship until November.
Plausible? These prices make sense. The iPhone 8 starts at $700, the iPhone 8 Plus at $800, and the iPhone X quite a bit more at $1,000. We could easily see Apple bringing the price of its most expensive model down to $949 or even $899 (higher than the most expensive iPhone in every year but this one), with the other two new iPhones roughly comparing to the prices of the iPhone 8 and 8 Plus. Those phones, then, would still be available but with the price reduced by $100-150. The iPhone X would probably no longer be sold—without dropping the price by $300 or more, there would be no point, when customers could get a superior phone for less.
Apple to go all OLED with future iPhones
This rumor was reported on May 29, 2018.
Ever since the first rumor about the 2018 iPhone landed, we've been operating under the assumption that there will be three new iPhone models this year in three sizes: 5.8 inches, 6.1 inches, and 6.5 inches. But while the new 6.5-inch model will obviously be the new flagship in that scenario, the 6.1-inch model would actually be the new entry-level iPhone, despite having a larger screen than the 5.8-inch model. The reason would be the display: Rumors peg the 6.1-inch model as using an LCD display rather than OLED to keep costs down and maintain the low-end iPhone's $700 range.
A new report from South Korea's Electronic Times seems to confirm these claims with a twist: Apple will be using OLED tech in all three models next year, so the original plan to keep one LCD model might not last too long. However, the article leaves open the possibility that a fourth model would retain an LCD and says LG could be brought on as a supplier as volume increases. The iPhone X display is manufactured exclusively by Samsung.
Plausible? The report that the 6.1-inch model would be the entry-level iPhone never really sat well with us. While we understand the logistics of keeping a cheaper LCD iPhone in the lineup, the average customer doesn't understand the difference between OLED and LCD, so charging more for a smaller screen isn't going to be an easy sell. On the other hand, cutting the price of the existing iPhone X after just a year on the market by $250-$300 seems equally unlikely. We'll have to wait until Apple announced the models and pricing, but it seems as though this year's lineup will be confusing.
A trio of OLED screened iPhones gives Apple has some flexibility. Assuming the 6.5-inch iPhone starts at $999 like the current 5.8-inch iPhone X, the other two models would cost around the price of the iPhone 8 and iPhone 8 Plus cost now and make the choice a whole lot easier for consumers. But we'll probably have to wait another year for that to happen, since OLED costs will probably keep Apple from using it across the board until then.
2018 iPhones to come with 18W USB-C adapter in box
This rumor was reported on May 16, 2018.
In early May, we reported on a rumor posted the Chinese social network Weibo that claimed Apple is changing its included-in-box power adapters from a puny 5-watt USB-A adapter to a speedy 18W USB-C adapter (the iPhone connection side will still be a Lightning plug, don't worry).
Now Chargerlab claims it has the same information from an independent source, and has CAD drawings of the charger with a European plug. It dovetails nicely with the previous leak—the charger has the same new rounded oval shape, save for the part that plugs into the European wall sockets.
Plausible? It has been pretty embarrassing for the iPhone, an expensive premium phone, to ship with an ancient and slow 5-watt power adapter all this time. Cheaper Android phones have had faster chargers in the box for a long time. Most modern iPhones charge faster with the 12-watt iPad adapter, and the iPhone 8 and iPhone X explicitly support USB-C fast charging, though the only way to utilize it using Apple's official gear is to buy a $49 29W USB-C adapter and a grossly overpriced $25 USB-C Lightning cable.
It's long past time for Apple to pack in a much faster power adapter, and since most customers just use what comes in the box, it means the average iPhone buyer is going to notice a vast improvement in charging speed.
iPhone SE 2 won't come until September, multiple models under consideration
This rumor was reported on May 14, 2018.
The Japanese Mac Otakara blog, having previously reported that the new iPhone SE model is due in May, is now stating that Apple is considering among several possible models and has not yet entered production, pushing the release back to the September timeframe.
The blog states that the company is considering versions with the same general physical dimensions as the current iPhone SE, and even at least one with a large 6-inch display. The blog's source is a glass maker who says there are three glass designs under consideration, and all of them share a common quality: no home button and a cutout for the TrueDepth camera sensor.
Plausible? Well, May is starting to run past us, so a release this month is starting to look highly unlikely. There are now several different rumors stating that the new iPhone SE will have a "notch" and no Touch ID button, though it's hard to tell if that's just the typical rumor echo chamber or multiple points of independent confirmation.
We have mixed feelings about the idea of a 6-inch iPhone SE. Surely, a less expensive iPhone of that size would cut into sales of higher-priced iPhones, right? And one of the big selling points for the iPhone SE, at least in the US and Europe, is among those who want a "new" iPhone that is much smaller than even the non-plus models. On the other hand, big screen phones are the hot thing in a lot of Asian markets. A more affordable big-screen iPhone might do exceptionally well in places like China, which will help boost Apple's market share in the region.
Apple hasn't always been deeply concerned with market share, but as services becomes an increasingly large part of its business, having a bigger reach starts to matter more.
It's also quite possible that this supplier is merely conflating the iPhone SE successor and the 6.1-inch LCD-based phone already rumored to launch alongside the iPhone X successor, which would carry a much higher price tag than the iPhone SE.
LCD-based 2018 iPhone to use LG's MLCD+ display tech
This rumor was reported on May 10, 2018.
Prior rumors suggest that Apple is going to replace the iPhone 8/X lineup with a trio of phones: one that is physically similar to the iPhone X, one that is a plus-sized version of that, and a third cheaper model sized in-between with less expensive components, including an LCD display.
A new report from Business Korea claims that Apple will fit that third model with an MLCD+ display from LG—the same technology used in LG's new G7 ThinQ.
MLCD+ takes the traditional red/green/blue subpixel arrangement of most LCDs and adds a fourth white pixel that has no color filter. This allows the display to be much brighter and use less power than traditional LCDs. LG claims that the display can cover 100 percent of the DCI-P3 color gamut, and indeed the G7 ThinQ earned high marks for its bright, colorful, accurate display. It's a step behind the best OLEDs, but ahead of most other LCDs.
Plausible? The rumor source here doesn't inspire confidence, as Business Korea isn't known for breaking fresh details from the supply chain. However, Apple is always concerned about display quality on its new phones and this seems like the most promising mass-producible LCD technology out there. The combination of high brightness (for HDR compatibility and direct sunlight viewing), low power consumption, and accurate colors in the DCI-P3 color gamut sounds like exactly the sort of technology for which Apple would look.
iPhone SE 2 to have iPhone X-style display with notch
This rumor was reported on May 10, 2018.
Case maker Olixar is already producing a screen protector for this year's iPhone SE (whether it is called the iPhone SE 2 or iPhone SE 2018). It is based on details gleaned from its supply partners in China, not on technical data from Apple. That part isn't unusual.
What is a surprise is that the screen protector is very clearly made for a phone with the general size and shape of the current iPhone SE, but with an iPhone X-style edge-to-edge display with a notch for the front camera.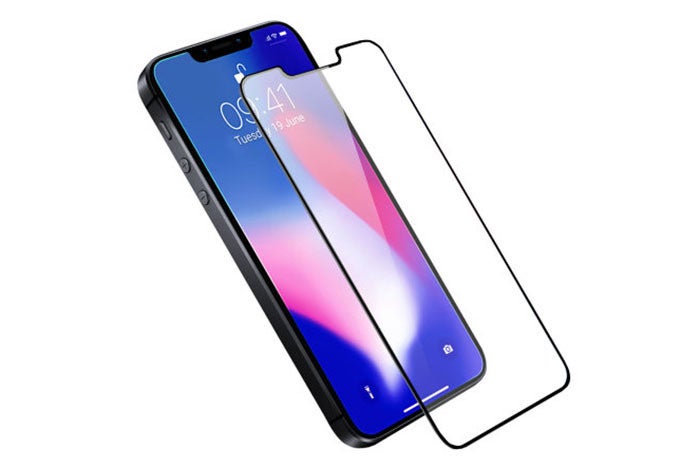 Plausible? We know Apple is all-in on the whole slim-bezel, edge-to-edge display with a notch for the front sensors thing. But the iPhone SE occupies a place way down at the bottom of the iPhone price stack, and we figured it would still be a couple years before it got a display layout to match the iPhone X and the other new iPhones coming in 2018.
A year ago, Olixar correctly predicted the form factor of the iPhone X, too. Maybe it got lucky, or maybe its sources are really good. If this comes to pass, we expect the iPhone SE 2 to be an even more popular choice among those who want a smaller iPhone, but we're worried about ballooning prices.
What's more, this screen protector leaves no room for a Touch ID sensor, and the notch is too small for the TrueDepth module used in the iPhone X. So either Apple is adding a costly new smaller TrueDepth module to it's bottom-end phone (not likely), or is incorporating a pricey and unproven through-the-display fingerprint reader (not likely), or is putting a Touch ID sensor on the back (ehhh…), or is going to ship a phone with no biometric authentication method (yikes!).
We still expect the 2018 model of the iPhone SE to be announced in the next month or two, so I guess we'll find out soon enough.
2018 iPhones to come with new 18W USB-C charger
This rumor was reported on May 2, 2018.
According to a post on the Chinese social network Weibo, which cites supply chain sources, Apple has a newly designed 18W USB-C power adapter that it will ship with the new iPhones this fall. The phones themselves will still have a lightning connector, they will just come packaged with the new power adapter and a USB-C-to-lightning cable.
It's impossible to know exactly what the track record is of this source, but it included a kinda-sorta-official-looking design diagram.
Plausible? It's tough to say. The design shown in the Weibo post breaks with years of tradition for Apple's various power adapters, and there's no track record of leaks here to rely on. On the other hand, Apple really should to do something like this. Apple still bundles paltry 5-watt USB-A adapters with its iPhones, when they are capable of charging much faster. We tested a variety of chargers, and found the 12-watt iPad adapter and 29-watt USB-C adapter (sold separately) to be vastly superior; they get the latest iPhones to 50% charged in half the time.
It really is time for Apple to start packing better power adapters in with its iPhones. They're premium products, but users are not getting a premium fast-charging experience without shelling out for a different adapter.
New iPhone SE in May, without headphone jack
This rumor was reported on April 20, 2018.
According to the Mac Otakara blog, the new iPhone SE is due to release in May and will not have a headphone jack.
The Japanese site spoke with "many iPhone case makers" at the Global Sources Mobile Electronics trade show. Those case manufacturers say they expect the upgraded iPhone SE to have the same size and dimensions as the current iPhone SE, and to continue using Touch ID. But they expect it not to have a headphone jack. That means, once the iPhone 6 and 6s are discontinued (likely late this year), Apple will not sell any iPhones with headphone jacks.
Though the outside physical dimensions and overall design is said to be nearly identical to the current iPhone SE, the case makers expect the phone to have Qi wireless charging just like the latest iPhones, which will almost certainly mean a switch to a glass back. The internals should get a bump, too, to an A10 Fusion chip (current iPhone SE models use the A9), which will improve speed and enable advanced image capabilities like support for the HEIF and HEVC compression standards.
Plausible? Apple seems hell-bent on getting rid of headphone jacks, but it does seem a little odd to do it on its "affordable" phone. All the other rumors lately agree on an upgrade to the A10 processor, and that the new iPhone SE will keep the same size and shape as the current model. Those rumors make perfect sense, too.
When it comes to wireless charging, put the odds at about 50/50. It adds a bit of cost and complexity, but not too much. Beyond that, we expect the iPhone SE 2 to have mostly internal changes, keeping the same size, shape, display, and low cost of the current model.
New iPhone SE coming soon
This rumor was reported on April 18, 2018.
While we had all but given up on the release of a new iPhone SE this year, a filing by the Eurasian Economic Commission suggests a sequel to the 2-year-old handset may indeed be on the way. As spotted by French site Consomac, the filing lists 11 previously unseen models of iPhone: A1920, A1921, A1984, A2097, A2098, A2099, A2101, A2103, A2104, A2105 and A2106.
Apple typically differentiates its iPhones by the modem inside them, and 11 is an abnormally large number of models (the iPhone X only has three, by comparison). However, Consomac notes that sales of this particular model have been approved in the Armenian, Belorussian, Kazakh, Kyrgyz, and Russian regions, which suggests Apple is expanding the iPhone SE's reach into more markets.
Plausible? It's been a while since we heard a rumor about the iPhone SE, but the last one did say it would arrive in the first half of 2018. And it should be noted that the Eurasian Economic Commission also outed the model numbers of the new 9.7-inch iPad, so it's safe to assume that the information here is accurate. Since it's way too early for iPhone X2 model numbers, it's probable that a new iPhone SE model could land before WWDC kicks off in early June.
New iPhone X could start at $899
This rumor was reported on March 26, 2018.
RBC Capital Markets analyst Amit Daryanani has issued a research note to investors that predicts the price of Apple's iPhone lineup this year. Specifically, it says that the second-generation iPhone X (whatever Apple will call it) will cost $100 less than the current model, starting at $899. A larger 6.5-inch "Plus" model will debut this year at a $999 starting price.
The report does not mention price of the widely-rumored 6.1-inch LCD-based model, though it is expected to cost less than the two OLED iPhones, probably with lesser specs like a single rear camera or a less speedy processor. It makes sense for it to cost around $799.
Plausible? If true, Apple's iPhone lineup this year would probably look something like this:
iPhone X Plus (6.5-inch): $999
iPhone X (2nd gen 5.8-inch): $899
iPhone X LCD (6.1-inch): $799
iPhone 8 Plus: $669
iPhone 8: $549
iPhone 7 Plus: $549
iPhone 7: $449
That seems perfectly reasonable. There's no doubt that making the iPhone X available only to those who are willing to spend $1,000 or more makes it hard to obtain, but Apple had two other new phones this year (the iPhone 8 and 8 Plus) at other price points. Whatever Apple calls its iPhones this year, it will have to make sure there are new models available around $800 or less if it wants to maintain its sales volume.
Another report on iPhone specs
This rumor was reported on February 26, 2018.
Mark Gurman and Debby Wu's report for Bloomberg offers more details on the specs of the new iPhones that could be coming this fall.
Bloomberg says the largest iPhone, code-named D33, will be the same size as the iPhone 8 Plus, but the edge-to-edge screen makes the screen size an inch larger than the Plus phone. The OLED screen will have a resolution of 1,242 x 2,688 pixels. You'll probably be able to use split-screen mode on some apps, like you can on the iPhone 8 Plus.
The 6.5-inch iPhone will have Face ID, though Bloomberg did not specifically say if there will be a notch like that on the iPhone X. Apple is considering dual-SIM card support in some regions where the feature in popular (Europe and Asia), but the company would rather use E-SIM, which allows users to switch service providers without charging a physical SIM card.
The second new iPhone would essentially be an update of the current 5.8-inch iPhone X. Both of the new iPhones would have Apple's A12 processor and iOS 12. Apple may offer a gold finish for both the 6.5- and 5.8-inch iPhones, though Apple wanted to produce a gold iPhone X and ran into production problems.
The third new iPhone, according to Bloomberg, will be a new lower-priced model, but will feature an edge-to-edge LCD screen and Face ID. The edges will be aluminum, not the stainless steel that will be on the other two iPhones. The back will be glass to allow for wireless charging.
Plausible? There are a lot of similarities between the Bloomberg report and Ming-Chi Kuo's prediction this past January. Kuo also said that Apple will release a 6.5-inch iPhone and a new 5.8-inch model at the higher price range, with an LCD-based iPhone in the lower price range. Knowing what we do about iPhone sales, it's not surprising that Apple is hoping to boost sales by making an affordable iPhone with many of the bells and whistles of the high-end model. Now that there are two similar reports by people who tend to have a good track record on Apple's plans, it looks like we'll see three new iPhones this fall.
Two high-end iPhones and a new low-end model
This rumor was reported on January 23, 2018.
The ever-popular iPhone tipster Ming-Chi Kuo from KGI Securities, who predicts iPhone details based primarily on watching the supply and manufacturing chain, has issued a report with new details on what he believes will be some of the major differences between iPhone models this year.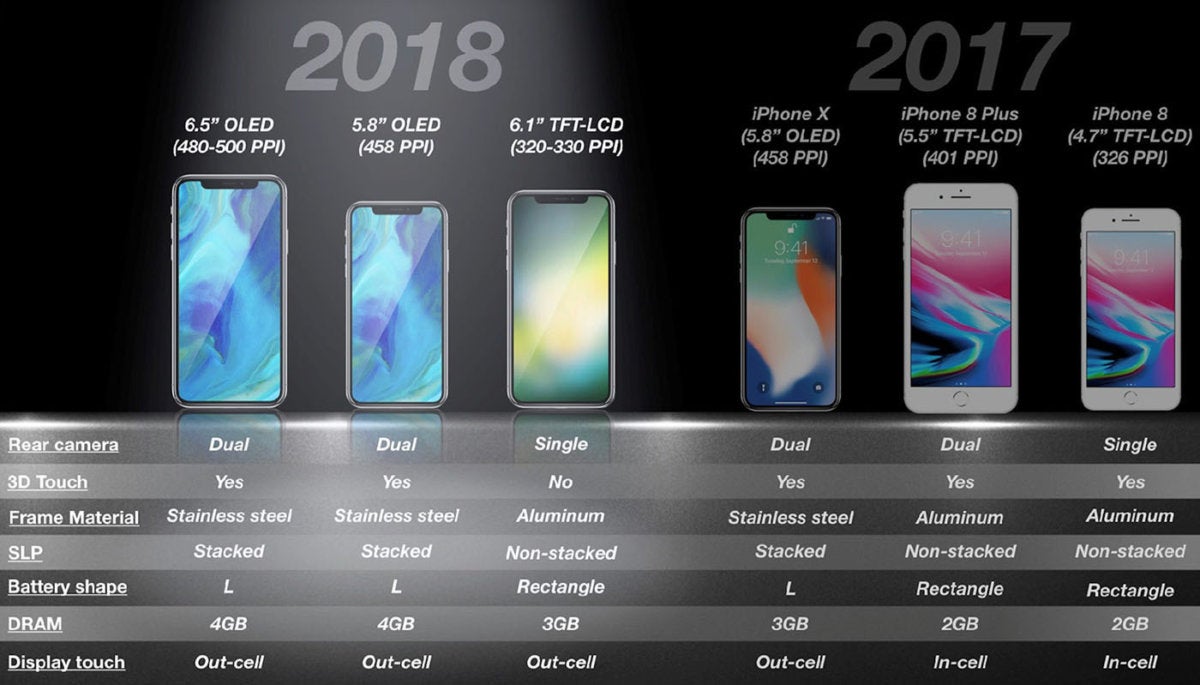 As previously reported, the new iPhones this year will, Kuo believes, consist of two models similar to the iPhone X—one at the same 5.8 inch size and one larger model. Size differences aside (and perhaps display resolution), these phones will be identical.
Then, instead of continuing to sell this year's iPhone X at a reduced price as Apple typically does, the company will instead produce a new LCD-based iPhone with many of the same design cues, including a taller aspect ratio and very slim bezels. We should point out that the image above shows bezels all around the display on the LCD model that may be too small to achieve with an LCD display.
Now, Kuo has predictions on what else will be different about that 6.1-inch model (which he expects to sell for $700-800, slightly higher than his original $650-750 estimate).
In addition to the LCD screen with a lower resolution, the 6.1-inch model will have a single camera instead of a dual camera setup, 3GB of RAM instead of 4GB, and an aluminum frame instead of a steel frame. Note that this is just the frame, not the body, which may still be primarily glass in order to enable wireless charging. Kuo believes the phone will also forego 3D touch. As far as construction goes, it should be simpler than the iPhone X (or it's replacements), by virtue of using a regular non-stacked logic board and rectangular, rather than L-shaped, battery.
Plausible? Most of these rumors seem reasonable as cost-saving measures, though they're a little disappointing. Apple's current lineup features the iPhone 7 Plus in the $669-769 price point and larger size of this new iPhone, at it has the dual-camera setup. Depending on what other new things Apple brings to the table in this device, buying the year-old (by then) iPhone 8 Plus might be a better value. Losing 3D touch would be odd, too. The only phone in Apple's current lineup that doesn't have this technology is the $349 iPhone SE. It would be rather strange for the company to take a step back in a new phone at a high price point.
iPhone X to cease production this summer
This rumor was reported on January 22, 2018.
Oft-accurate KGI analyst Ming-Chi Kuo is back with more 2018 iPhone rumors, and he's doubling down on larger displays. In his note, Kuo writes that "the addition of 6.5-inch OLED and 6.1-inch LCD iPhone models will boost Apple's market share in China, and that the US$650-750 6.1-inch LCD iPhone will make it easier for users worldwide to own a 3D sensing and full-screen design iPhone which offers an innovative user experience."
To back up his claims, Kuo says that the iPhone X hasn't made much of a splash in China, as the size and price of the phone dulled sales there. As such, he believes that the so-called "super cycle" of upgrades will kick in next year with the release of larger sizes of iPhone X-styled phones.
Speaking of iPhone X, Kuo says Apple will be ceasing production of the iPhone X in the summer, significantly earlier than usual. Apple traditionally continues to make older models after new ones arrive, but Kuo sees the 6.1-inch LCD model filling the role of the discounted iPhone X. Consequently, he's lowered his iPhone X 2018 sales estimates from 80 million to 62 million. In a follow-up note on Monday, he clarified this position, adding that price, not demand os the impetus for discontinuing production: "Lowering iPhone X's price after the (2018) new models launch would be a negative to product brand value given 3D sensing and OLED display are features of the new high-price model. Additionally, to sell iPhone X at a lower price may have a negative impact on shipments of the new 6.1-inch LCD iPhone."
LG to provide 6.5-inch displays
This rumor was reported on January 3, 2018.
A report from Electronic Times in Korea states that LG Display has an order with Apple to produce 15-16 million phone displays in 2018. The displays are all said to be 6.5 inches, which means one thing: LG is going to make the display for the supposed larger iPhone X sequel (call it an "iPhone X Plus"), while Samsung will continue to be the primary OLED display supplier for the new 5.8-inch model, just as they are with the current iPhone X.
15-16 million units for 2018 may not seem a like a lot, but consider all the factors. First, we're only looking at 2-3 months of supply, as the new iPhones are once again expected to land in October or November. Second, this is only the larger (and presumably more expensive) of the two new iPhone X replacements. And third, if other rumors are true, there will still be a less-expensive LCD-based iPhone in addition to the OLED models. So, we're looking at just a few months of sales for only the largest and most expensive of three iPhone models. Given that Apple usually sells 75-80 million iPhones in the 4th quarter of the year, the 15-16 million figure for the top-end model sounds about right.
An Apple custom power management chip
This rumor was reported on November 30, 2017.
A report in Nikkei Asian Review claims that Apple is working on its own power management chips for iOS devices, which it will start integrating into iOS devices in 2018.
Current iOS devices use power management chips made by the UK company Dialog Semiconductor. These chips manage battery charging and the power supplied from the battery to the various components within the phone. Nikkei's sources say Apple's new chip will be the most advanced in the industry, and would allow Apple to deliver better performance with longer battery life.
There is some uncertainty as to the timing, however. One of Nikkei's sources says it will show up in some products next year, while another thinks it might not appear until 2019.
Plausible? Apple is driving hard to produce as much of its own silicon as possible. For example, it recently started integrating its own graphics processors instead of one licensed from PowerVR. The power management chip plays a crucial role in mobile devices, and seems an obvious component for Apple to bring in-house as opposed to more general commodity components like RAM or flash storage.
A refreshed iPhone SE may be on the way
This rumor was reported on November 22, 2017.
A report from China's Economic Daily News claims that an iPhone SE2 (that's a tentative name) is on the way. The report says it will be assembled by Wistron in India (as the current iPhone SE is) and land in the first half of 2018.
This coincided with an report from Focus Taiwan from a few months ago. Is this just a rumor echo-chamber, or independent verification?
Plausible? The current iPhone SE is getting a little old with it's A9 chip. The new one is said to be a relatively simple refresh, with a similar design and size and an upgrade to the A10. That certainly seems likely, considering the target markets and price point for the iPhone SE. But it is unlikely to satisfy those Apple fans who want all the good stuff found in the iPhone 8 and X in a small phone with a 4-inch display.
Faster modems and better antennas
This rumor was reported on November 17, 2017.
KGI Securities analyst Ming-Chi Kuo, always on top of the latest Apple supply chain gossip, says that we'll see much improved cellular baseband chips in next year's iPhones. It will again source chips from both Intel and Qualcomm, but most phones (70-80%) will sport the Intel chip, specifically an Intel XMM 7560 modem. The Qualcomm modem is expected to be the Snapdragon X20.
Both modems support 4×4 MIMO (current iPhones support only 2×2 MIMO) and 5x carrier aggregation, and should work with the newly-deployed 600MHz carrier bands, provided that Apple does all the necessary work on antennas and software.
This means a big jump in maximum cellular performance, including gigabit LTE speeds and support for more frequencies in more areas.
Kuo further claims that at least one iPhone model (probably the largest one) will support dual-SIM dual-standby (DSDS) with both SIMs offering LTE connections. Dual SIMs aren't common in the U.S., but there are some markets where it's an expected feature of high-end phones.
Plausible? Apple is behind its biggest Android rivals when it comes to cellular connectivity. In the right locations, the best Android phones support newer LTE technologies and faster real-world download and upload speeds. All the rumored features would leapfrog today's top-end Android phones, but of course premium 2018 Android devices will likely have these features as well. Getting on par with Samsung and Google's best in this area is something that needs to happen.
Three phones, three sizes
This rumor was reported on November 13, 2017.
Another rumor, again from analyst Ming-Chi Kuo at KGI Securities, is that Apple will have three models of iPhone next year. There will be a new phone the same size and design and the iPhone X along with a "Plus" model that features the same design only with a 6.5-inch display and a higher resolution.
But Apple still needs a new but less expensive model to sell at a lower-than-$1000 price, which Kuo believes will take the shape of a 6.1-inch LCD based phone with the same aspect ratio, but a lower resolution. Kuo believes this phone will be priced between $650 and $750.
The LCD model pictured in KGI's mockup is unlikely to exactly match the final unit. Apple will likely need some bezels on the bottom or top to hold the LCD display control circuitry. But the KGI report does believe the bezels will be much smaller, as Touch ID and the home button will be gone in favor of Face ID and the TrueDepth camera.
Plausible? A bigger plus-size model makes sense, as does a less expensive, lower-resolution LCD model meant to achieve a lower price. But Apple literally folds the bottom of the OLED display under itself to hide the display controller, a trick they can't pull off with an LCD, so we expect a little more bezel in the LCD version. The bigger unanswered question is whether the LCD version will have a single camera, like the non-plus iPhone models today.
More frame parts, faster data?
This rumor was reported on November 6, 2017.
KGI Securities analyst Ming-Chi Kuo wrote a research note obtained by other Mac news outlets that details his thoughts on next year's iPhone. Kuo believes that the new phone will use a metal frame that is composed of more parts than the iPhone X, in order to improve data transmission quality. Kuo says that orders Apple has placed with Catcher Technology and Casetek are for two frames, one for a phone like the current iPhone X, and another for an iPhone X-like model with a larger screen.
Plausible? A new frame for better data transmission on next year's phone seems to imply that the current iPhone X isn't performing as well as it could be. But we haven't heard about transmission problems. It could be to support faster transmission speeds (like gigabit LTE) or the newer 600MHz LTE frequency band.