Face ID is at least as secure as Touch ID, but it does have its drawbacks. If you have an identical twin, for example, they will probably be able to fool it. And if someone gets ahold of your phone and manages to point it at your face, that might unlock it (provided you turn your attention toward it).
Apple has safeguards in place, just as it did with Touch ID: If Face ID tries to authenticate on someone else's face and fails several times, it will disable and require your passcode.
Still, there may be times when you feel that you don't want anyone to be able to use Face ID to get into your phone. Fortunately, it's quite easy to temporarily disable it. It's fast and discreet.
Temporarily disable Face ID
Just press and hold the side button, and either one of the volume buttons (it doesn't matter which one). It's a quick squeeze of your phone.
After about two seconds, you'll see the lock screen above, with sliders to power off the phone, show your Medical ID, or trigger Emergency SOS.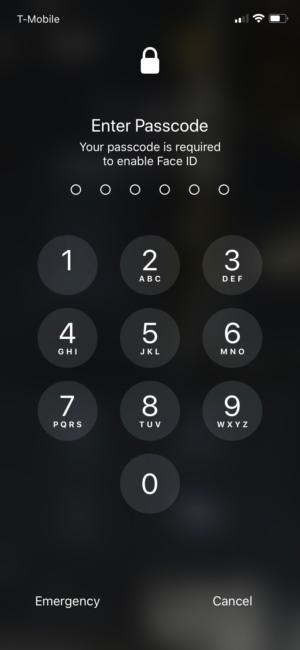 At this point, Face ID is disabled. The next time you try to unlock your phone, even if you hit Cancel, the only way to get in will be to enter your six-digit passcode.
Turn off Face ID for good
You should note that Face ID is only temporarily disabled using the method described above. Once you use your passcode to unlock your phone, it will be active again.
You have to go into Settings > Face ID & Passcode to turn it off for good.
The iPhone 8 and 8 Plus work this same way for Touch ID, but you should know that this is different from previous iPhones. On those, you would press the side button five times. Don't do that on your iPhone 8 or X! If you do, it will set immediately set off Emergency SOS. mode with a loud siren. This will also disable Face ID, but it's probably not the best way to do it.
Be sure to check out our guide to all the new gestures and commands for the iPhone X.