SLIDESHOW
Slideshow: Apple WWDC 2014 keynote highlights
Missed the keynote? Here are the highlights.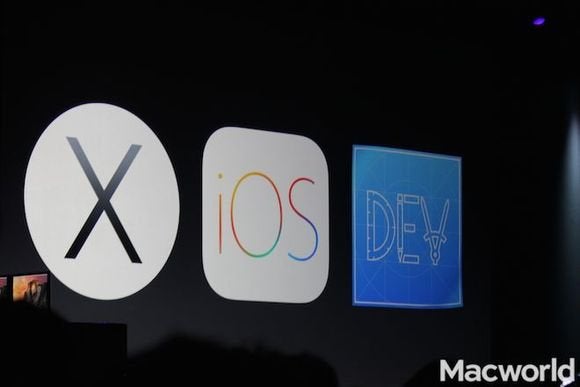 WWDC 2014
During the Worldwide Developers Conference keynote Monday, Apple executives demonstrated the new features of Mac OS X Yosemite and iOS 8.
Photos by Serenity Caldwell
El Capitan
Before the keynote, attendees can see the desktop picture of El Capitan, found in Yosemite National Park. That's what's called a spoiler, kids.
Tim Cook takes center stage
Tim Cook kicked off the keynote with a few interesting statistics.
Developers! Developers! Developers!
Apple has 9 million app developers, a 47 percent increase over last year.
User adoption
Mavericks has been installed by 51 percent of users. Fourteen percent of Windows users have upgraded to Windows 8.
OS X Oxnard?
Apple senior vice president of software engineering Craig Federighi started the OS X presentation by unveiling the name of the OPS upgrade. Is it OS X Oxnard?
Home of the Quakes
Is the new version of OS X called OS X Rancho Cucamonga?
As in California State Senator Abner Weed
Is the new OS X called OS X Weed?
Black or white
OS X Yosemite will allow you to switch the menu bar and menus from a white background to a black one.
New Spotlight bar
The Spotlight search bar now appears in the middle of the screen in OS X Yosemite.
iCloud Drive
Your iCloud storage is now user-accessible as an icon in a Finder window.
Image annotations
Apple marketing executive Brian Croll demonstrated the new annotation tools. When you insert an image into an email, you can comments, arrows, speech ballons, and more.
iPhone calls on your Mac
When you get a call on your iPhone and you're on your Mac, you can take the call on your computer.
Rock on, Eddy
Federighi demonstrates some of the new feature in Yosemite Mail by using an unflattering picture of Apple Senior VP Eddy Cue.
Don't forget about Dre
Federighi demonstrated the new call features by calling Beats Electronics founder (and Apple employee) Dr. Dre.
Priced right
OS X Yosemite will be free in the fall, but an exact release date was not announced.
Satisfaction (almost) guaranteed
According to Apple, 97 percent of users are satisifed with iOS 7.
iOS installed base
Apple says that 89 percent of users are using the latest version of iOS. Only 9 percent of Android users are using the latest version, called KitKat. Learn more about iOS 8's new features.
Interactive notifications
iOS 8 offers better access to notifications. For example, if you get a notification for a new text message, you can swipe the screen and reply, instead of having to go to the Messages app.
Decline/Accept
If you get an notification of an invitation, you can reply to it through the notification.
At your fingertips
Jony Ive makeover
Federighi demonstrates the new features in iOS mail by showing a picture of Apple senior vice president Jony Ive with Federighi's hair.
Messages: New features
Some of the new features in iOS 8 Messages include group messaging and do not disturb.
Joswiak selfie
Greg Joswiak, vice president of iOS and iPhone marketing, demonstrated the new features in Messages by taking a selfie with an obligatory duck face.
Enterprise features
iOS 8 will have new features for use in enterprise environments.
HealthKit
iOS 8's new HealthKit allows for integration with health-based apps. Get more details on HealthKit. 
Family Sharing
In iOS 8, Family Sharing will allow you to get notifications on any device when a someone wants to make an iTunes purchase.
The price of the cloud
Pricing for iCloud: Those first 5GB are free, at least.
Photo editing
iOS 8's Photos apps offers new editing features.
Hey, Siri
New features in Siri include the ability to launch Apple's personal assistant just by saying "Hey, Siri."
More new features
iOS 8 will also have vector-based maps, lunar calendar support, and more—at least in China.
App previews
The iTunes Store will allow developers to include demo videos of their apps.
Third-party keyboard
Apple announced several new APIs for developers, including the ability to add custom keyboards.
Touch ID API
Apple released an API for Touch ID so developers can use the security feature for their apps.
Home sweet HomeKit
HomeKit API can be used by developers so you can use Siri to control devices like thermomstats and lights.
Heavy Metal
The new Metal API lets game developers get the best graphics performance from the iPad and iPhone.
SpriteKit
The SpriteKit API will be useful for developers of 2D games who want to improvement graphics performance. Apple also released the SceneKit API for 3D casual games.
Swift
Since WWDC is a show for developers, Swift got the best reaction from the keynote audience. Swift is a new new programming language for Cocoa and Cocoa Touch, and it works with Objective-C.
Next Up: Check out these related slideshows
Today's Best Tech Deals
Picked by Macworld's Editors