Macworld reader Sherry wants Apple to leave her alone. She's disabled Siri and doesn't use iCloud Photo Library. But she finds Apple seems to be paying attention in ways she doesn't like.
She writes:
I was distressed to see an item tentatively added to my calendar after texting about it with a friend. Also I have recently been presented with "memories" from Apple of photos and where they were taken. Although I have nothing to hide, I don't want this kind of intrusion on my privacy. Also, is there a way to wirelessly sync my iPhone and iPad photos to my Mac without using the iCloud library?
I have a few answers for her.
On calendar items: iOS and macOS variously recognize calendar events, locations, phone numbers, and other sorts of data in Messages, Safari, Mail, and other apps. This even happens if you text someone, "Should we meet Friday night?" The "Friday night" will be lightly underlined in Messages in both iOS and macOS and you can tap or click it. This brings up an option to Create Event, Show in Calendar, Copy Event, or Cancel in iOS, and slightly different options in macOS. You might have hit Create Event by accident or something went wrong in Messages.
You can disable this in Settings > Calendar > Siri & Search > Find Events in Other Apps. You can do the same for contacts via Settings > Contacts > Siri & Search > Find Contacts in Other Apps. You can also go to Settings > Siri & Search and disable Siri further or look at individual apps, including those by Apple, to disable these suggestions.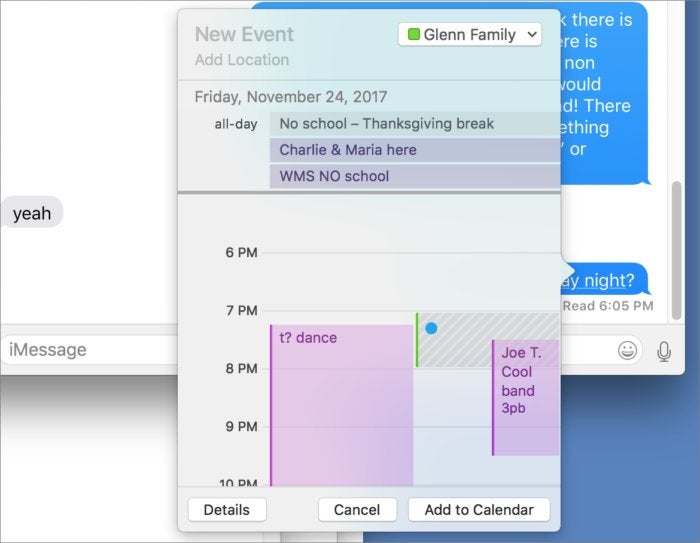 On memories in Photos: You can't prevent Photos from making memories, but you can stop it from notifying you. That's slightly less creepy. Apple says it doesn't share this information in any fashion, but I'm not in love with a feature that assembles information about me even on my own computer and I can't turn off. In macOS, launch Photos and go to Photos > Preferences > General and uncheck Show Memories Notification.
Wireless syncing of photos between iOS and macOS: That only works with Photos for macOS via iCloud Photo Library (where it syncs everywhere you're logged in) or via a USB cable, at which point you can simply import into Photos or via Image Capture.
Ask Mac 911
We've compiled a list of the questions we get asked most frequently along with answers and links to columns: read our super FAQ to see if your question is covered. If not, we're always looking for new problems to solve! Email yours to mac911@macworld.com including screen captures as appropriate, and whether you want your full name used. Every question won't be answered, we don't reply to email, and we cannot provide direct troubleshooting advice.