Update 12/1/2017: A Wired report states that users of macOS 10.13 High Sierra who installed the root security update will need to reinstall the update and restart the Mac if the operating system is upgraded to macOS 10.13.1 High Sierra. Apple has details in a support document to see if the update has properly installed.
Update 11/29/17: Apple has released an official fix for the issue via a security update. You can install the update by launching the App Store app, and then click on Updates. Press Command-R to reload the Updates page to see new updates. It will appear as "Security Update," and you can click on the Update button to install it. Your Mac does not need to restart.
If you have problems with file sharing after installing the update, here are instructions on repairing file sharing.
Apple issued the following statement to Macworld:
Security is a top priority for every Apple product, and regrettably we stumbled with this release of macOS.

When our security engineers became aware of the issue Tuesday afternoon, we immediately began working on an update that closes the security hole. This morning, as of 8 a.m., the update is available for download, and starting later today it will be automatically installed on all systems running the latest version (10.13.1) of macOS High Sierra.

We greatly regret this error and we apologize to all Mac users, both for releasing with this vulnerability and for the concern it has caused. Our customers deserve better. We are auditing our development processes to help prevent this from happening again.
On Tuesday, a macOS 10.13.1 security issue was revealed—a flaw that allows root access to a Mac without the need for a password. Developer Lemi Orhan Ergin tweeted that anyone can log into a Mac by entering the user name root without a password. The first time you try to login, it won't work. But if you try it again, you will be granted access. Here's Erign's tweet:
Dear @AppleSupport, we noticed a HUGE security issue at MacOS High Sierra. Anyone can login as "root" with empty password after clicking on login button several times. Are you aware of it @Apple?

— Lemi Orhan Ergin (@lemiorhan) November 28, 2017
As Apple's support document notes, root is a "superuser" that grants access to areas of the system that are often used by system administrators.
At Macworld, we tried it on our own MacBook Pro running macOS 10.13.1, and the root login worked. See the video below.
This issue seemed to work only after you are logged into a Mac under a different user name. I wasn't able to use root and no password at the Mac's user login screen that appears at startup.
An Apple spokesperson sent Macworld the following statement:
We are working on a software update to address this issue. In the meantime, setting a root password prevents unauthorized access to your Mac. To enable the Root User and set a password, please follow the instructions here: https://support.apple.com/en-us/HT204012. If a Root User is already enabled, to ensure a blank password is not set, please follow the instructions from the 'Change the root password' section.
How to fix the root security issue
Apple has issued an OS X 10.13.1 Security Update that patches the flaw. In the description, Apple urges users to "Install this update as soon as possible."
However, while this patch will fix this issue, you'll want to change the password for root to protect against future security issues. Here's how to do that:
1. In the Finder, click on the Go menu and select Go to Folder.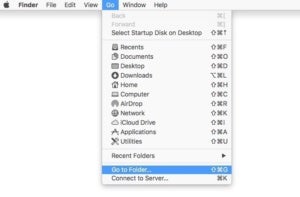 2. Enter the following: /System/Library/CoreServices/Applications/ and then click Go.

3. Find the Directory Utility app and launch it.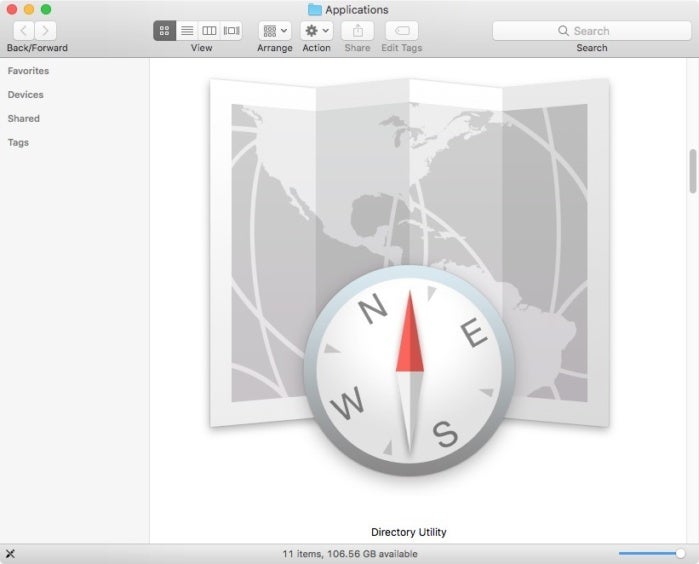 4. Click the lock in the lower left to make changes. In the pop-up window, enter your user name and password, then click Modify Configuration.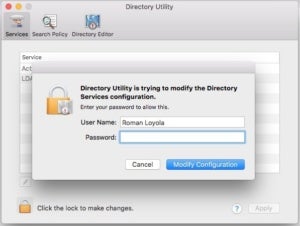 5. Click on Edit in the menu bar and select Change Root Password.
6. In the pop-up window, enter a password and verify it. Click OK.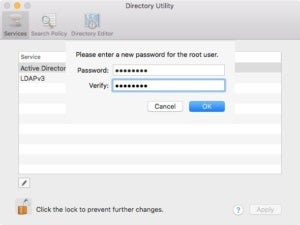 7. In the main window of Directory Utility, click the lock to lock it and prevent further changes.
8. Quit Directory Utility. You are done.
If you try to enter root without a password at a login prompt, the prompt will shake and reject your login. You'll need to enter your new password to gain root access.