Scammers try all sorts of ways to convince you that something's wrong with your Mac and that only by calling "Apple" (it's never Apple) via a phone number on screen and paying some outrageous amount of money can your computer be "fixed." In some cases, websites can seemingly hijack Safari in macOS, making it impossible to bypass a page.
Macworld reader Antonella encountered one variant: a printer dialog appears whenever she launches Safari. The phone number of a scam site appears in the print dialog (and would appear on the output if printed). She can't seem to get past this, because the scam site has changed her homepage to its URL.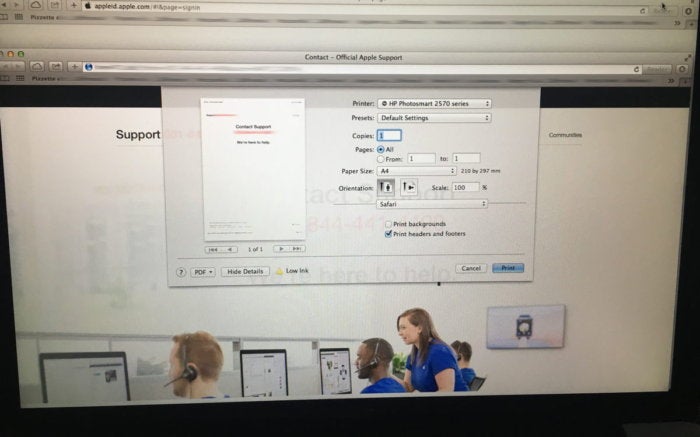 You can hold down Shift when launching Safari, and this prevents it from opening any windows, but it doesn't prevent going to the page marked as home! This is a seeming omission on Apple's part.
Jason Snell's sister encountered this a year ago, and all the troubleshooting he went through resulted in an odd solution: disable the internet! The malware had to load itself, and without an Internet connection, it could not. Follow these steps to replicate his solution:
Exit Safari by first holding down Option and then right-click/Control-click its icon on the Dock. Finally, select Force Quit.
Disable Internet access: select Wi-Fi > Turn Wi-Fi Off or disconnect your ethernet cable.
Launch Safari.
Select Safari > Preferences, and in the General tab, delete the contents of the Homepage field.
Re-enable Internet access by selecting Wi-Fi > Turn Wi-Fi On or reconnecting an ethernet cable.
Ask Mac 911
We've compiled a list of the questions we get asked most frequently along with answers and links to columns: read our super FAQ to see if your question is covered. If not, we're always looking for new problems to solve! Email yours to mac911@macworld.com including screen captures as appropriate, and whether you want your full name used. Every question won't be answered, we don't reply to email, and we cannot provide direct troubleshooting advice.