At a Glance
Expert's Rating
Pros
Lightweight
Weather and sweat resistant
Excellent sound and customizable EQ
Track and call controls buttons built into caps
Cons
Bulky battery case
Audio tracks can't be replayed using earbud controls
Provide mediocre situational awareness for runners
Our Verdict
The Jaybird Run sound great, are weather resistant, and packed full of functionality. That they provide all of this at a reasonable price makes them an excellent choice.
Best Prices Today: Run true wireless sport headphones
For $20 more than you'll fork over for a pair of Apple's AirPods, you can invest in a significantly better true wireless headphone listening experience. With a customizable equalizer settings, the $180 Jaybird Run True Wireless Headphones sound great, are sweat- and water-resistant, and come with a number of fit options to ensure comfort. For the time being, these are the true wireless headphones that we recommend for most people.
Note: This review is part of our roundup of wireless and true wireless earbuds. Go there for details on competing products and our testing methods.
Hardware
Weighing about 0.22 ounces a piece, you won't mind the weight of the Jaybird Runs. Unlike Apple's AirPods, which hang off of your ear's tragus and antitragus, the Jaybird Runs need to be jammed, albeit shallowly, into your ear canal. Not only does this ensure that they'll stay in your head—even during strenuous activities— but the earbud's position in your ears will create a tight seal, thanks in part to the included silicon tips (available in a number of sizes). This provides users with some passive noise cancellation—that's good news for the quality of any audio you'll listen to, but maybe bad news for some athletes.
Mentioned in this article
SoundSport Free truly wireless headphones
Jaybird's advertising for the Run shows lots of healthy fitness buffs running and working out. But as having passive noise cancelation in play could make it difficult to hear what's going on in the environment around you, you might want to think twice before taking these things out on the road or trail with you. (For true wireless headphones that offer a greater amount of situational awareness, check out the Bose SoundSport Free.)
The Jaybird Run headphones stick a ways out of most people's ears while they're wearing them, but not much. Being black in color and 0.56 by 0.77 by 0.75-inches, they're less noticeable than Apple's iconic white darlings.
Jaybird's headphones are designed, primarily, with athletes in mind and the Run are no different. To make them stand up to sweat and other liquids you might encounter during a workout, the earbuds come with a reasonable amount of weatherproofing—just don't take them in the shower or pool with you. Even if you're not running a marathon during a downpour, their weather resistance is still good news. You won't have to worry about the Run shorting out in drizzle while you listen to them on your morning commute.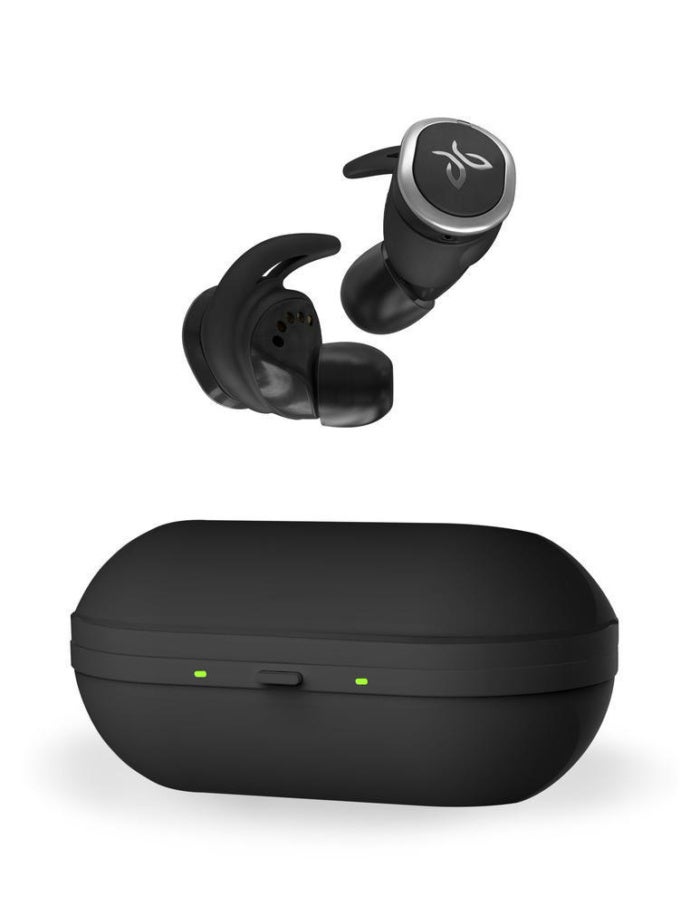 Pairing the headphones was a pain-free affair. After installing their free companion app (find it on the App Store here) and charging them up in their included battery case, simply open the case and stick them in your ears. You'll be guided through the setup process via an audio prompt.
Mentioned in this article
AirPods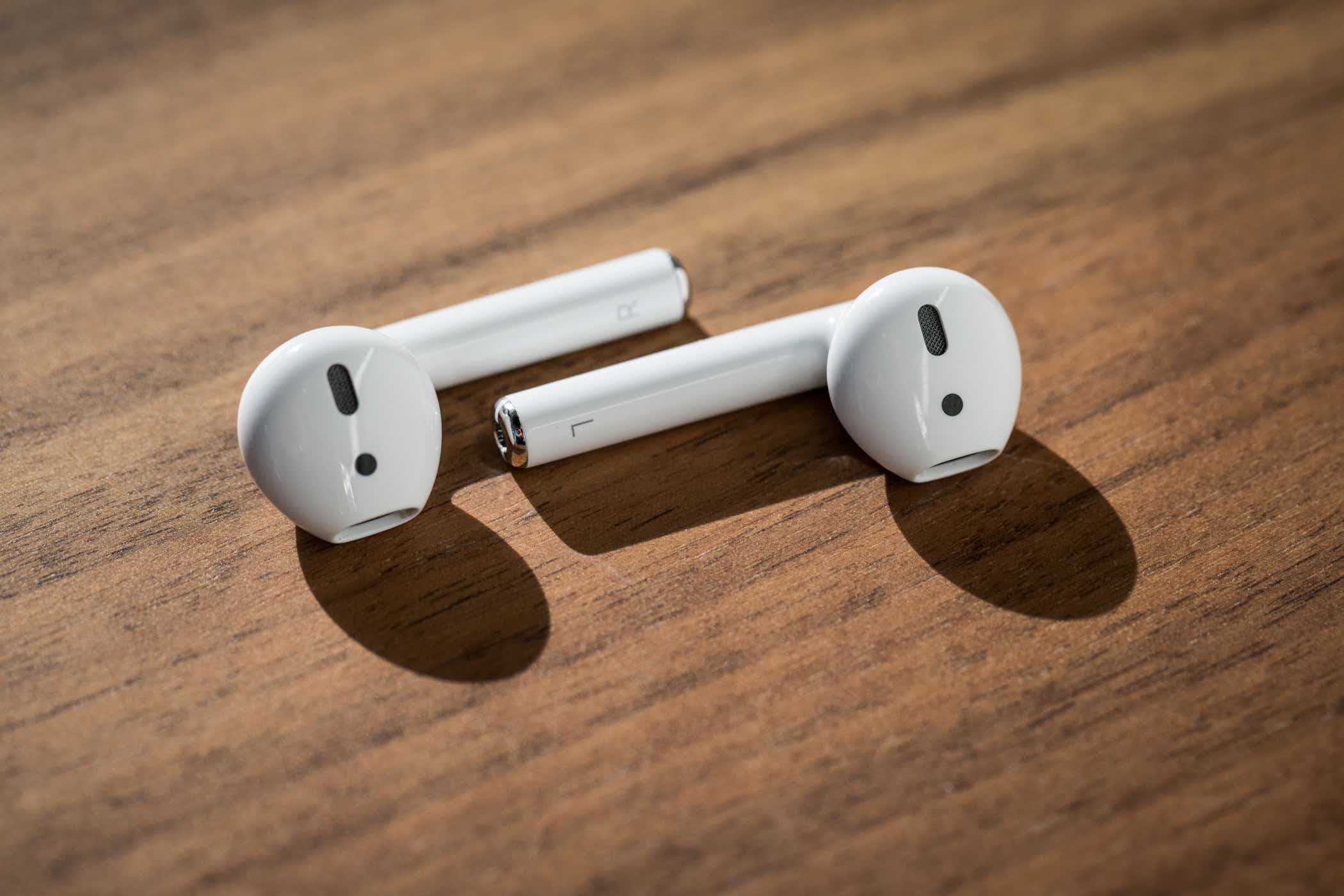 Controlling the headphones while using them is just as simple—there's a push-button built into the cap of each earbud, where you'll find most of the controls we demand from a set of modern headphones: pause/play, voice assistant access, and the ability to accept or end a call. Strangely, while you can advance to the next track in a playlist, there's no button press that allows you to skip back a track. If you're into it, you can use either earbud on its own.
According to Jaybird, the Run offer four hours of playtime off of a single charge, with an additional eight hours' worth of juice available in their battery case. I found their actual runtime to be a little shorter than this, but not by much. It's worth noting that I'm not a fan of the battery case. While it's well made, it's taller and wider than it really needs to be. If you want to stick it in a pants pocket, you'll want to be wearing a set of cargos.
Sound quality
Jaybird's X7s were one of the first sets of Bluetooth headphones that let users change the equalizer settings of through the use of a companion app. Their Run true wireless headphones have access to their same app, making for some great audio, especially for the price.
Mentioned in this article
Beoplay E8 Wireless Earphones
Out of the box, the Run's audio is a bass-heavy affair, which is typical for a good set of athletics-oriented cans. Mids are subdued, and warm, while high frequency sound is forward sounding. And while it can't match the broad soundstage of the Bose SoundSport Free or Beoplay E8, I was pleased with what I heard. I feel that these headphones sound better than Apple's less-expensive AirPods and are capable of glowing blow-for-blow with Sony's $198 WF-1000x. That it's possible to modify their sound profile at a firmware level through the use of the free Jaybird app is icing on the cake. The app comes with a number of ready-made equalizer settings designed by Jaybird and a handful of notable athletes. But in addition to this, it also allows users to not only create their own equalizer settings, but save them and share them online.
The bottom line
The Jaybird Run sound great, are weather resistant, and packed full of functionality. That they provide all of this at a reasonable price makes them an excellent choice.
Best Prices TodayRun true wireless sport headphones