At a Glance
Expert's Rating
Pros
Sliding weight keeps cable on table
Durable
Our Verdict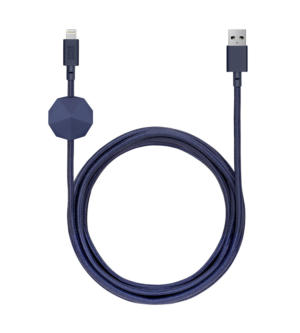 Initially, Native Union's Anchor cable looks kind of gimmicky. This 6.5-foot cable has its own sliding weight, which is designed to help prevent the cable from falling off of your nightstand or desk. This bulky weight means that the Anchor cable isn't really designed for every situation, but it's excellent at keeping the Lightning connector at your fingertips and off of the floor.
The Native Union Anchor cable comes in two colors ( marine and taupe) and one length, and features a movable skid-free geometric weight. The weight, which has a soft-touch matte finish, slides along the entire length of the cable without slipping—it stays in place when you're not sliding it yourself.
The cable is thick and feels very durable thanks to its Kevlar core wrapped in braided nylon. The Lightning connector and the USB plug are housed in sturdy soft-touch rubber. Native Union has done its best to combat strain on the cable's necks with a special "O-FLEX" strain relief design. This is basically just a small opening on either side of the neck, for easier, less-strained flexing.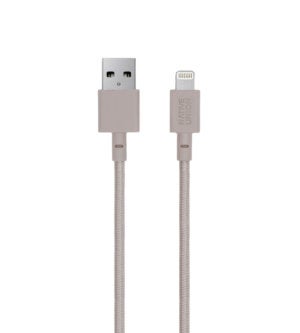 The Anchor cable is one of the most durable cables we tested. According to Native Union, the cable is six times stronger than standard Lightning cables, and its neck is able to withstand over 10,000 90-degree bends. The Anchor cable is also extra-long, so you're less likely to put a lot of strain on it because you can't reach it across the bed.
Bottom line
Native Union's cable is probably my favorite nightstand cable: It's long enough that you can easily use your phone while it's charging; it's got that nifty attached anchor to keep it on the table; and it's definitely durable enough to withstand lots of half-awake plugging and unplugging. It's also one of the more expensive cables around—$35—and the situations where you'd use this cable are also situations where it might make sense to use a wireless charging mat. This cable is excellent, but it might not be for everybody.