At a Glance
Expert's Rating
Pros
One of the most durable Lightning cables around
Cons
Lightning connector may not fit some iPhone cases
Pricey
Our Verdict
Nomad's basic Lightning cable isn't cheap—the 1.5-meter version costs $30, and the 3-meter version is $35, but it's one of the most well-made cables I've ever used. It's so well-made, in fact, that it's probably overkill for the average user.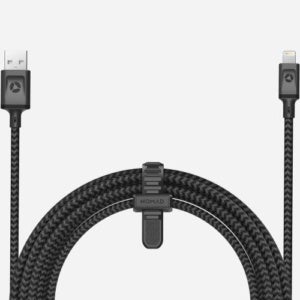 Nomad's Lightning cable is thicker and heavier than other cables we tested, but it's also designed to withstand heavier use. The cable features a Kevlar core cloaked in a fire-resistant PVC jacket and wrapped in "ultra rugged" black and gray ballistic nylon. It's about twice as thick as Apple's Lightning cable, and it's definitely more than twice as durable.
The matte black plastic housing surrounding the Lightning connector is pretty big and squared-off. It will still fit in most cases—I didn't have any issues—but if you're sporting a snug waterproof case you may run into some problems. This cable has a built-in cable tie, which is always a convenient feature (especially for a cable that's so thick).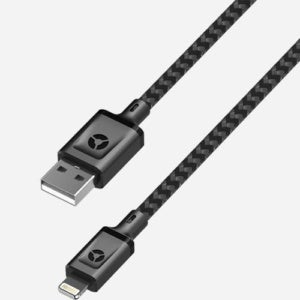 The Nomad cable may be thick and heavy, but it's also super durable. According to the company, this cable has been tested to withstand over 10,000 multi-directional 150-degree flexes and bends—so you shouldn't have any problems with fraying or breakage. To test this cable, I used it daily for over a month, ran over it with my chair several times, tied it in knots, and tried to pick up kettlebells with it. It still looks brand-new.
Bottom line
With the Nomad Lightning, the quality is definitely there, and it can withstand lots of abuse and rugged use. The real question is whether you need an ultra-rugged, ballistic nylon-wrapped super-cable. And, for most of us, the answer is not really. If you're just going to plug your phone in next to your bed each night, you don't really need a cable that can pick up 10-pound kettlebells.