At a Glance
Expert's Rating
Pros
Low price
Wide variety of lengths available
Our Verdict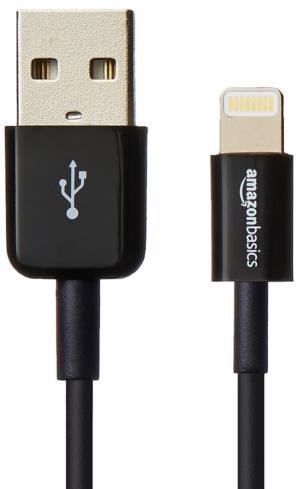 The Amazon Basics Lightning cable is one of the cheapest MFi-certified Lightning cables you can buy. The Amazon Basics cable comes in two colors ( black and white), four lengths ( 4 inches, 3 feet, 6 feet, and 10 feet), and costs between $6 (for the 4-inch cable) and $12 (for the 10-foot cable). The 3-foot cable costs $6.49, one of the lowest prices around.
The Amazon Basics cable is pretty…basic. It actually looks a lot like Apple's cable: It's slim and round, with a matte rubber finish and shiny plastic housing surrounding both the Lightning connector and the USB plug. It's just a little lighter, thinner, and cheaper-feeling than Apple's cable, and it doesn't hold up very well to lots of daily neck stress or rogue chair wheels (though Amazon says it's been strengthened to improve durability and reduce fraying, and that it's been tested to bend 95 degrees at least 4,000 times).
There isn't much else to say about the Amazon Basics cable. It's not particularly sexy or exciting, but it is a reliable MFi-certified option for a third of the cost of Apple's cable—so even if it lasts only as long as an Apple cable, your money will go three times as far.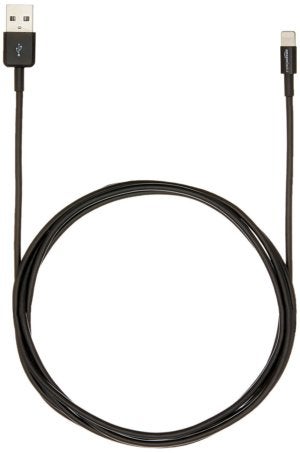 Bottom line
Because it's so cheap,the Amazon Basics Lightning cable is a good option if you know you're going to replace your cables frequently (because you lose them easily, or you're particularly rough on them). It's also worth noting that you might get what you pay for—while I had no issues with this cable overheating, melting, or catching on fire, several reviews on Amazon suggest this might be an issue.