The reports are in from the 2018 Consumer Electronics Show, and they're not good if you're an Apple watcher: The days of CES being a show full of products trumpeting their connections to the App Store are over. This year, it's all about smart assistants—and that means Alexa and the Google Assistant, not Siri. It's bad news for Apple—or is it?
I trust the trained eyes of CES observers. Both analyst Ben Bajarin and New York Times tech writer Brian Chen reported the same thing.
I am, however, a little skeptical about how the story has been framed, especially in that it needs to depict a fall from grace of Apple while Google and Amazon are ascendant. That's not quite what's going on, but it is more dramatic to rhapsodize about the years where "Apple cast a long shadow over" CES, as Chen wrote, or how "Apple's dominance loomed over the show," as Bajarin wrote.
Having spent many years at CES myself, I have to caution against portraying Apple as a dominant force at the show. Yes, Apple's announcements at Macworld Expo—including the original iPhone—diverted attention away from CES. But Apple never really wanted anything to do with CES, and CES never really wanted anything to do with Apple.
What CES is about, more than anything else, is a rush by every technology manufacturer in the world to exploit the latest tech trends in the hope that they can cash in. It's mercenary and cynical and I feel safe saying that most of the products at CES are garbage. For me, CES was always a challenge of trying to find the rare product of value amid the knock-offs and the vaporware and the godawful.
What that meant, during the rise of the iPhone and the App Store, was that the CES crowd did what it could to attach itself to the cash flowing from those new markets. There were a zillion iPhone cases and batteries and cables, as well as devices that connected to apps you could download from the App Store. And most of them were garbage, because CES.
Of course, the App Store and the iPhone are not new anymore. They're still huge and healthy and you'd be stupid if your new connected device didn't work with the iPhone—but it's not the hot new thing, and that's what CES is all about. Voice Assistants are the hot new thing, and the gold rush is in progress. That means that every product at CES is falling over itself to show how it links up to Alexa or the Google Assistant.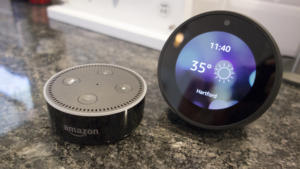 What about Siri? Well, this is the point: By all accounts, CES 2018 was not a place where you saw companies desperately trying to lash themselves to Siri. That's potentially bad for Apple, though we're comparing apples and oranges here a bit. Amazon's Alexa can integrate with just about anything, either via official integration or via third-party "skills." Siri, on the other hand, has extremely limited integration with third-party apps and data sources. Amazon's voice assistant is pretty open, and Apple's is pretty closed. CES, comprised as it is by hungry third-party companies trying to connect to the massive ecosystems of the big players, is always going to be biased toward the open. The open is exploitable in ways that the closed isn't.
Maybe, in the end, most of these integrations will be garbage, too, and Apple will be proven right in its approach. My gut feeling is that Siri is behind its competitors, at least in part, because its integrations with other apps and services are so limited. (Meanwhile, Apple's HomeKit—which has become even more open in the last year—was, by most accounts, showing signs of health and support at CES. But not at the level of integration with Alexa or Google Assistant.)
Apple has, as a company, always held CES at arms length because it has always been reluctant to embrace the swarm of electronics companies who want access to its carefully-designed devices and platforms. Apple wants a highly curated and approved App Store, a strictly licensed Made for iPhone accessory program, and a similarly strict HomeKit program. If you want access to Siri, good luck, you basically can't have it (other than through HomeKit), just like you can't build an external storage device for an iPhone that isn't hacky and bad, or build a PC that runs macOS. Apple plays the games it wants to play, and plays it on its terms. That's antithetical to the try-everything atmosphere of CES, which reflects the tech world in general.
I can roll my eyes at the overstatement of Apple's impact on past editions of CES and whether the CES can "act as a barometer for the health of Apple's ecosystem," as Bajarin put it, because a huge portion of CES is low-quality stuff made by companies that don't understand Apple or its users and are just trying to suck some money out of the market by creating garbage that will never grace the floors of an Apple Store.
That said, if the money-grubbers and the creators of garbage products have found better ecosystems to focus their interest on, it's hard to say that's still not a meaningful trend. The CES crowd follows the money and the promise of growth, and right now that's all about Alexa and Google Assistant, and it's not about Siri. It may not mean quite as much as some observers feel it means, but it most definitely means something.
I keep coming back to Bajarin's use of the word "ecosystem" to describe the CES-Apple relationship. That's really what this is all about. Apple is uneasy with the entire concept of an ecosystem—or at least, an ecosystem that isn't populated solely by Apple products and products that it controls in some way. That approach cuts both ways. It gives Apple a whole lot of control over what connects to its products, which can result in a better experience for its customers. But it can risk turning Apple's products into cul-de-sacs where there's no support for features and connectivity that all of its competitors are offering.
So is CES buzz a barometer for the health of Apple's ecosystem? Yes, sort of. Some of the buzz is just noise, and easily ignored. But not all of it.