At a Glance
Expert's Rating
Pros
No monthly subscription required
Impressive range of editing features
Constantly updated
Layer management for videos
Cons
Not as easy to use as we would like – we'd like to see step-by-step instructions built in
Our Verdict
With a powerful set of editing tools and excellent value for money, this is a good alternative to Photoshop.
Price When Reviewed
$39.99
Best Prices Today: Pixelmator Pro
Pixelmator Pro is a popular and affordable alternative to Adobe's Photoshop – not least because it's available as a one-time purchase that doesn't require a monthly subscription like Adobe's Creative Cloud apps. But over the years it has evolved so it it no longer only an alternative to Photoshop. Pixelmator Pro can also be used to edit video and create professional layouts.
It's a little tricky keeping track of the Pixelmator range as the developers at Pixelmator Team have a tendency to keep changing the name, and also producing multiple versions of the app for Macs, iPhone and iPad. The older Pixelmator Classic for Mac now seems to have been discontinued, leaving just Pixemator Pro on the Mac. And, on the mobile side, the iPhone and iPad versions of the app have merged into a single app that is simply called Pixelmator. And, just to confuse things further, Pixelmator Team recently launched an entirely new photo-editing app called Photomator that runs on Macs, iPhone and iPad.
We review a number of Photoshop alternatives here: Best photo editing software for Mac as well as some free options here: Best free photo editing app for Mac.
Tools and editing features
On the Mac side of the fence, Pixelmator Pro provides an impressive range of editing features, including AI-powered tools that can simplify tasks such as removing blemishes or unwanted details from an image. It even has an option for removing the background of an image entirely – which we often find very useful when preparing product photos for our own reviews on Macworld.
The interface won't immediately be familiar if you are used to Photoshop. This could be good or bad: If you have Photoshop's shortcuts and workflows in your muscle memory, it can take a long time to relearn, and when a feature is missing, it can be frustrating. On the other hand, it means that Pixelmator gets rid of 30 years of baggage and can think in new ways. Pixelmator Pro sticks to the most important features and doesn't try to recreate exactly every Photoshop feature. Instead of four different ways of doing one thing, you get the best/easiest. And everything that is important for most people is there: Layers with layer masks, blending modes, adjustment layers, tools for drawing and painting, auto exposure, distortion and so on.
Over on the left you'll find the Layers palette, which is key to using many of the app's more powerful features. You can create both raster (bitmap) and vector layers.
Pixelmator Pro presents an effectively clean and sparse experience, keeping your focus on the image.
In a narrow column on the right are the tools. There are precise tools for selecting objects and colours, and both preset and customizable brush styles, all of which are neatly arranged in a palette that runs down the right-hand side of the main editing window.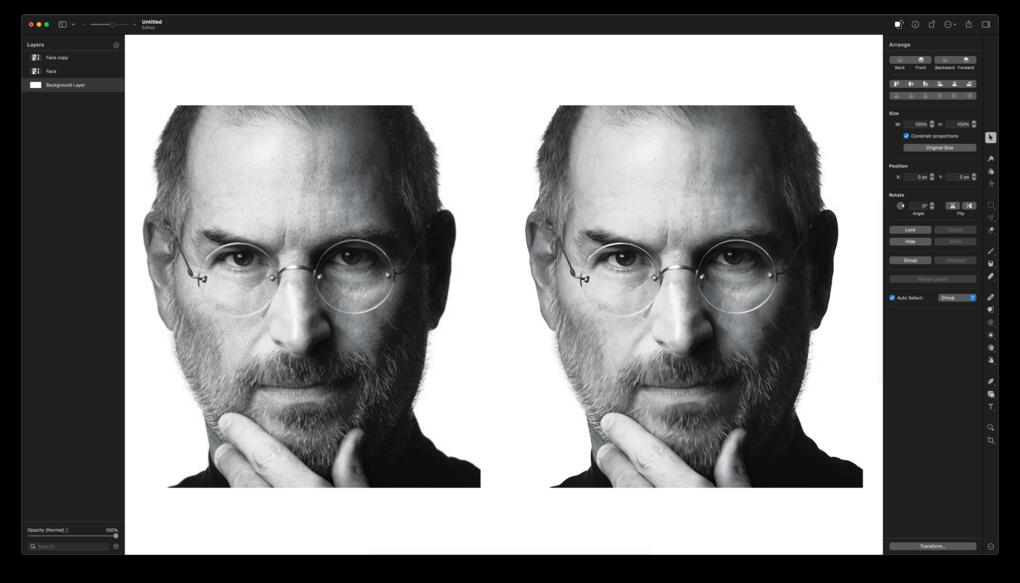 Foundry
One of the most eye-catching AI features is called ML Super Resolution and uses machine learning to magnify low-resolution images. With some images it is almost magical, but when we tested back in 2021 the results were mixed. Faces looked like they've been painted, straight lines became wavy, and although noise and pixelation disappeared to make the image "cleaner," it looked unreal in return. See image above for example.
ML Crop is an automated cropping function based on the golden spiral that should help you get images with an effective composition. When we tested this we didn't get results that we wouldn't have made manually. Which is as it should be.
The program provides a useful selection of text and vector graphics tools, so that you can design documents that go beyond pure photography. You can use masks to isolate specific parts of a layer or image, there are powerful and precise histograms for adjusting colour and lighting.
There are also little helpful touches, such as the Colors histogram. Have you ever attempted to adjust a color in an image, but you don't see much of an effect? Making green areas greener, for instance, sometimes requires decreasing the blue or cyan tones, but that's not always visually evident. When you're manipulating colors, the Colors histogram gives you a sense of how prevalent the colors are within the image to help you target which ones to adjust.
Pixelmator Pro has a unique way of showing control points for effects. When you apply a new effect, such as a vignette, a control point appears in the middle of the screen, adhered to a virtual thread connecting it to the Vignette controls in the Effects panel—it even pops with a little physics-simulated bounce. In this case, the point controls the center of the vignette area. Other controls, like the Perspective Transform, tie multiple control points to sections of the effect, like Top Left, Top Right, and so on.
Most of the editing you do in Pixelmator Pro is non-destructive, that is, if you regret it later you won't have to go back to that particular step. For example, when you edit aspects such as exposure or saturation or add an effect like a vignette, the changes aren't burned into the image's pixels. They can be changed or removed at any time on a per-layer basis.
But that does not apply to everything, for example not a change of perspective. This is also the case in competing programs, but more annoying for those who work with text in images is that Pixelmator Pro, unlike both Photoshop and Affinity Photo, cannot retain editable text when you change the perspective of the text. For example, if you want to put text on a sign in a photo, you can't fill in a temporary text, position and change the perspective of it so that it appears to be in the same plane as the sign, and then change the text. As soon as you change the perspective, it is rendered and becomes pixels.
Updates in the latest version
Rather than getting a major update every year or so, Pixelmator Pro tends to release regular updates that add a few new features every few months.
The developers are alert and over the years have added many requested features that were not initially there when it was first released in 2017.
The version 2 update in 2020 offered a fully customizable and refreshed user interface. Almost every element of the user interface, from the toolbar to every single menu and switch, was updated and refined. The update added over 200 new presets and more than 50 vector shapes for the color adjustment, effect, style, shape and gradient tools.
2.0.6 update (in 2022) added some new video tooltips that can help to explain how many of the main tools work, and point you towards some online tutorials if you need a little more help.
Version 2.1 brought the ML Crop tool (discussed above). This automatic cropping tool uses machine learning to get the best results. You choose things like aspect ratio and whether the crop should follow a rule of thirds or the golden spiral. Cropping in general also become faster, especially for large images with many layers.
In 2.1 the text tool was also improved with additional settings such as size, spacing and ligatures. The Paint tool has gained a brush gallery and search function, and a brush can be used to draw lines and edges. The program also gained a quick fill function: Drag and drop a color from the color palette directly onto a layer and suddenly the entire layer is filled with that color.
Version 3.0 focused mainly on adding new templates and mock-ups for creating different types of documents and projects. These include templates for posters, maps, logos, social media projects, general graphic objects and even print templates for magazine covers. You could say that with this update Pixelmator took on InDesign and Pages (Pages and InDesign are still more effective at their jobs though, and Pages is free). Version 3.1 added full compatibility with macOS Ventura.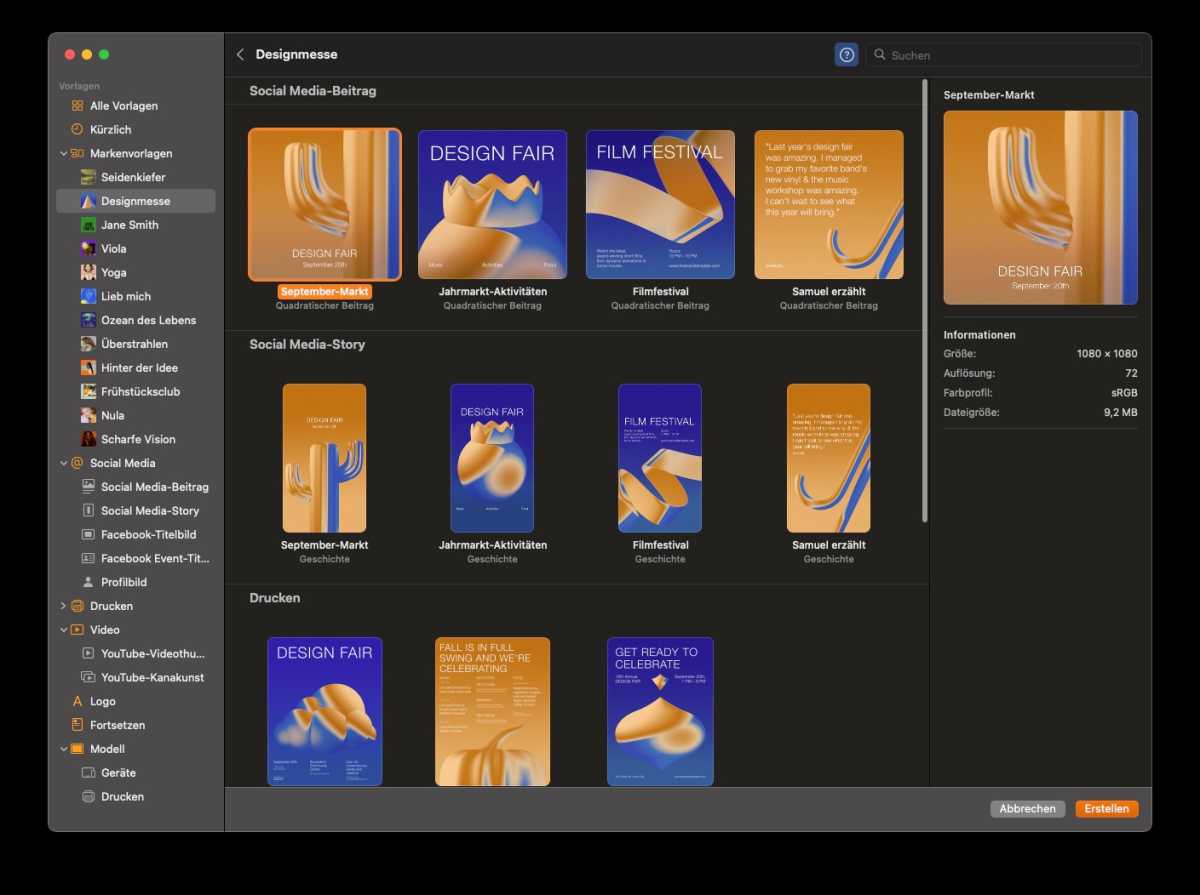 Macwelt
However, v3.2 was a big update that introduced the ability to import and adjust the appearance of video files as well as static photos–Pixelmator Pro this time taking on video editors. Basic video editing tools include operations like trimming, cropping, and color adjustments. You can add text, images, shapes and apply masks to videos. Pixelmator Pro also comes with video templates for quick projects and posts on YouTube or even professionally made film titles. Export options include the option to create GIFs from videos and common formats such as MP4 and MOV. We found the layer management to be a great advantage when editing video because numerous effects, filters, and other applications can be easily placed over the imported film and checked before the finished result is exported.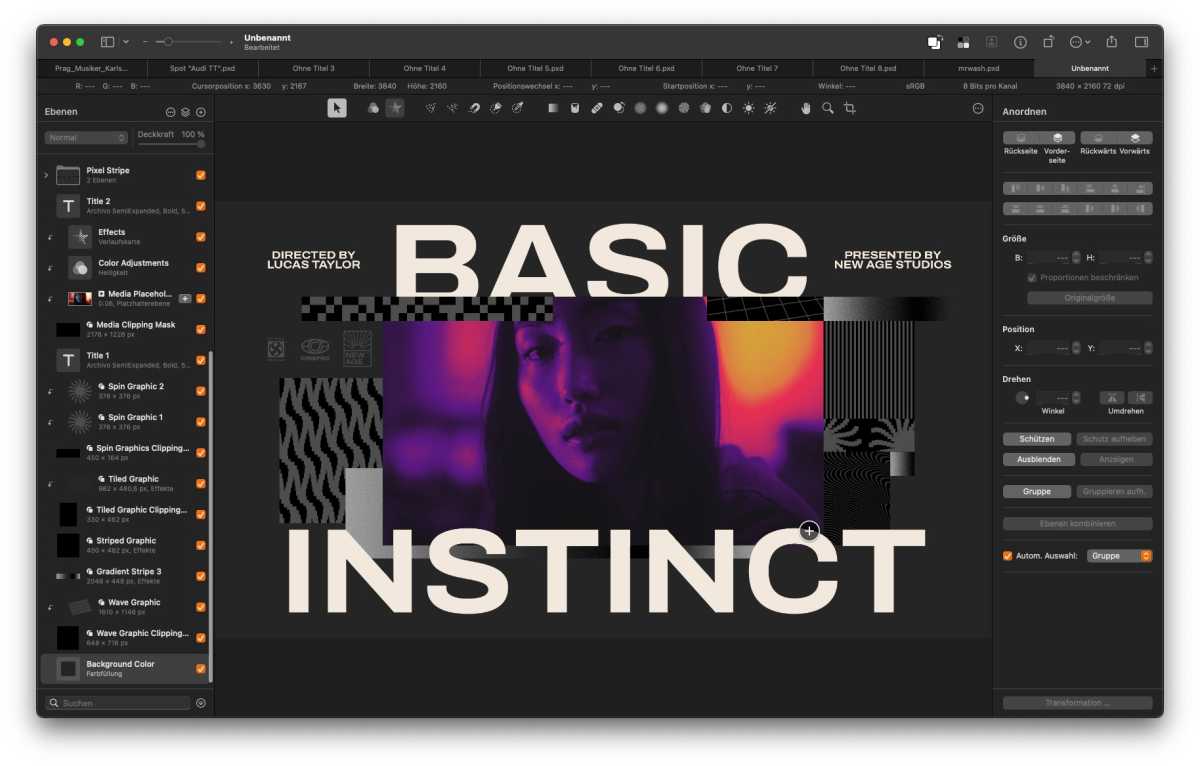 Macwelt
Version 3.3 arrived in February 2023 and added a new Remove Colour tool.
Usability
Our only real complaint is that Pixelmator does tend to just throw features onto the screen and then leave you to figure out how everything works. It's not the most intuitive program for newcomers to get to grips with, and tends fill the screen with controls and palettes and just assume that you know what you're doing.
There are lots of tutorials and Help files on the Pixelmator website, but we can't help thinking that Pixelmator Pro needs something similar to the Guided Edits that are found in Photoshop Elements, which provide simple step-by-step instructions for using some of that program's more complex tools and features.
Verdict
There's no doubt that Pixelmator Pro's powerful array of editing tools represents excellent value for money, and the video editing features that arrived at the beginning of 2023 make this app even easier to recommend. Plus there's a seven-day free trial also available as well.